Chicago Police 'Bait Truck' Sting Operation Lures Thieves, Angers South Side Residents
The Chicago Police Department outraged members of a South Side neighborhood over a sting operation in which they planted a "bait truck" filled with Nike shoes to entice potential robbers. Community leaders said the controversial tactic is entrapment, and it's widening the divide between residents and law enforcement.
A video posted to Facebook by local activist Charles Mckenzie last Thursday has been viewed more than 650,000 times and appears to show at least a dozen Chicago Police officers emerging to arrest a man for breaking into the parked semi-truck. A nearby freight company, Norfolk Southern Railroad, confirmed to the Chicago Tribune they were working with CPD on the sting operation to curb thefts in the area. Police are defending the tactic, but several community leaders urged the department to use its resources for something other than an attempt to dupe young Englewood residents.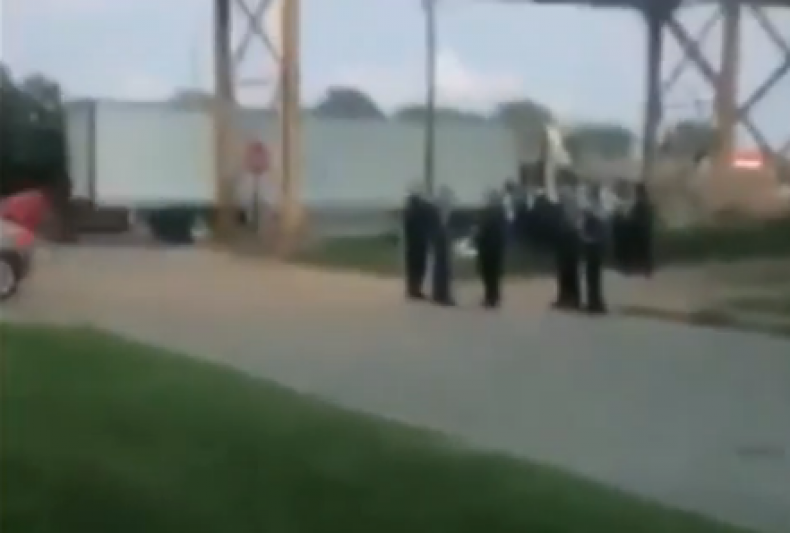 A Chicago Police Department arrest report for one man arrested in the undercover sting labeled the joint Norfolk Southern Railroad investigation "Operation Trailer Trap." The company said three people between ages 21 and 59 were apprehended by police throughout the course of the sting operation.
"This bait truck operation is an unacceptable and inappropriate use of police resources," said Alderman Roderick Sawyer, 6th, chair of the City Council's Black Caucus, in a public statement Wednesday. "In a moment where police capacity is clearly under extreme strain, these sort of tactics are the last thing we should be spending manpower and energy on."
Mckenzie said the truck parked on 59th Street off the south expressway was effective in luring at least one young male, with the dozen or so police arresting David King, 36, shortly before 8 p.m. on August 2. Norfolk Southern Railroad spokeswoman Susan Terpay described the incident leading up to the arrest in an email to the Chicago Tribune: "The suspects saw a parked, unmarked trailer and then proceeded to cut open the safety seal with box cutters, broke into the back of the trailer and only then did they find retail shoes in unmarked brown boxes, previously secured and hidden inside."
"I see a truck was there and I hear the guys saying, 'It's a bait truck, it's a bait truck,' and I'm out here trying to help the young guys get jobs and why is a bait truck in Englewood?" Mckenzie told WLS-TV. "It really hurt me because I'm out here every day fighting so hard to help the young guys to get jobs to try and help them get other things, and if they've got a felony in their background they're not going to be able to get a job with anybody."
Echoing what Alderman Sawyer stated in regard to misguided efforts, McKenzie added: "How can we trust CPD when they're doing things like that? And let me get this correct, every CPD is not bad, we have some good officers out here that serve and protect well, honestly. But when they do things like that it makes all the rest of them look bad."
Mckenzie said he hopes the people within the police department who authorized the sting operation will be investigated and that Chicago police should focus their efforts on the city's homicides. "There's a lot of shootings happening and no murders are getting solved," he added. "People dying every day and no murders are getting solved but you guys have time in your schedule to take out to plant a bait truck in our communities?"
Last weekend, 53 people were shot and 10 were killed in Chicago area gun violence. Mayoral candidate Lori Lightfoot, who is the former head of the Chicago Police Board, also criticized the undercover Englewood operation. "Especially after a weekend with seventy shootings and zero arrests, news of this bait truck operation is an appalling display of misplaced priorities and a step backwards on the path to trust and legitimacy," Lightfoot said in a statement.