Baker Apologizes For 'Build That Wall' Valentine's Day Cookie, Says Wall Is 'Not Anything I Endorse'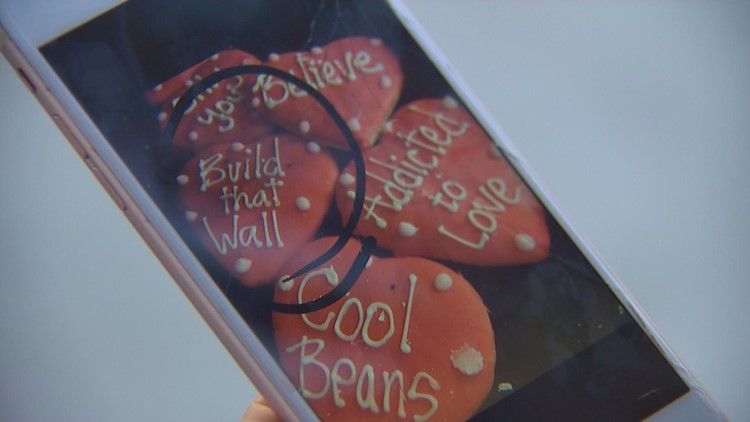 A baker in Washington state has issued an apology after a Valentine's Day cookie he created caused outrage on social media.
According to KING-TV, Ken Bellingham created the cookie along with others in his bakery in Edmonds, Washington. The cookie at the center of the controversy read "Build That Wall" and was included in a batch with other cookies printed with sayings like "Cool Beans," "Addicted to Love" and "Believe."
"Some are a little risqué, some are nice. I'm back there trying to think of what to write on a cookie. I try to be funny," Bellingham said.
A customer, Ana Carrera, didn't laugh, spotting the cookie on a visit to the store. She snapped a photo with her phone and later posted the photo on Facebook with the caption, "Really Edmonds Bakery? Really?! Your racism is so 'cute'. Lost my business."
The photo quickly gained attention, some customers called the bakery with complaints and others commented on the bakery's Facebook page. Bellingham responded to many of them, calling the cookie a "mistake."
On Friday, Bellingham said he arrived at the bakery to find a sign that recommended the business be boycotted.
Carrera said her parents were "the stories you see on the news of people crossing the border because they just want a new start," adding that their story is why the cookie, and the phrase, were offensive to her.
Bellingham told KING-TV that he apologized to anyone that the cookie offended, adding, "It's not anything I endorse. I don't think building a wall will solve our problems."
Carrera said she has no plans to go back to the bakery.
"You say something with enough hate – you chant it, you have white supremacists, the alt-right chanting it – it's going to become racial," Carrera said. "A cookie like this does represent that there is some hate coming out of this bakery. Whether he chooses to admit it or not."
Bellingham said he has no plans to make any more cookies that say "Build That Wall,"