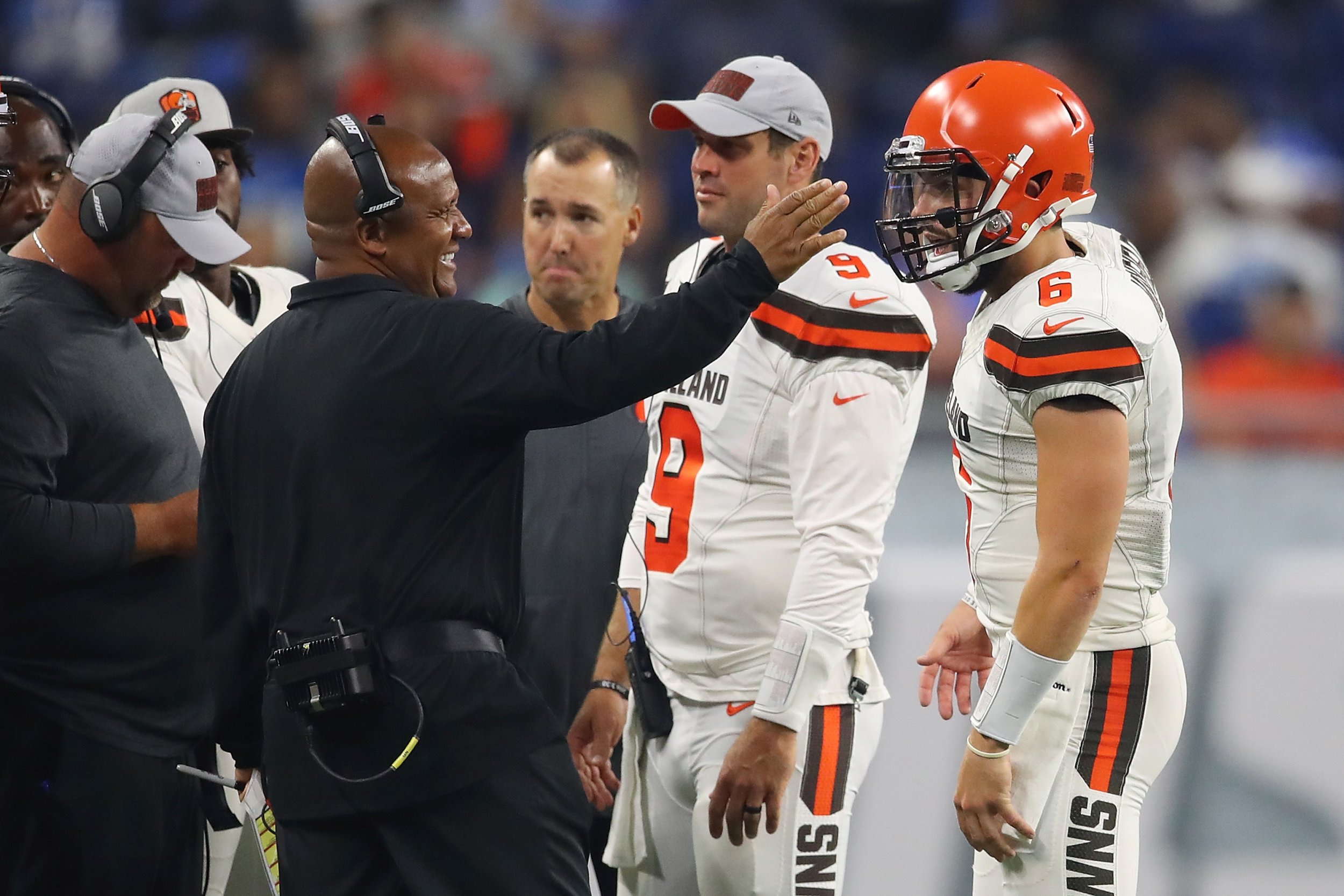 Cleveland Browns quarterback Baker Mayfield stood by his critique of former head coach Hue Jackson as "fake" on Wednesday and responded to those who questioned his maturity.
"People get maturity confused with me being 100 percent comfortable in my own skin," Mayfield said. "So that's absolutely how I am. I've always been that way. It's not immature. It's me being exactly who I am every day, being that same guy for our team, and I think that's very important right now."
Mayfield acknowledged that the "fake" comment was directed at Jackson, but didn't explain why.
"There were just things that happened inside the building that I'm not going to get into detail with," Mayfield said Wednesday. "It's in-house information."
Jackson, who was fired by Cleveland last month, accepted an assistant coaching position with the Cincinnati Bengals earlier this month. The Browns defeated the Bengals, 35-20, on Sunday and Mayfield admitted that he took his former coach's decision to suddenly join a division rival personally.
The quarterback acknowledged that he understood putting the word "fake" into the public realm without explanation would cause controversy, but he still declined to provide details. Mayfield also said that he's going to share his opinion, as he's always done and people shouldn't be surprised by his actions.
"People took it as me personally attacking Hue," he said. "That's not it. It's the fact that I get to have my own opinion on how [the move to Cincinnati] transpired, and he gets to do what he wants. That's how it is.
"Although I'm an athlete, I'm not a cookie-cutter quarterback. Never have been, never will be. I speak my mind. That's how I am. I didn't like the move and people don't have to care.
"I'm not looking for anybody's approval. I don't regret any of it."
Mayfield, who was selected No. 1 overall in the 2018 NFL Draft last spring, has played extremely well since Jackson and former offensive coordinator Todd Haley were fired. The rookie has completed 74 percent of his passes with nine touchdowns, one interception and a 129.5 passer rating, while the Browns have won two of three games since the coaching change.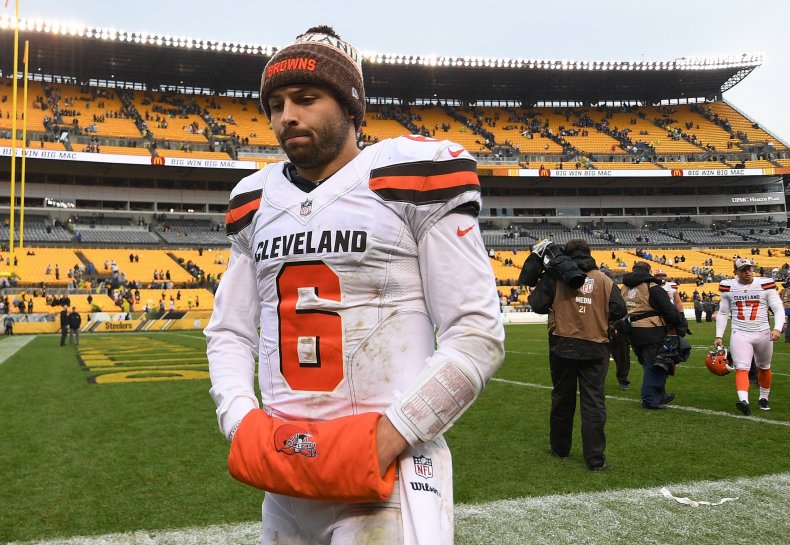 Earlier this month, Jackson told ESPN's First Take that he believes his termination was based on the development of Mayfield, who took over as Cleveland's starter in Week 4.
"I think when you stop and look at it, it's truly, really about Baker Mayfield," Jackson said, just days after his termination. "I think they want to do everything they can to put him in the situation ... I mean, you got the first pick in the draft -- who I think is going to be a franchise quarterback, who's going to be a sensational player -- and he's not playing as well.
"So again, here is the perfect storm to move forward and move on."
ESPN's Chris Mortensen also reported that the changes were made in order to benefit the development of Mayfield in October.
Jackson's career .205 win percentage is the second lowest in NFL history among coaches who have appeared in at least 40 games, according to ESPN.
Jackson had previously coached one season with the Oakland Raiders in 2011 before joining the Browns, which resulted in an 8-8 finish.
Uncommon Knowledge
Newsweek is committed to challenging conventional wisdom and finding connections in the search for common ground.
Newsweek is committed to challenging conventional wisdom and finding connections in the search for common ground.