Baker Mayfield Can Be 'a Lot Better than Me,' Says Drew Brees
Baker Mayfield is yet to make his professional debut in the NFL but one of the league's most respected quarterbacks has high hopes for the rookie.
New Orleans Saints signal caller Drew Brees believes the number one overall pick of the 2018 draft can eclipse his own achievements. Considering the veteran quarterback has thrown for 70,884 yards, won a Super Bowl and completed 67 percent of the passes he attempted over the course of his 18-year career, that is some high praise.
"I think he can be a lot better than me," Brees said on Wednesday during a conference call with reporters. "Man, he's got all the tools. He's more athletic. He probably can run around better. He's got a stronger arm."
While the two have never met, they both grew up in Texas and both went to high schools in Austin. Mayfield went to Lake Travis, while Brees went to Westlake. The two schools are just over 10 miles apart.
After four seasons at Purdue, Brees left college as one of the most decorated players in the history of the university and of the Big Ten Conference as a whole and revealed he kept a close eye on Mayfield's progress at Oklahoma.
"I followed his college career," he explained. "Couldn't have been more impressed with what he was able to accomplish, especially last year. Really impressed with the way he plays the game. I think he's a great competitor."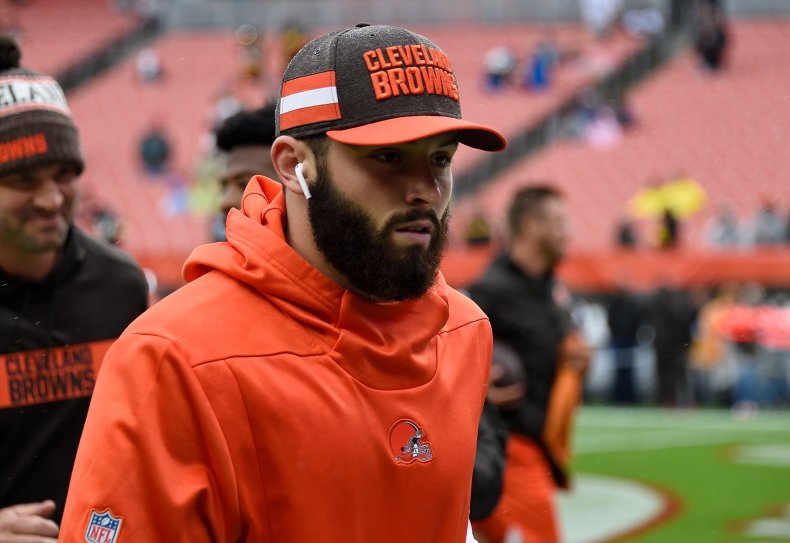 The Saints and the Browns face each other in Week 2 but Brees, who completed 37 of his 45 attempted passes, throwing for 439 yards and three touchdowns in the Saints' 48-40 defeat against the Bucs in the season opener, is unlikely to come across Mayfield.
The rookie is expected to remain on the bench, with Tyrod Taylor set to retain his starting spot, despite a shaky performance in Week 1. Taylor completed only 37.5 percent of his 40 passes, although he scored a touchdown himself in the 21-21 tie against the Pittsburgh Steelers.
While Mayfield sat in Week 1, another rookie quarterback grabbed the headlines with a superb debut performance. Sam Darnold threw for two touchdowns and 198 yards in his first NFL game, completing 16 of 21 passes as the New York Jets thrashed the Lions 48-17 in Detroit.
Darnold, who was the number three overall pick in this year's draft, got off to a far from promising start when his first pass was a pick-six, but quickly recovered.
At 6-foot-3, Darnold has the physique of a prototype quarterback, something Mayfield, who is officially listed at 6-1, allegedly lacks. Brees is 6-foot but has never let the lack of height get in the way of success.
"We call it the 6-foot and under club," he added. "All the 6-foot guys kind of [...] we kind of know what it's like. We kind of have the chip on our shoulder because we've heard it our whole life. "