Baker Mayfield, Isaiah Thomas and More React to Tiger Woods Car Crash With Outpouring of Well Wishes
Tiger Woods received an outpouring of support and well wishes following a horrific car accident on Tuesday.
The legendary golfer suffered leg injuries after he was involved in a vehicle rollover traffic collision in Los Angeles. In a statement on Twitter, the L.A. County Sheriff's department confirmed Woods was the only passenger in the vehicle. Despite earlier reports that firefighters and paramedics had to use the "jaws of life" just to extract Woods out of the car, department Captain James Powers said in a TV interview that the "jaws of life" were on the scene but had not been used to remove Woods from the car.
Woods was rushed to a nearby hospital where he is undergoing surgery, his reps confirmed to Associated Press.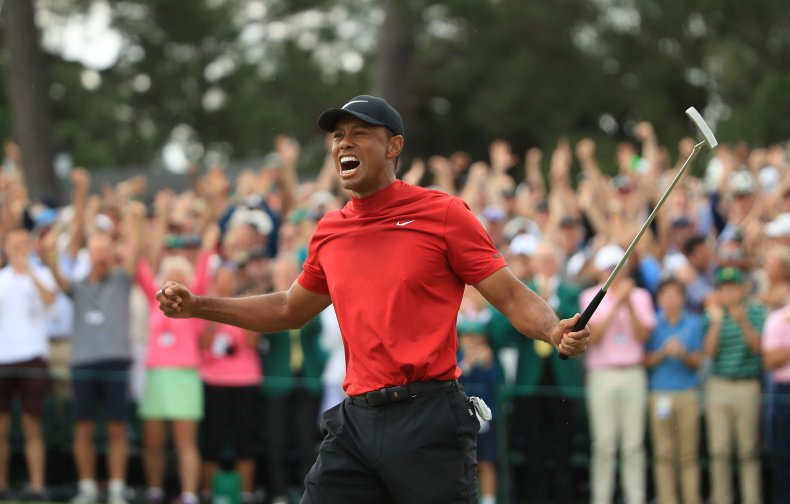 Following news of the accident, social media exploded with messages from fellow athletes and individuals wishing Woods a speedy recovery. NFL star Baker Mayfield was among the first to write, "Prayers up for @TigerWoods," on Twitter on Tuesday. NBA player Isaiah Thomas shared a similar sentiment on his Twitter account, too.
Former NFL wide receiver Chad "Ochocino" Johnson also shared a message: "Hope Tiger Woods is okay."
Julian Edelman of the New England Patriots also hoped Woods was able to recover. "Thinking of @TigerWood this afternoon... prayers this is just the beginning of another major comeback," he tweeted.
Oakland Raiders player Tim Brown also wrote a prayer for Woods. "Raider Nation please say a prayer for @TigerWoods, involved in a car crash in Palos Verdes.. TW, may God's healing power and grace be with you!!"
Professional golfer Ian Poulter wrote, "Thoughts are with @TigerWoods and others involved, wishing a speedy recovery and I hope the injuries are not bad."
Sports journalist Jason Whitlock shared plenty of kind words about Woods after learning of the car crash. "Tiger Woods is my favorite athlete of all time. He's the athlete I talked the most about with my dad. My mom loves to talk about Tiger. Derrick Thomas is the greatest athlete I was close friends with. I hope Tiger is OK. Damn," he tweeted.
Meanwhile, Ben Heisler of Sports Illustrated shared a video of Woods and his son and mini pro golfer Charlie Woods. "I can't get this image of Tiger Woods and his son out of my mind right now. Really hoping he's ok... I could give a s**t if he ever wins another tournament. This is the important stuff," he wrote.
ESPN analyst and sportscaster Dick Vitale also expressed his concerns for Woods. "OMG just heard about major accident in VF Rancho Palos Verdes California involving @TigerWoods It is reported that Tiger is in surgery . Praying that he has a complete recovery," he tweeted.
Basketball legend Magic Johnson called on fans to keep Woods in their prayers. "Everyone send your prayers out to Tiger Woods! He was just in a bad car accident. Let us all pray for his speedy recovery," he tweeted.
Former competitive swimmer and Olympic champion Michael Phelps sent prayers to the golf pro.
Alex Rodriguez said he is praying for Woods as everyone anxiously awaits more news. "Thinking of him and his entire family," the former Yankees player tweeted, sharing Sports Center's article.
The PGA Tour also released a statement regarding Woods' accident, and it is waiting for more information after he comes out of surgery, and will have its full support as he recovers.
Update, February 23, 3:01 p.m.: This article has been updated to include that the Los Angeles County Sheriff's Department confirmed that the "jaws of life" were not used to rescue Woods from the scene of the accident.
Update, February 23, 5:22 p.m.: This article has been updated to include a statement from the PGA.