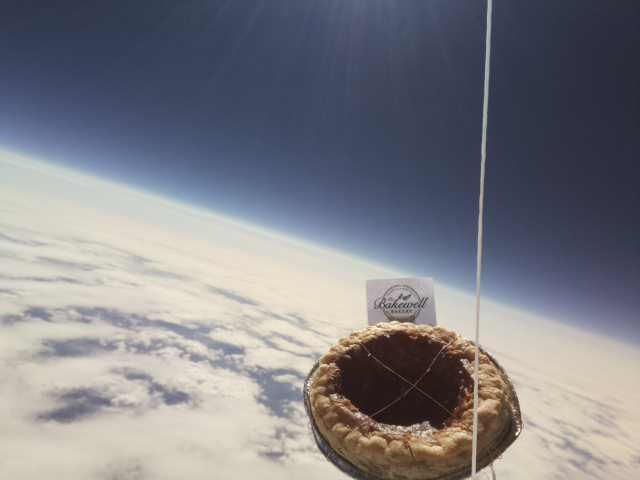 Say goodbye to freeze-dried ice cream and hello to a new kind of cosmic dessert: space jam pie. A school in England that launched a tart to the edge of space earlier this week has lost track of the intrepid sweet treat after it entered the stratosphere.
Following a test run last year, students at S. Anselm's Preparatory School in Bakewell, Derbyshire, hoped the Bakewell pudding—a traditional English jam, almond and pastry dessert—would reach some 114,000 feet, director of studies Liz Scott told Newsweek. But students lost contact with the traveling confection after it reached an impressive 52,500 feet.
Assisted by the aptly named science, technology, engineering and math (STEM) learning ambassador, Nick McCloud, the students hooked their dessert to a high-altitude balloon on Monday. They attached cameras and gadgets to track the temperature, pressure and altitude as the precocious pastry traveled toward space.
Related: Venus's atmosphere is so violent it makes the planet spin faster
Within minutes, the balloon had reached some 43,000 feet above the ground. The school's aviation expert said it was still on track to reach the projected altitude when contact was lost.
Students launched the fearless feast after months of preparation, Scott said. Last year's test balloon—launched with a note and several trinkets—was found by a couple near Skegness, a town about 100 miles away from Bakewell. Now, the students are eagerly waiting for a member of the public to find their pudding.
As well as proving their academic prowess, the students raised nearly £1,600 ($2,100) for service dog charity Guide Dogs for the Blind. Being able to sponsor a puppy, Scott says, is as important to the children as the success of their daredevil dessert.
The pudding, she added, shows that these kinds of projects are possible in schools. "It's been amazing for the children," she said. "Small little ideas at a little school in Bakewell can raise lots of money and have quite a big impact."
The Bakewell pudding, named for the town, is a traditional English dessert dating back more than 150 years. Made with almond paste, jam and pastry, it is featured in Mrs Beeton's Book of Household Management, an 1861 tome still used in some British kitchens today.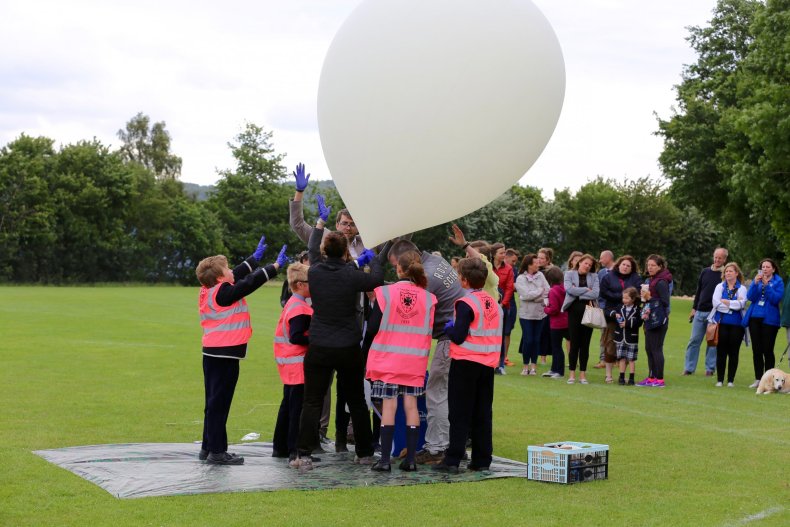 The Bakewell pudding, Scott noted, is not to be confused with the Bakewell tart, a variant featuring an almond sponge cake layer instead of a silky, custard-like almond paste. Bakewell tarts are often topped with a shiny coat of white icing and a cherry.
The search for the rogue pudding, Scott said, continues.
Although 52,500 feet isn't bad for a dessert, this Bakewell pudding certainly isn't the most intrepid indulgence on record. Astronauts enjoy space-ready versions of tasty treats like chocolate pudding onboard the International Space Station, which floats more than 250 miles above ground.