Balancing Act: Televised Record-Setting Tightrope Walks Draw Mixed Reactions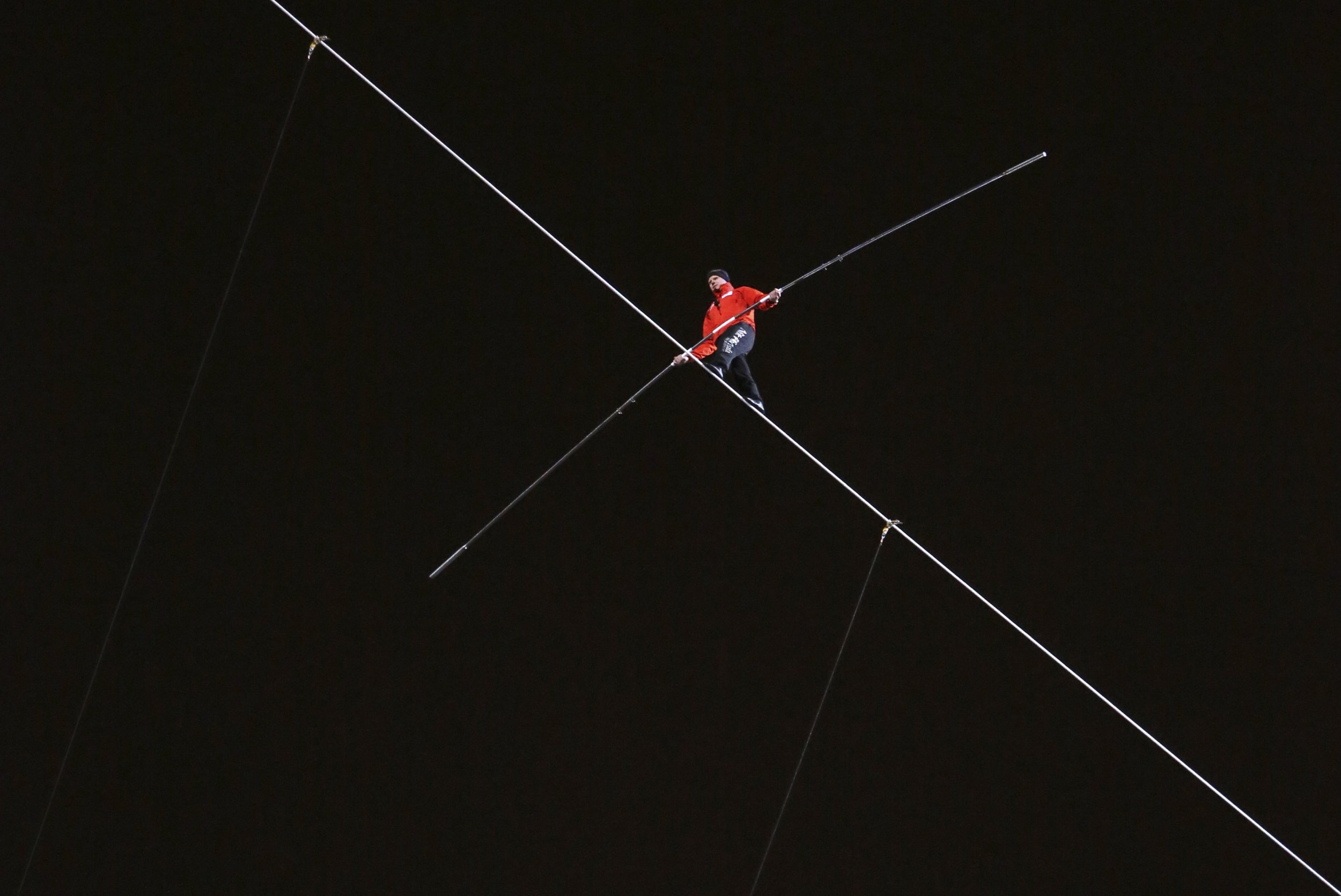 Balancing several hundred feet above crowds gathered in Chicago Sunday night, Nik Wallenda set world records with two highly suspenseful, highly publicized tightrope walks.
His name will now appear in Guinness World Records for "Highest Incline Tightrope Walk" and "Highest Blindfolded Tightrope Walk." His death-defying stunts, performed sans safety net or a harness of any kind, drew both awe and criticism Monday.
Wallenda, 35, began his evening by walking a 454-foot-long wire stretched between two skyscrapers on either side of the Chicago River at a 15-degree incline. He walked more than 50 stories above the crowd of tens of thousands of onlookers who had gathered in the streets below, breaking his first record in just under seven minutes.
Next, he walked a shorter distance of 94 feet, more than 500 feet above the ground, between the two towers of Marina City—wearing a blindfold.
"This is real. As I step on that wire, every single step is either life—or it's death," Wallenda said, according to The Washington Post.
Wallenda, who comes from a long line of high-wire walkers, has previously done such stunts above Niagara Falls and the Grand Canyon.
Sunday's event was shown by the Discovery Channel as part of a two-hour-plus television special, produced by NBC's Peacock Productions, beginning at 7 p.m. The stunts were aired with a 10-second delay as a buffer in case anything went wrong. The networks, according to The New York Times, prepared contingency plans so that "nothing that is insensitive or inappropriate" would be aired.
The stunts inspired support and awe on social media.
"There is something just really compelling about watching people push themselves to the limit," Howard Swartz, executive producer for Discovery's "Skyscraper Live With Nik Wallenda," told The New York Times. "There is an element of must-see. There is an element of risk. There is an element of awe and danger and inspiration that is very compelling and relatable."
But some have described the stunts as a ploy to draw viewers in large numbers as networks struggle with ratings.
"To show something like this live truly borders on the grotesque," Grant McCracken, an anthropologist who studies television and culture, told the Times. "If, God forbid, he should fall, that would be too horrible."
In an analysis for Variety, Brian Steinberg compared Wallenda's stunt to the balancing act facing the television networks broadcasting it almost-live, juggling safety concerns and permits with the desire to capture viewers' attention and incorporate advertising.
"In the worst-case scenario, we just want to make it palatable for the viewer and hopefully say something eloquent enough for them to understand that we were simply fulfilling his dream," Sharon Scott, president and general manager of Peacock Productions, told Steinberg. "It's a great television event, there's no question, but it's incredibly dangerous."