Traction Alopecia: Young Female Singer Warns of Self-inflicted Hair Loss—'Don't Let It Happen to You'
Paigey Cakey was 18 years old when she noticed her hair was falling out. By the age of 25, the bald patch on the right side of her head had grown so large that she decided to undergo hair transplant surgery.
"I just felt like I was too young to lose my hair," the singer and actor from London, U.K., tells Newsweek of her struggle with traction alopecia, where tension on the hair causes gradual hair loss.
Cakey found herself in a self-perpetuating cycle. She knew that the cornrow hairstyle and weaves she wore were weakening and killing her follicles. But she was "very embarrassed" of losing her hair as a teenager, and so continued to wear weaves and cornrows to hide her growing bald spot. "I felt like I was living a big fat lie," she says.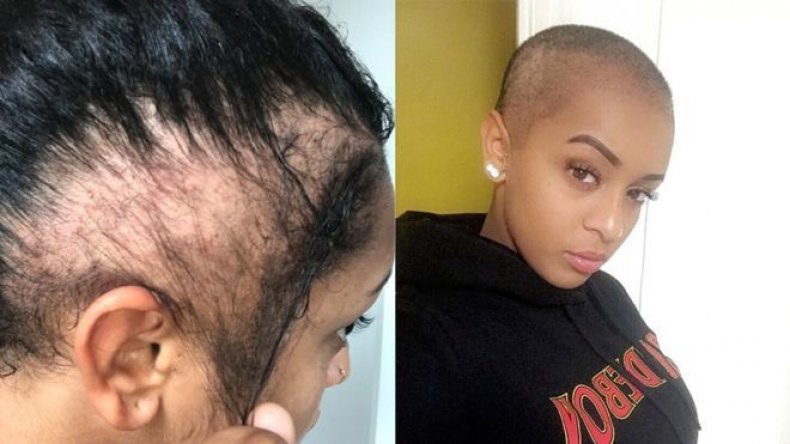 "Traction alopecia is very common. It occurs in every age group, from young children to adults, and often goes unrecognized until it becomes advanced," says Dr. Senna, instructor in dermatology at Harvard Medical School and principal investigator of the Hair Academic Research Unit at Massachusetts General Hospital.
While anyone can suffer from traction alopecia, it is most commonly associated with people with Afro hair, as braids, cornrows and weaves can damage the hair, especially if they are chemically treated, says Senna.
Dr. Sharon Wong, consultant dermatologist and hair specialist at U.K.-based Homerton Hospital NHS Trust adds that Sikh men who wear their hair in tight buns at the top of their heads, as well as those who sport man buns, can experience traction alopecia.
Hairstyles that tug on the hair, such as ballerina chignons, tight ponytails, long or heavy dreadlocks, and extensions with poor application technique or aftercare, also raise the risk of traction alopecia, said Wong.
"Things that can be helpful in treating traction alopecia include first and foremost allowing hair to be in its natural state without undue tension from styling and processing," says Dr. Senna.
"Topical Minoxidil 5% foam or solution applied once daily to affected areas of scalp can help promote hair regrowth. In some cases, scalp injections or microneedling may be used to stimulate hair regrowth.
"For patients who experience inflammation or itching with their traction alopecia, or who have dandruff or seborrheic dermatitis of the scalp, topical steroids or medicated shampoos may be recommended. Additionally, for women who wear wigs, the use of silk caps under hair pieces can prevent friction on hair shafts that can lead to breakage and traction."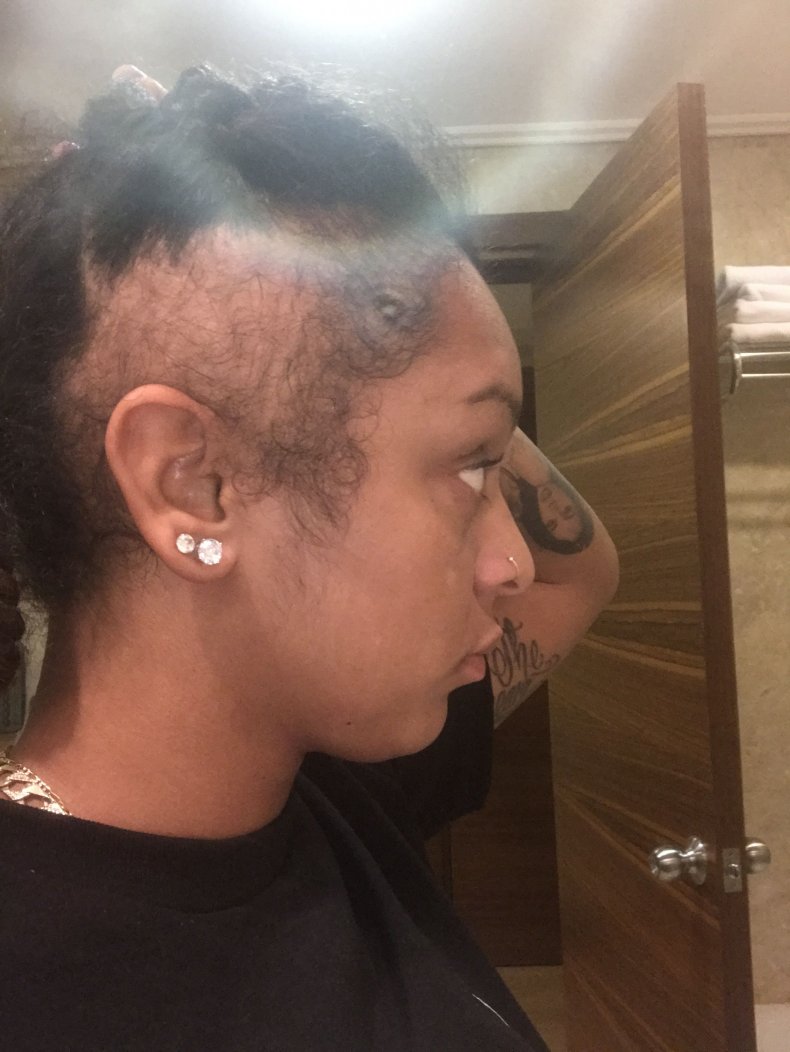 Last summer, Cakey realized she needed to seek help. "I used to cover it [the bald spot] with mascara. I went on loads of holidays and I couldn't be myself. I love swimming, but as you can imagine the water washed away the mascara, and that's when I realized 'I can't do this.' To a woman, hair is beauty and I felt I needed to fix it."
Cakey says it was a big decision to get a hair transplant, which can cost $7,000 on average according to plastic surgery information website RealSelf. "I felt like if I don't get this done I won't be happy and I'll have to live the rest of my life pretending I'm happy when I'm not."
Cakey, who has over 200,000 followers on Instagram and tens of thousands on Facebook, YouTube and Twitter, now feels a sense of duty to raise awareness of traction alopecia through her fans. She also recently appeared on the BBC documentary Too Young to Go Bald.
"I thought I was the only person who had it. I didn't know anyone who was going through it." Two days after her hair transplant, Cakey appeared on her YouTube channel with her head bald from surgery, and spoke candidly about her experiences.
"I received thousands of messages across all my socials," says Cakey. "It was amazing to have people support me. And it was crazy that so many people were going through the same thing but no one speaks about it. They try to hide it because everyone fears what people will think. I feel like it's something that needs to be spoken about more because so many people are going through it, male and female and of all ages."
Cakey's message for those who are dealing with traction alopecia is to "stop doing what you're doing before it's too late. That's what I wish I had done. If you know what's causing it then stop before those hair follicles die.
"Also, beauty doesn't define you. It's within, so never feel like your hair should make you feel beautiful, because you're still beautiful no matter what you look like on the outside."