Louisiana's Bald Eagle Population Is on the Rise After Report Finds More Nests and Healthy Chicks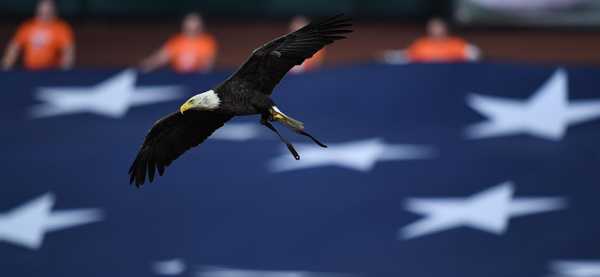 Bald eagle populations are resurgent in Louisiana, according to a new report by the state's Department of Wildlife and Fisheries.
A survey of bald eagle reserves in southeast Louisiana, where majority of the once-endangered species resides, found 264 active nests.
The report also found a higher percentage of nests that had healthy baby chicks living in them. Michael Seymore, an ornithologist for the Louisiana Department of Wildlife and Fisheries (LDWF), confirmed there was "productivity and nesting success in Louisiana for the bald eagle."
"The most recent survey [in 2017-2018] for eagles show the number of chicks to be very high. The productivity was close to 100 percent in both the maximum and minimum values of the survey," Seymore said in a statement released Thursday.
The previous survey, conducted in the 2014-2015 testing year, identified 647 nests but only 355 of them were considered active. Although the recent survey is almost 100 nests fewer than the 2014-2015 report, Seymore said the 2017-2018 survey focused on a smaller region of the state. "This time we surveyed 599 nests in a much smaller survey area."
"To get the most bang for our buck, we flew the area where they've concentrated. We basically surveyed around the New Orleans metro area through west of Morgan City. Terrebonne and St. Mary parishes have some of the highest densities of nests. Lake Palourde and Lake Verret have a lot of nests concentrated in small areas," he said.
Back in the 1970s, the LDWF recorded only five to seven active nests within the state, and although the birds were removed from the nation-wide Endangered Species Act in 2007, bald eagle populations in Louisiana specifically were still considered high risk.
One of the main reasons for the increase in numbers is likely the banishment of the pesticide DDT that had affected a number of animal populations. Louisiana's brown pelican was similarly almost depleted due to the pesticide. DDT was banned in the U.S. in 1972.
Under President Donald Trump, the Environmental Protection Agency has been seeking to roll back some environmental protections.