Alec Baldwin Responds to Trump's Criticism of 'SNL' Portrayal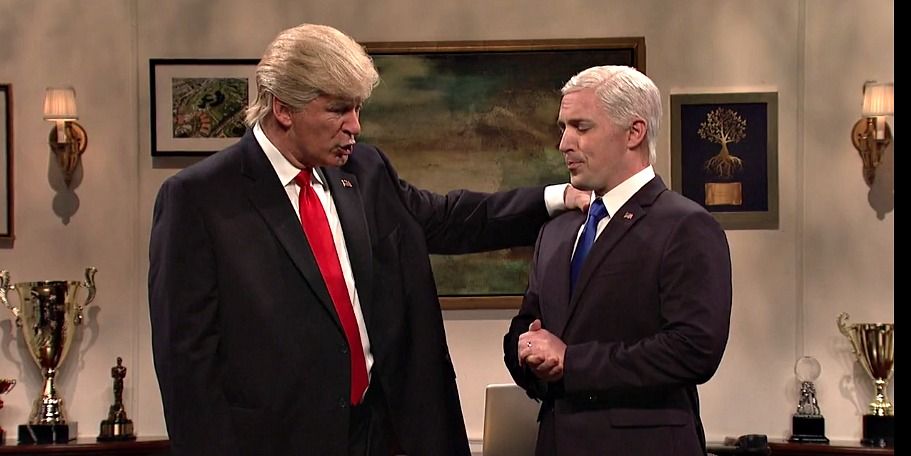 Donald Trump has had enough with "Saturday Night Live" and Alec Baldwin's portrayal of him.
The president-elect and the actor sparred on Twitter Sunday after Trump tweeted his disgust with this weekend's cold open sketch, which featured a befuddled and overwhelmed Trump greeting visitors at Trump National Golf Club and grappling with the reality of the presidency. Trump's criticism comes a day after he demanded an apology from the cast of Broadway's 'Hamilton' for a pointed message on diversity that was delivered to Vice President-elect Mike Pence Friday night.
"I watched parts of @nbcsnl Saturday Night Live last night," Trump tweeted. "It is a totally one-sided, biased show—nothing funny at all. Equal time for us?"
Baldwin, an outspoken liberal, mocked Trump's suggestion of equal time and gave the president-elect some advice. "Equal time? Election is over. There is no more equal time," Baldwin tweeted. He wrote that Trump's job now is to try to be president and people respond; "that's pretty much it.
"You know what I would do if I were Prez? I'd be focused on how to improve the lives of as many Americans as possible," Baldwin continued. "I'd be focused on improving our reputation abroad, including actually fighting for freedom and not just oil. I would make appointments that encouraged people, not generate fear and doubt. I could go on. You want more advice, call me. I'll be at SNL," Baldwin wrote.
Trump's apparent softening on issues that were integral to his campaign was lampooned Saturday night, as Pence (played by Beck Bennett) broke the news that his stance on immigration and Obamacare would actually be hard work.
"Sir, we have a few problems. The Democrats are already pushing back on our illegal immigration act because they say finding 11 million illegal immigrants is going to be hard," Pence says.
"Impossible, probably," Trump says.
"And then they say it's going to be even harder to deport them," Pence says.
"So maybe let's not do it," Trump says. "Scrap it."
"OK, let's move on to Obamacare. As you know, 20 million people use it, and it sounds crazy, but a lot of them like it," Pence says. "Keep it. Let's just keep it. All of it. No change," Trump says. "They're going to make it hard for us to hire a special prosecutor to put Hillary (Clinton) in jail," Pence informs. "Then don't do it. Scrap it, she didn't do anything. Scrapped!," Trump exclaims.
Earlier in the sketch, an out-of-work Virginian from coal country expresses excitement over the prospect of a border wall with Mexico and notes that it could cost up to $25 billion to build. "$25 billion? It can't be that much. Oh God, oh God, don't worry, Donald. It'll be okay. Hillary is still ahead in the polls," Baldwin's Trump says.
Kate McKinnon returned to play opposite Baldwin, but as Trump spokeswoman Kellyanne Conway instead of Clinton. Her Conway is increasingly disgusted at her role in helping Trump win election, looking at one point as if she is about to vomit. When Trump sees her wiping her shoulders and asks, "what's the matter? Is there something on your shoulder?," Conway gestures around her and says, "Yes, all of this."
Trump gets some straight talk from Pence to close the sketch. "Sir, being president is not goiong to be easy but we'll get through it if we work hard together," Pence says.
"Thank you, Mike. Oh and Mike? You're going to do everything, right?"
"Yes sir."