Watch Baldwin's Trump Take the Travel Ban to People's Court on SNL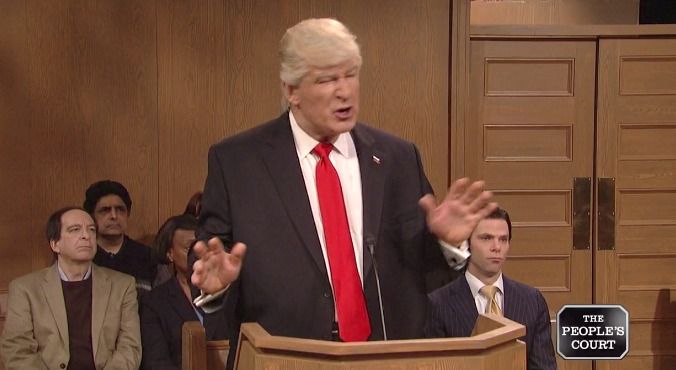 Seeking "justice bigly," avid TV watcher Donald Trump sought relief from the People's Court for his suspended travel ban, while Sean Spicer showed the true meaning of "extreme vetting" on "Saturday Night Live."
RELATED: McCarthy threatens the press as Spicer on SNL
Alec Baldwin stepped up from his near-weekly role as the president to host this weekend's edition of SNL, and Melissa McCarthy returned to open the sketch show as her hilarious Spicer, prone to malapropisms and angry outbursts at a press corps held in contempt.
With real-world confusion over the Trump administration's next step after the Ninth Circuit Court of Appeals upheld a stay on his temporary refugee and travel ban from seven Muslim-majority countries, the president found the venerable courtroom show a perfect venue for his grievance, as he is a "TV president.
"I signed a tremendous travel ban. I didn't read it, but I signed it. These judges have been very disrespectful. I'm right, they're wrong. I want the ban reinstated," Baldwin's Trump tells the People's Court judge, played by Cecily Strong.
Trump shouts "wrong!," as the Ninth Circuit judges (who were "accused of, I guess, knowing the Constitution...?) say that his executive order violated the Establishment Clause. Given a chance to offer "one legitimate reason we need this ban," Baldwin's Trump explains with a nod to TV's "Cops": "It's so simple. The bad people, they're pouring in and you see them, and it's ISIS and San Bernardino and Chicago. I mean, look at Chicago. It's hell. They're bad dudes coming in here, bad hombres, bad boys, bad boys, whatcha gonna do."
Beck Bennett's shirtless Vladimir Putin is called as a character witness, testifying about his "great friend" Trump, his "little American Happy Meal.
"He'll do anything for you," Putin says. "Go against his own country just to make you happy."
Perhaps speaking for millions, Strong's judge tells Trump she wants "one day without a CNN alert that scares the hell out of me," before ruling against his executive order, which "seemed rushed...and I hear three cases an hour."
McCarthy returns
In the show's cold open, Spicer warns that he will "probably freak if you ask stupid" questions, and explains to an incredulous press corps that "extreme vetting" of immigrants "means it's extreme" before turning to props to make his point. A GI Joe represents a TSA agent, with Barbie standing in for a traveler seeking entry to the United States. "We know she's OK because she's blond," McCarthy's Spicer says. Suspicions are raised by the appearance of a dark-skinned doll—"we're going to pat her down and then we're going to read her emails, and if we don't like them, which we won't, boom, Guantanamo Bay," McCarthy bellows.
SNL lampooned the recent tendency of Trump spokespersons to cite fabricated terror attacks in their criticism of media coverage. Asked to clarify remarks about a nonexistent attack in Atlanta, Spicer finds another way to slam the media. "I said that wrong when I said it. And then you wrote it, which makes you wrong. Because when I say something wrong you guys should know what it is I'm meaning, wrong or right, you're wrong. And that's why you're here. Obviously, I meant Orland-ta."
Among the terror attacks the press reportedly refuse to cover? "The slaughter at Fraggle Rock," and "the night they drove old Dixie down."
Kate McKinnon made an appearance as new Attorney General Jeff Sessions in a portrayal seemingly designed to bait the actual president, who reportedly wasn't pleased that a woman played Spicer. While "SNL" viewers may not have gotten the Rosie O'Donnell-as-Steve Bannon pairing that many (including O'Donnell) wanted, McKinnon was a highlight in her brief appearance, although nearly incomprehensible with an exaggerated, syrupy Alabama drawl.
Sessions made light of the Democratic effort to prevent his confirmation, which culminated with Senator Elizabeth Warren being silenced on the Senate floor for reputedly attacking a member's character, against chamber rules. "Elizabeth Warren came at me like a porcupine, but then my friend Mr. McConnell swooped in like an alligator and bit her head off," McKinnon's Sessions says.
"We all know there's two kinds of crime: regular and black," he says before being shuffled offstage by Spicer.