An American woman convicted of helping her boyfriend to kill her mother and of stuffing her remains into a suitcase was released from a prison in Bali, Indonesia, on Friday.
Heather Mack, who served seven years for the 2014 murder, will now be deported to the United States. The daughter she gave birth to while incarcerated will return to the U.S. with her, her Indonesian attorney Yulius Benyamin Seran told Newsweek.
Seran said Mack wanted to leave her daughter with her foster parents in Indonesia to avoid the media attention but the country's immigration agency refused.
Mack left Bali's Kerobokan prison early on Friday and was taken to the island's international airport. She declined to talk to reporters gathered at the terminal.
In August 2014, Mack and her boyfriend Tommy Shaefer were arrested after the body of her mother, Chicago socialite Sheila von Wiese-Mack, 62, was found in the trunk of a taxi parked at the St. Regis Bali resort. The body had bruises on the arms and broken fingers.
Mack, who was 18 at the time, and Shaefer, then 21, were found by police the next day at another hotel about 6 miles from the St. Regis resort.
Police said CCTV from the luxury resort showed that the couple had argued with von Wiese-Mack in the lobby just before the murder, which is believed to have taken place inside a hotel room.
Other footage shows Schaefer and Mack speaking to a taxi driver after leaving the suitcase in another car.
In their 2015 trial, Schaefer was sentenced to 18 years for premeditated murder, while Mack received a 10-year sentence.
Robert Bibbs, Shaefer's cousin, was later sentenced to nine years for his role in the crime. In December 2016, Bibbs pleaded guilty in an Illinois court to one count of conspiracy to commit the foreign murder of a U.S. national.
A Department of Justice statement, citing a plea agreement, said Shaefer had informed Bibbs that Mack had offered her boyfriend approximately $50,000 to kill her mother. Shaefer also asked his cousin whether he knew anyone who could kill von Wiese-Mack in exchange for money.
According to the plea agreement, Bibbs advised Shaefer to kill her himself and, via text message, provided suggestions on how he could do it, including drowning or suffocation.
Mack was a few weeks pregnant at the time of the murder and her daughter, Stella Shaefer, was born shortly after the couple were convicted in 2015.
Indonesian law allowed Stella to live with her mother in her prison cell until she turned 2 years old, before Mack gave custody of her young daughter to an Australian foster mother until her release. Mack now has custody of her daughter under Indonesian law.
Lili, the chief warden of Kerobokan prison, who goes by a single name, explained that Mack's sentence had been shortened by 34 months thanks to reductions that are often given to prisoners on major holidays, such as Indonesia Independence Day in August.
The warden added that Mack would be held in a detention room at the airport's immigration office while waiting for a flight back to the United States.
Mack had a difficult and sometimes violent relationship with her mother. Von Wiese-Mack frequently reported that her daughter bit, punched and stole from her, according to police files cited by Radar Online.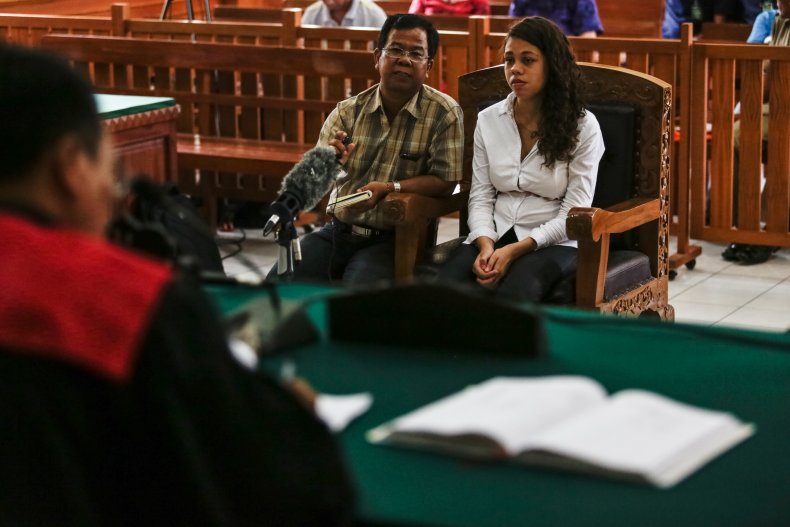 Update 11/02/21, 6:20 a.m. ET: This article was updated with new information that Mack's daughter will return with her to the U.S.