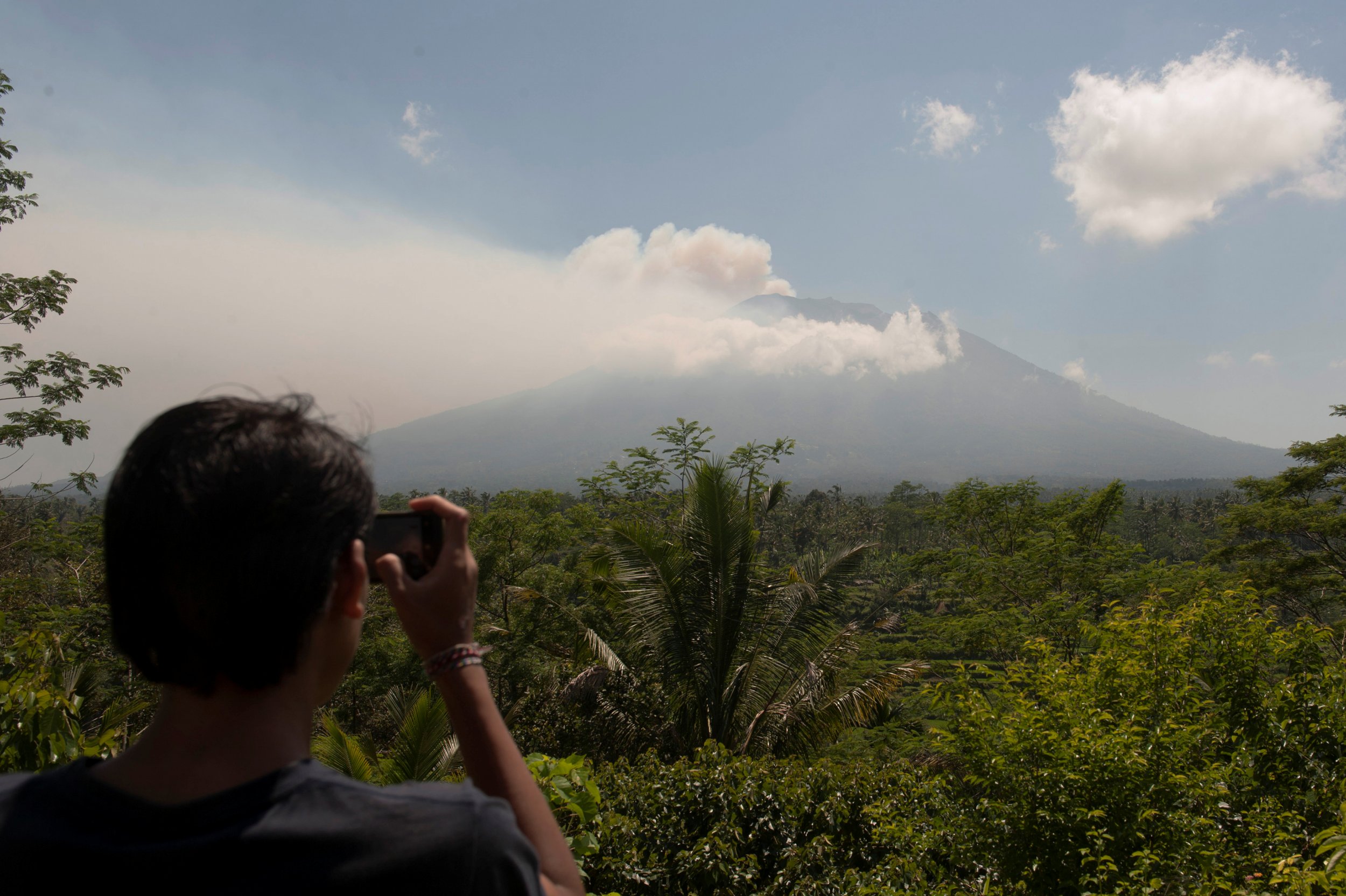 Almost 10,000 people have been evacuated from one of the world's most popular vacation destinations, Bali, where a rumbling, smoking volcano is threatening to erupt for the first time in 50 years.
Mount Agung, on the city's eastern shore, has experienced hundreds of tremors for days, and increasing seismic activity for weeks. A total of 676 tremors were recorded on Thursday, and another 178 in a six-hour period Friday morning. The National Disaster Mitigation Agency of Indonesia raised its alert status to 3 (the maximum is 4), and all public activities within 3.7 miles of the crater have been suspended by local authorities. The size of the exclusion zone has been doubled this week. As of Friday, area residents and visitors had dispersed into 50 shelters in Karangasem, Klungkung and Buleleng.
The National Disaster Mitigation Agency said there had been 160-foot-high smoke blasts from the crater. The volcano is close to 10,000 feet tall, or about two miles above sea level, and is the highest point on the island of Bali. It's a popular spot for hikers and travelers and houses one of Bali's most prominent temples, Pura Besakih, which was narrowly spared from destruction in a 1963 eruption that killed 1,100 people and spewed ash six miles in the air.
Nearby Australia issued a travel warning on Friday, advising its citizens not to go near the country and to take extra safety precuations if they do. International flights to and from Bali Ngurah Rai International Airport were running on a normal schedule as of Friday morning, but an eruption could affect air travel for an extended period of time.
On Thursday, a 5.7 magnitude undersea earthquake was recorded nearby, northwest of Bali. It was moderately strong and had a depth of 365 miles, and made officials anxious about the seismic activity near the volcano. The Tribun Bali reported that snakes and monkeys had been seen descending from the volcano for days, something that also happened during the last eruption in 1963.
Indonesia is situated on the Pacific Ring of Fire, which is prone to seismic activity and has a striking 130 active volcanoes. Its history has been colored by enormous eruptions: In 1815, Indonesia's Mount Tambora produced the most violent eruption in history.