Bali Volcano Update: Chances of Eruption Are 'Quite Large' Amid Earthquakes, Evacuations Near Mount Agung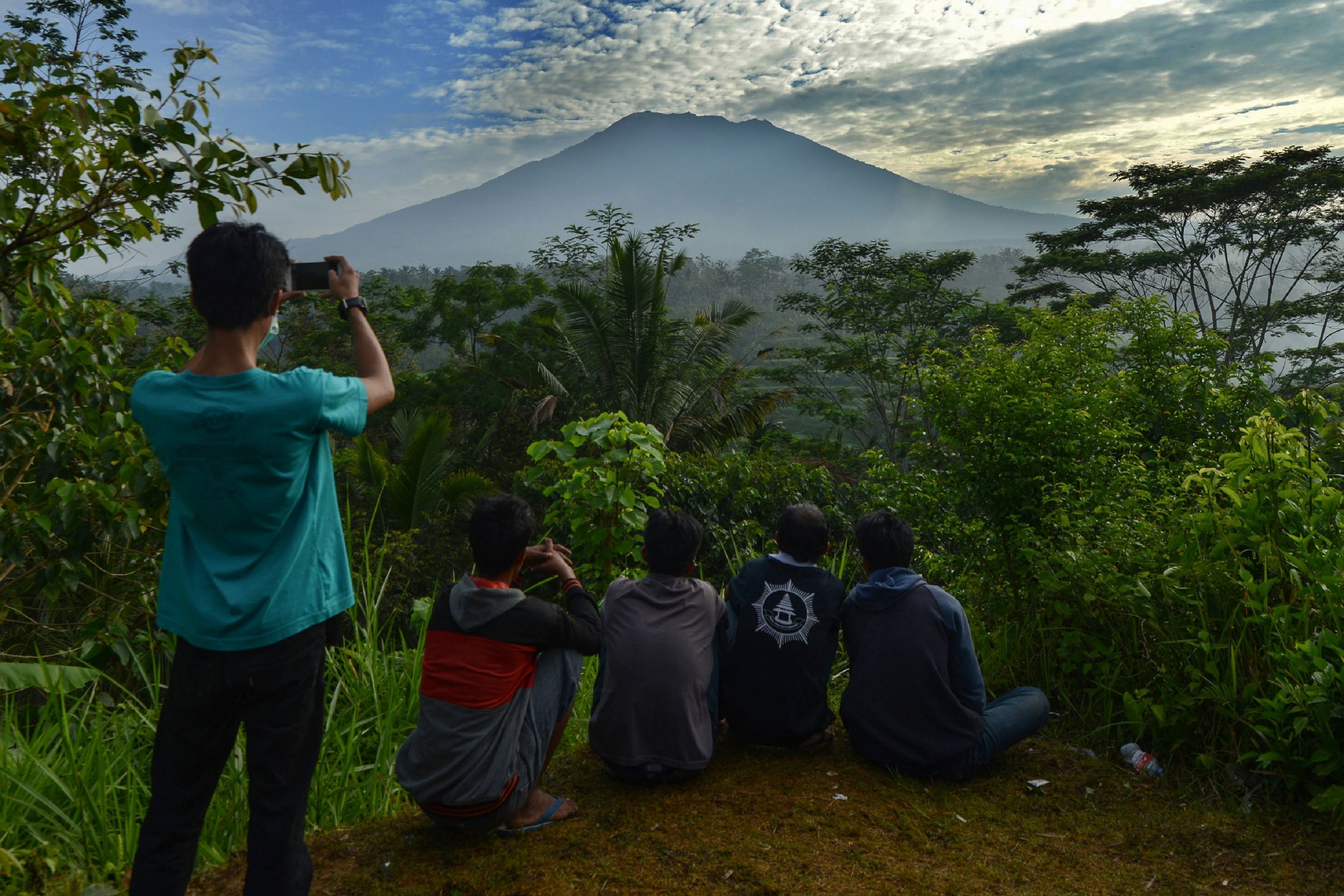 Evacuations near Mount Agung in Bali took on a new urgency Wednesday as the volcano released steam, magma moved, and a magnitude 4.3 earthquake rocked the Indonesian island.
Authorities with the national disaster management agency confirmed Wednesday that more than 96,000 residents and visitors—and counting—have left the area around the smoking cone, which was threatening to erupt for the first time in five decades. The government continued to set up kitchens and shelters, making sure to warn locals that it couldn't forecast when they'd be able to return to the base of the volcano.
"The chances of the eruption are quite large," Sutopo Purwo Nugroho, the agency's head of data and public relations, wrote in a Facebook post. "But it cannot be ascertained when it will erupt with certainty."
The 10,000-foot volcano in northeast Bali began rumbling in August. Several scientists now predict that an eruption is imminent, especially given that there were about 830 earthquakes recorded there on Wednesday.
"The fact that the seismic tremors beneath the volcano are increasing in number, intensity, and the reduction in their depth in the last week or so, is a very good indication that magma is moving up to the surface," Queensland University of Technology professor Scott Bryan told the Guardian, noting that the volcano was emitting gas as well. "It's like a bottle of Coke or champagne, if you shake them up the pressure builds until you release the lid."
Indonesia is no stranger to earthquakes, and Mount Agung has a history of destruction. When it erupted in 1963, it killed more than 1,000 people.
That's why the government is trying so hard to prevent devastation this time around. In addition to the mass evacuations, authorities have set up early warning siren systems around the volcano. On Tuesday, President Joko Widodo helped deliver more than 500,000 smoke masks, 18,000 mattresses and 5,000 blankets to refugees, according to the Jakarta Post.
Mount Agung's activity was triggering concern not only in Bali but also in Australia, which sends more than 1 million tourists to the island every year. Australia joined Singapore and the United States in issuing travel advisories this week.
"Past eruptions of Agung volcano have shown this volcano's potential to cause significant impacts to the island of Bali, including the potential for widespread ash fall outside the declared danger area surrounding the volcano," the Australian government wrote on smartraveller.gov.au Wednesday. "Monitor local media reports and follow the instructions of local authorities ... Exercise a high degree of caution in Indonesia, including Bali."