The Ballad of the Transfer Quarterback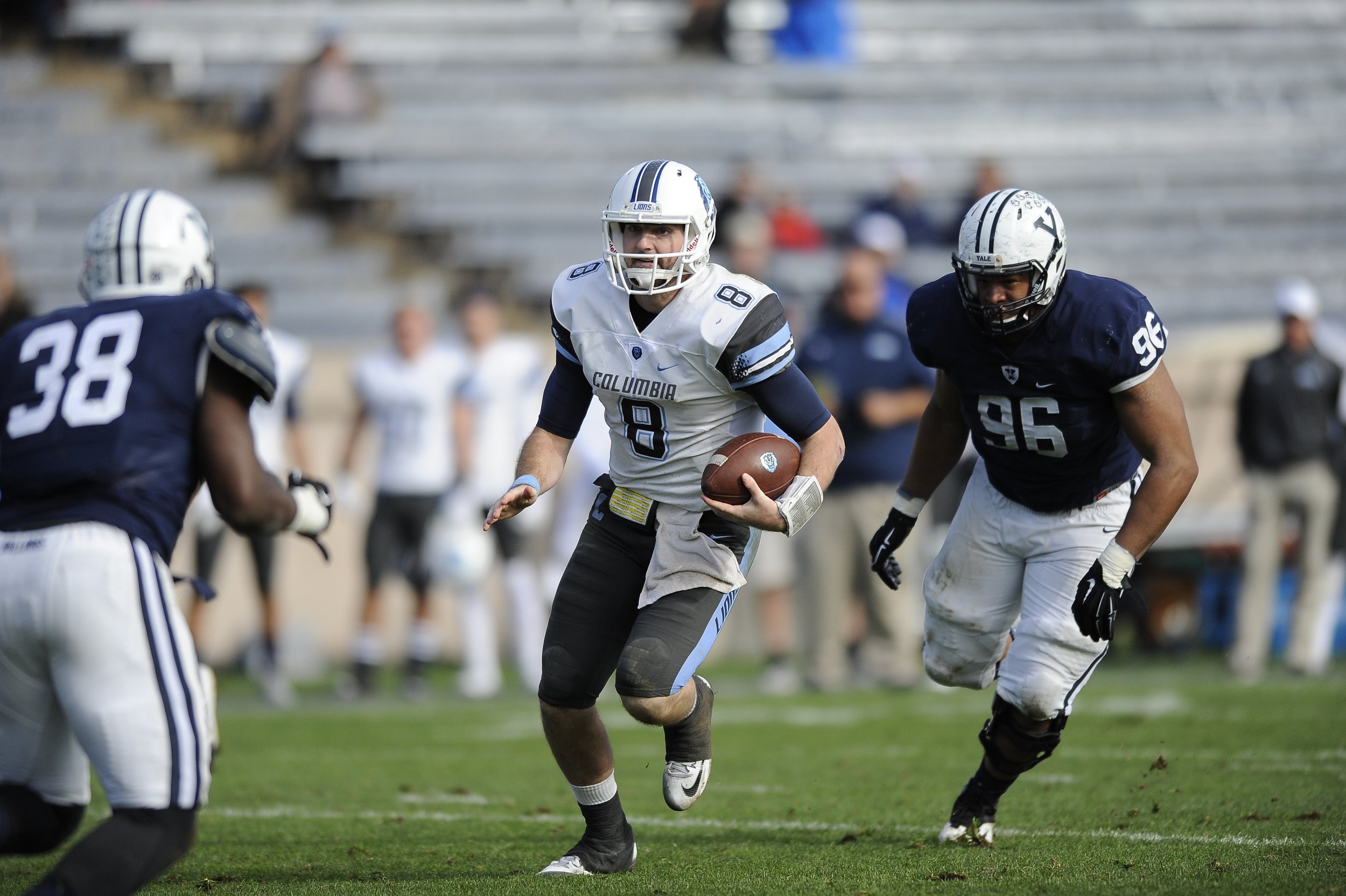 Though not illustrious, the college football career of quarterback Skyler Mornhinweg has been as unique as his name. How many passers, for example, have taken snaps against both Florida State and Harvard? Or in the same month played against not one but two future No. 1 overall draft picks: Jadeveon Clowney, a hazardous-to-your-health defensive end from South Carolina ("He never touched me," Mornhinweg beams), and Jameis Winston, the Heisman Trophy–winning quarterback for the Seminoles?
You may not recall Mornhinweg from his days at the University of Florida, but you may remember the most infamous play in which he was involved. It went viral due to the fact that two of his Gator teammates, offensive linemen, blocked each other. "We still got positive yards on that play," says Mornhinweg, who had three starts in three seasons in Gainesville.
Mornhinweg is now the quarterback at Columbia University in New York City. He has traced a unique route, from the ultimate party school to the Ivy League, from facing undefeated Florida State in late November 2013 in the Swamp to facing undefeated Harvard in early November 2015 along the banks of the Harlem River. "I'm becoming subway-fluent," says Mornhinweg, a graduate student. "But it doesn't really matter where I am; I just want to play football."
The particulars of Mornhinweg's odyssey are extraordinary; his status as a quarterback transfer student is not. This season, more than 40 starting quarterbacks playing Division I football are transfers, gridders who initially accepted scholarships and suited up somewhere else. In fact, two of Mornhinweg's former Gator teammates, Jacoby Brissett and Jeff Driskel, are now at North Carolina State and Louisiana Tech, respectively. Like Mornhinweg and dozens of others, Brissett and Driskel saw the name atop the depth chart and made their exodus. "You always want to be the guy," says Mornhinweg. "It's always tough when you don't win the job."
As the old adage goes, if you have two quarterbacks, you have none. Hence, many a former high school BMOC finds himself at a top-tier Football Bowl Subdivision school facing a difficult choice: Swallow your pride, or find a new one.
"For me, the choice was easy," says Toledo quarterback Phillip Ely, who earned a national-championship ring as a backup at the University of Alabama in 2012. "At the end of spring practice in 2013, [Crimson Tide offensive coordinator] Doug Nussmeier gave it to me straight. I wasn't going to start, and he told me that he wanted me to have a successful career."
Ely transferred to Toledo, where, as a senior, he has led the Rockets to a 7-1 record this season. He is one of six transfer quarterbacks who, when the initial College Football Playoff (CFP) rankings were released in November, had positioned their teams into the Top 25. The others were Jacob Coker of Alabama (previously at Florida State), Baker Mayfield of Oklahoma (previously at Texas Tech), Everett Golson of Florida State (previously at Notre Dame), Jake Rudock of Michigan (previously at Iowa) and Chad Kelly of Mississippi (previously at East Mississippi Community College).
Eight other schools in the Top 25 are playing quarterbacks who beat out the incumbent only to have him depart. C.J. Beathard of undefeated Iowa, for example, unseated Rudock, who then made haste to Ann Arbor. "It's the coach's job to recruit better players than you already have at every position," says Columbia head coach Al Bagnoli, an Ivy League legend who transferred Ancient Eight programs last winter after 23 seasons at Penn. "Every year, that's the goal."
Real Talent, Bad Timing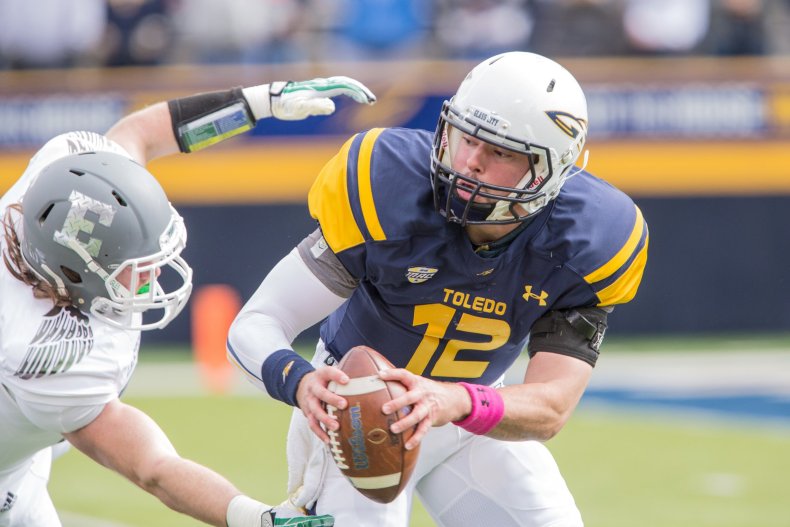 In terms of transfer situations, quarterbacks fall into two groups. Undergraduates, as NCAA rules dictate, must sit out one year before being allowed to play again (players have five years to complete four seasons of eligibility). If a player graduates, however, he may transfer to a school and play immediately, as Russell Wilson, who has led the Seattle Seahawks to the past two Super Bowls, did a few years back.
Members of the former group are often stigmatized, unfairly, as quitters. On a recent Thursday night, when ESPN aired a game between Oregon and Arizona State, commentators Jesse Palmer and Joe Tessitore praised the perseverance of Sun Devil quarterback Mike Bercovici. A fifth-year senior, Bercovici had spent four years as an understudy in Tempe, Arizona, before becoming the starter in his final year of eligibility. "I love guys who stay around," said Palmer, a former quarterback at the University of Florida. "You gotta be committed," agreed Tessitore.
Do you, though? "Look at Gunner Kiel," says Fox Sports college football analyst Bruce Feldman, who is also the author of The QB: The Making of Modern Quarterbacks. "He decommitted from two schools that he had verbally committed to attend before signing with Notre Dame. Then he transferred after redshirting his freshman year. Now he's the starter at Cincinnati, where he completed 15 of 15 passes in his last game."
As for the latter class, graduate students, the terms free agent or mercenary are often used to describe them. "When I first arrived at UMass, we had a team meeting," says fifth-year quarterback Blake Frohnapfel, who graduated from Marshall University with two years of eligibility remaining, "Coach Mark Whipple asked, 'Who are the leaders on this team?' I stood up, even though I had barely met anyone. It felt weird doing so."
Transfers are not discount-bin talents. Golson started in the 2013 BCS National Championship Game for the Fighting Irish. Mayfield walked on at Texas Tech two years ago and was named the Big 12 Freshman Offensive Player of the Year. When he was still not offered a scholarship, Mayfield chose to bail to the Sooners. Michael Brewer, who preceded Mayfield at Texas Tech, transferred to Virginia Tech, where last season he was the only quarterback to lead his team to victory over Ohio State, the eventual national champions.
"There is such a thing as bad timing," says Bagnoli. "You don't want to be the guy who gets stuck behind [2012 No. 1 overall pick] Andrew Luck."
Frohnapfel never started a game in three seasons at Marshall. Last year, he finished fourth in the nation in passing yardage at 334.1 yards per game. "I got sick of telling people that I know that I can do this," says Frohnapfel, who now appears to be a mid-round pick in next spring's NFL draft.
There are dual-threat quarterbacks (those who are equally dangerous as passers or rushers), but the position itself is beset by the dual threats of hype and impatience. Last year, Texas A&M freshman Kenny Hill broke the school record of his predecessor, Johnny Manziel (the Heisman Trophy winner? Aka Johnny Football? Yes, you've heard of him), for single-game passing yardage (511 yards) in his first collegiate start. By midseason, however, Hill had been demoted. As soon as the year ended, he transferred to Texas Christian University (TCU). "When you get to this level, every quarterback has been a superstar in high school," says Bagnoli. "They've never experienced anything but absolute success. So when you're the elite of the elite and you're not playing, the fall is that much greater."
Some quarterbacks do not even wait to be benched to transfer. Last August, Ricky Town, a California kid who was widely considered to be the top incoming freshman quarterback in the country, left the University of Southern California just one week into fall camp. As Tyler Bruggman, a quarterback who has been on the roster at three different schools (Washington State, Louisville and presently Scottsdale Community College in Arizona), puts it, "You can't really know what a place is like until you get there, behind closed doors."
A Domino Effect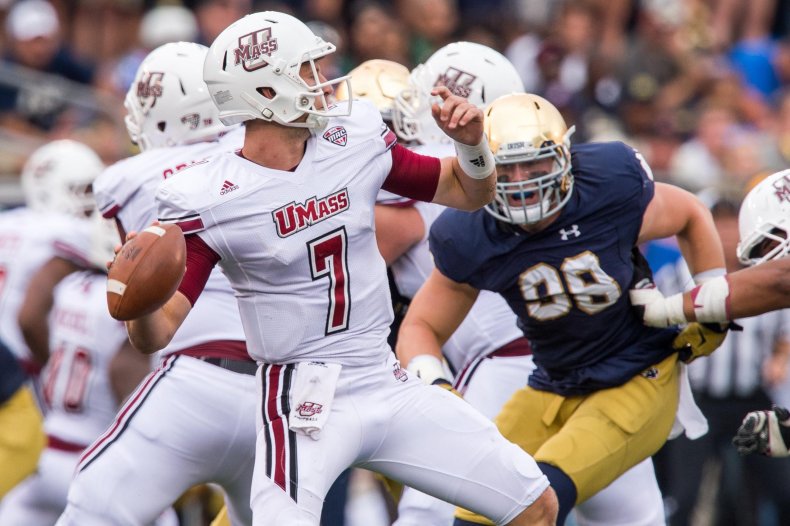 No transfer quarterback may be more itinerant or have a more bizarre tale to share than Connor Brewer. A former quarterback at Scottsdale Chaparral High School who led his team to three state championships and graduated with a 4.0 GPA, Brewer was rated by one recruiting service directly ahead of Manziel and directly behind another future Heisman Trophy winner, Marcus Mariota.
Brewer signed with the University of Texas, then transferred after one year to the University of Arizona, then departed for the University of Virginia two years later. When the 2015 season began, Brewer had attended three different universities and graduated—and still had yet to attempt his first collegiate pass (he has since completed four of eight). "Obviously, no one wants to transfer; no one wants to leave," says Brewer. "One of the biggest things I've learned is patience. My early years I was impatient when things didn't go my way."
Brewer's first school, Texas, has struggled to find a serviceable quarterback the past two seasons. "Obviously, I kinda look back and wonder, Should I have stayed at Texas?" says Brewer. "There's been times I've gotten down on myself, but my parents have done a great job."
Brewer's mother, Deborah Pyburn, is a former Miss Georgia who appreciates that only one person is able to wear the tiara. "What an adventure it has been," Pyburn says. "When parents of high school boys ask me for advice, all I can tell them is that I wish I had a crystal ball. The only way you'll know is if you have a crystal ball."
Parents play a role in why the rate of quarterbacks who transfer has never been greater (although the graduate transfer rule, adopted in 2006, has also been a huge factor). "Relative to every other position, quarterbacks come from affluent families," says Feldman. "The development of an elite quarterback often involves private coaches and camps, and they're not cheap. I had one mom tell me, 'Some parents go on vacation. We go to quarterback clinics.'"
For some, a scholarship may not be enough of a return on investment. Only playing time is. "I think my parents wanted me to compete at the highest level possible," says Brewer.
So why did Brewer transfer to Virginia? It's an excellent school, but he also saw that the Cavaliers needed a backup after incumbent Greyson Lambert transferred to Georgia upon losing his job to Matt McGloin. In Lambert's third game with the Bulldogs, he completed 24 of 25 passes to set a new NCAA record for completion percentage (96 percent, minimum of 20 attempts).
A domino effect is in play. Jacob Coker cannot beat out Jameis Winston at Florida State, so he transfers to the elite college program of the past decade, Alabama. Ely notices that Coker is on his way, so he departs to Toledo. Coker's exodus from Tallahassee leaves a void for the post-Winston Seminoles, and so Golson, having lost his job to Malik Zaire and having graduated, makes haste to Tallahassee. "I hate to think of them as free agents, but that's what quarterbacks are," says Feldman. "It's the only position where being second-best means you may not play."
Professional Outliers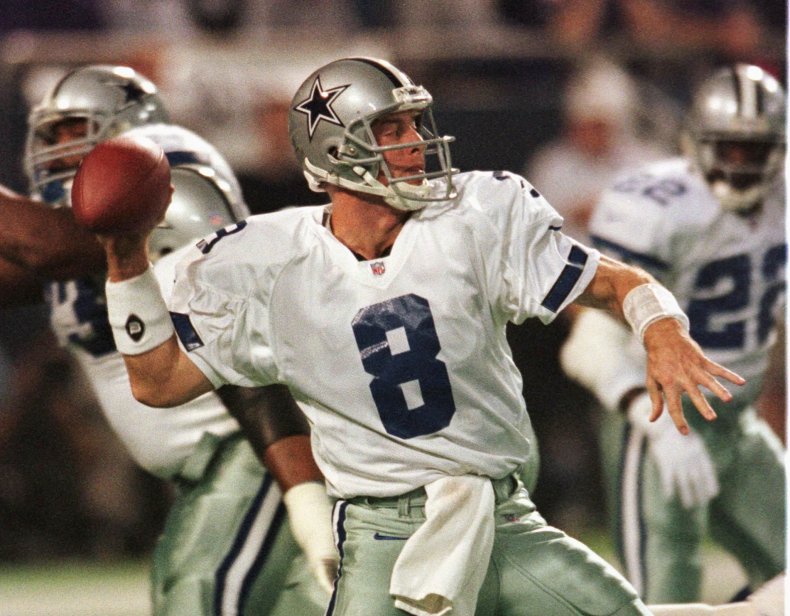 The first well-known college football quarterback to transfer was Vince Ferragamo, who switched from California to Nebraska in 1974 after he was unable to win the starting job. Six years later, Ferragamo started for the Los Angeles Rams in Super Bowl XIV (the Rams lost to the Pittsburgh Steelers).
Five years later, a sturdy, sandy-haired quarterback from Henryetta, Oklahoma, became the starting quarterback for the Oklahoma Sooners as a true freshman. His name? Troy Aikman. "I remember [Sooner coach] Barry Switzer telling us after practice one day, 'Guys that transfer, you just never hear from them again,'" says Aikman.
A week or so later, Aikman broke his ankle. Oklahoma went on to win the national championship with Aikman's backup, Jamelle Holieway, under center. "They said there'd be open competition in spring ball," says Aikman, "but who's kidding whom? Jamelle was Big Eight Player of the Year."
Aikman transferred to UCLA in 1986—a brazen move at the time—and, remarkably, people heard from him again. He would lead the Dallas Cowboys to three Super Bowl victories in the 1990s and later be inducted into the Pro Football Hall of Fame.
Until recently, however, Aikman had been the exception. Before 2010, Aikman had been the only college QB transfer to ever lead his team to a Super Bowl triumph. In the past five years, however, three different former transfers have done so: Aaron Rodgers of the Green Bay Packers, Joe Flacco of the Baltimore Ravens and Russell Wilson of the Seattle Seahawks.
In 2010, Wilson transferred from North Carolina to Wisconsin and became a breakout star. He has played in the past two Super Bowls. On a recent Sunday, his Seahawks met the Dallas Cowboys, whose quarterback was Matt Cassel. In four seasons at USC, Cassel never started one game. Cassel's 11-year NFL career is the exception to the rule.
"Matt Cassel is an outlier," says Feldman. And good luck persuading a current college quarterback to follow the Matt Cassel route. "I never wanted to transfer somewhere to be in the limelight," says Ely. "I just wanted to go someplace where I could play."
To stay or to go? An intangible trait that any special quarterback possesses is the awareness of knowing when to stand tall in the pocket and when to tuck it and run. For so many college quarterbacks, that is also an existential question. "I think," Mornhinweg says, "I made the right decision."