Retired Prospector Unearths 4.4 Pound Gold Nugget: 'He Was Shaking Like a Leaf'
A gold prospector in Australia stumbled across the find of a lifetime when he discovered a nugget of the precious metal worth more than $90,000.
The man who wished to stay anonymous, was retired and found the nugget weighing two kilograms (4.4 pounds), a meter below the surface in old pasture land on the outskirts of the town of Ballarat in the state of Victoria, according to Australian Associated Press.
Mark Day, of the company Gold Ballarat, said the lucky finder would not specify where exactly the gold was found as he planned to return and continue his search.
"When he showed me the nugget here in the store he was shaking like a leaf. He didn't know what to do with it. He hadn't slept in three days," said Day. "I've been in this business for 25 years and this is the biggest find we have seen by one of our customers—that they've told me about anyway," he said, according to Nine News.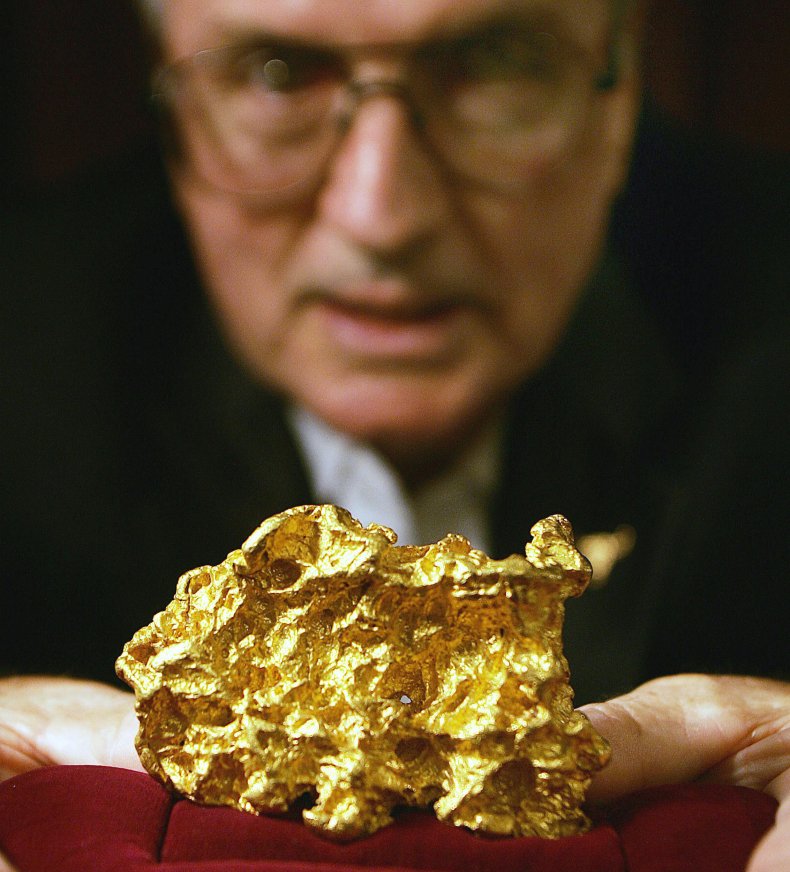 Day said the man had visited the store soon after finding the nugget to ask if he was interested in buying some "big gold."
"I said I wasn't a buyer and asked him what he meant by big. He said two kilos and I just said 'You've got to be kidding.'"
Day said that the prospector had already received offers of around $130,000 Australian dollars ($90,000) for the lucky haul but he could get more due to its rarity.
"History tells us that big finds like this have happened in this area before, and even though they've been digging gold in this region for 150 years, it's still out there."
Ballarat was transformed from a sheep station into a major city following a gold-rush which started in the 1850s. There has been a revival in the search for gold in Victoria state, with experts suggesting that 80 million ounces of gold still remain underground.
Australia's ABC News reported that Kirkland Lake Gold's Fosterville mine in the state is expected to produce up to 610,000 ounces of gold each year for the next three years.
Meanwhile, the Fosterville mine in Bendigo in central Victoria has begun producing a reserve of 2.7 million ounces of high quality gold, the broadcaster added.
In May, a family from Bendigo found a 20-ounce gold nugget while they were walking their dog which was coincidentally called Lucky.
The father-of-two, who did not want to be named, stumbled across the gold while they were walking on the outskirts of the city, The Bendigo Advertiser reported.
In May, an unidentified man described as a local hobbyist, unearthed a 1.4 kilogram (49 ounce) gold nugget with a metal detector, thought to be worth around $69,000, the BBC reported.