'A Ballerina's Tale': Misty Copeland Documentary to Air on PBS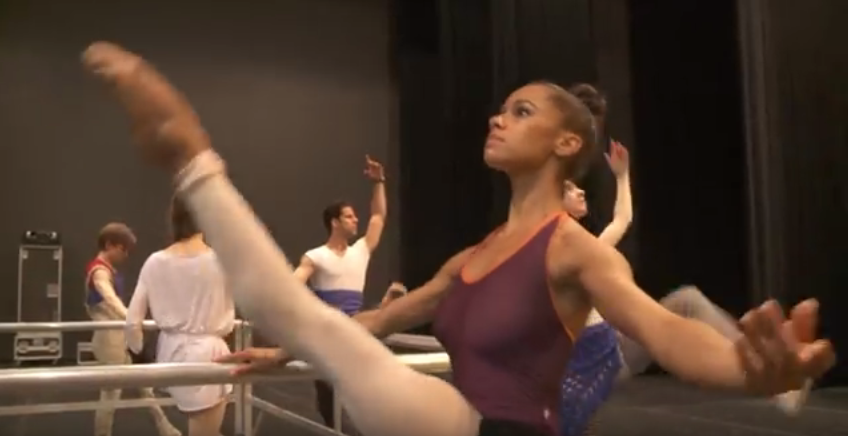 Misty Copeland is perhaps the most recognizable ballet name outside of the dance world. On Monday, her fans in the U.S. will have a chance to see her in the documentary A Ballerina's Tale, set to air on PBS as part of its Independent Lens series.
In most cases, performers who make aspiring dancers swoon and balletomanes clamor for tickets are virtually unknown to the general public. But over the past few years, Copeland has accomplished a rare feat and captured the attention and admiration of a broad audience.
The new film "intimately documents Copeland's historic rise while shining a light on the absence of women of color at major ballet companies," according to PBS. The documentary "also explores how ballet's emphasis on waifish bodies impacts the health of ballerinas while sending a negative message to young fans."
PBS first posted a 30-second preview of the documentary in December on the Independent Lens YouTube channel.
A short excerpt from the documentary about the American ballet dancer discovering a stress fracture in her lower leg appeared on the Independent Lens channel last week.
When Copeland, who was raised in San Pedro, California, and started studying ballet at relatively late age of 13, was promoted from the corps de ballet to soloist in 2007, she was the first black dancer to hold that title with American Ballet Theatre in two decades. She made history in June when she became the first-ever black woman to be named a principal dancer with ABT. The announcement came just days after she was the first black woman to dance the dual role of Odette/Odile in Swan Lake with the company.
But almost as rare as a black ballerina's rise in the ranks of this prestigious company is the ability to stir interest and gain recognition beyond the dance world. Copeland has been featured in popular Under Armour commercials—sometimes alone, and sometimes alongside sports icons like basketball player Stephen Curry and professional golfer Jordan Spieth. In April, Time magazine named Copeland one of its 100 most influential people in the world and featured her on its cover. In August, she made her Broadway debut in On the Town, taking on the lead role of Ivy Smith.
A Ballerina's Tale follows Copeland after her debut as the title character in Alexei Ratmansky's version of Firebird in 2012—which she danced in while in extreme pain, according to her memoir, Life in Motion: An Unlikely Ballerina—through the discovery of several fractures in her shin, surgery and recovery. She didn't return to the stage until May 2013.
In the film—which was named best documentary by the African American Film Critics Association and played at the Tribeca Film Festival—she "comes across as a friendly, humble woman who has taken on a historic role larger than herself and is determined not to disappoint," New York Times dance critic Brian Seibert said in his review.
"The part of her story that A Ballerina's Tale reveals best is the role of a group of successful older black women who took her under their wings and helped her feel less alone," he wrote. "This ballerina's tale is also theirs."