Ballghazi Matters: Hard Questions About Belichick, Brady and Their Soft Balls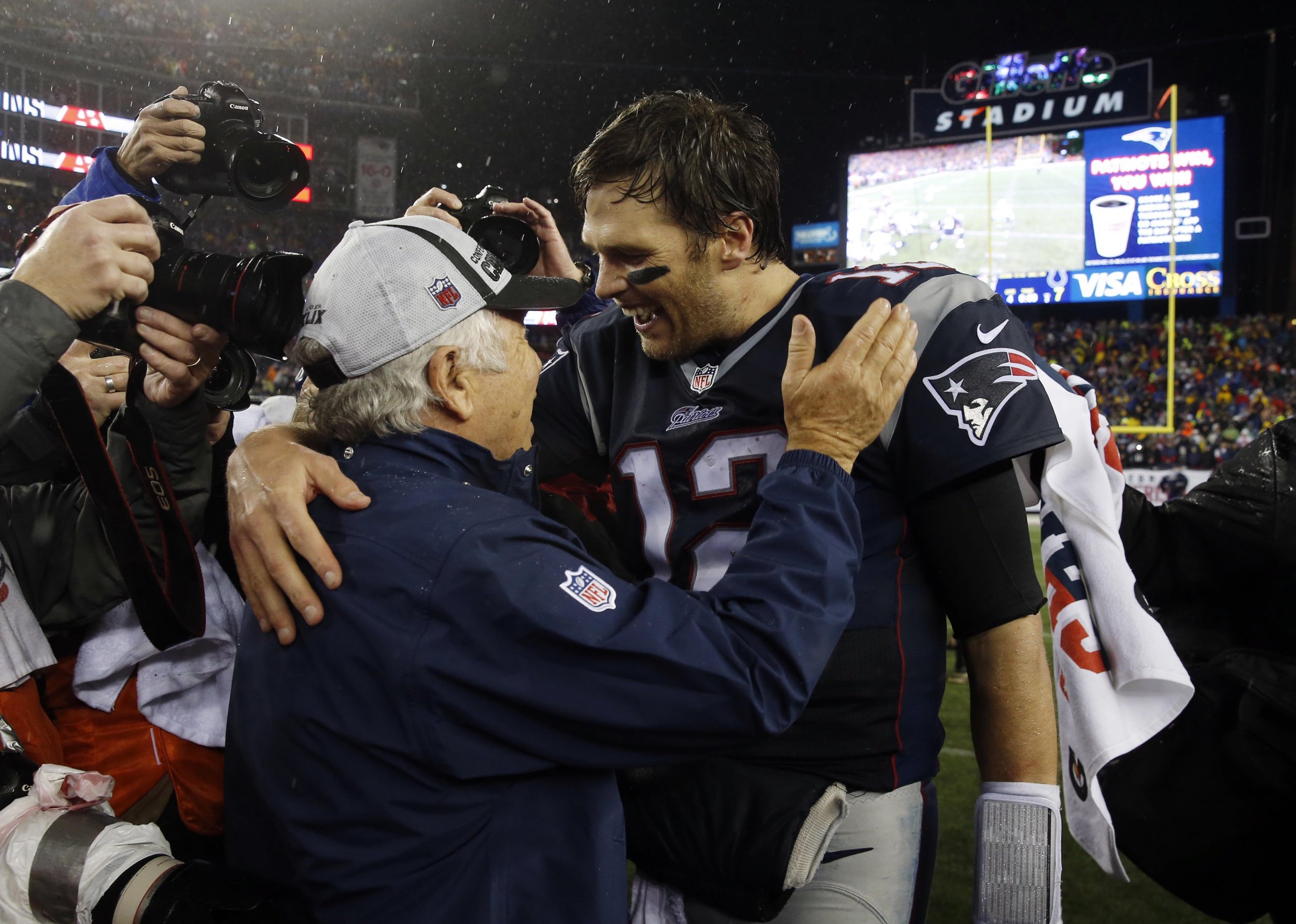 "Coming up tonight, on an all-new episode of 'PSI: Foxboro'..."
We have Indianapolis Colt linebacker D'Qwell Jackson to thank for raising an otherwise moribund sports week in late January to a fevered level of intrigue. And comedy. On Thursday the principal figures of the New England Patriots' epoch of glory, head coach Bill Belichick and quarterback Tom Brady, separately underwent the most intense interrogation seen in Boston since Tim Robbins was called in for questioning in Mystic River.
(Like Robbins's character, Dave Boyle, Belichick and Brady proved more shrewd than their interrogators, by the way.)
It was Jackson who intercepted a Brady pass in the first half of New England's 45-7 trouncing of the Colts in the AFC Championship Game and then handed the football to an equipment manager so that it might be kept as a memento.Jackson, who had not made a single interception all season, possessed the foresight to appreciate that a football thrown by Brady and intercepted in a championship game would have lasting value, either in his own den or in the collectibles market. Jackson could never have foreseen just how much value, though.
On Thursday Brady, a three-time Super Bowl champion and two-time NFL Most Valuable Player, endured 30 minutes of reporters busting his balls about… balls. The 37-year-old quarterback, clad in a gray sweatshirt and a Patriots wool cap, calmly and courteously fielded dozens of questions about the preparation, procurement and pampering of pig bladders. By my unofficial count, Brady used the term "ball" or "balls" 32 times (a figure that, I assure you, is not over-inflated).
Brady discussed balls that are "perfect," noted that he didn't "want anyone touching the balls after that," "rubbing them," "to me those balls are perfect," "some guys like old balls," etc. Basically, he wrote Andrew Dice Clay's entire act for him for the next tour. OHHHHHHHHHHH!!!!!
Certainly, the kerfuffle has inspired snark and wit. Will Mr. Whipple, the erstwhile Charmin squeezer, be the NFL's next in-game ball inspector? If only, as Cecil Hurt of the Tuscaloosa News mused on Twitter, this year's Super Bowl halftime act was Air Supply.
The future Hall of Famer, who has thrown more postseason touchdown passes (49) than anyone in NFL history, could not have been more accommodating to the assembled media. Brady remained at the podium at least 12 minutes after a Patriots representative could be heard shouting, "Last question!" When you have Super Bowl game prep and Giselle Bundchen waiting for you and you spend an extra dozen minutes chatting with the fourth estate, that is beyond commendable.
Three questions arose, though, after he exited: (1) Was Brady lying? (2) Was his coach, Belichick, lying when he appeared before the same press throng six or so hours earlier, and also denied all knowledge of how so many balls got so soft? (3) Is this really a big deal?
Let's tackle the last question first: Yes. To paraphrase another Bostonian, Louis C.K., "Of course, of course, OF COURSE, the improperly inflated footballs were not responsible for New England's 45-7 emasculation of the Colts. Of course…"
But… if a team, with malice aforethought, in any way cheats and thereby betrays the fundamental principle of fair play, why should anyone have a shard of compassion for them? What should the punishment be? I'll leave that to you, but to quote another Bostonian, "It's a very serious topic. The integrity of sport is very important."
That Bostonian? Tom Brady, who uttered those words during Thursday's press conference.
A pair of prominent writers have attempted to dissuade us from making more out of this than we have. Author Stephen King tweeted, "I'd be outraged about Deflate Gate if the final score had been 45-40, but 45-7? Get over it." Meanwhile, columnist Charles F. Pierce, writing for Grantland.com, referred to you and I as "infantilized yahoos" for taking an interest in this. In other words, "This isn't ISIS… this isn't… you know, no one's dying."
True. Still, is the assumption here that if we all just disengaged ourselves from this matter, our collective cranial surge would somehow conjure a means to defeat radical jihadists? Coming up on 'Around the Horn', Bill Plaschke solves climate change. And perhaps a man as intelligent as Pierce should devote his hours remaining on the planet to attending ridiculous press conferences and documenting our institutionalized idiocy for those very same infantilized yahoos? Or does he imagine that Louis Brandeis is reading his copy from beyond the grave?
Anyway, Messrs. King and Pierce are lifelong New Englanders, so you can preserve the season's haul of cod with the grains of salt attached to those arguments.
Moving on to questions 1 and 2: Are Belichick and Brady lying? Honestly, I do not know. I don't.
Belichick spoke briefly and, to summarize, said that he had never before broached the topic of air pressure in footballs in all of his years of coaching. He noted that quarterbacks and kicker have their preferences, which is to say, "Go ask Tom." Belichick then responded to every question by either stating, "I have no explanation for what happened" or "I've told you all that I know." I pray that one or both of these lines will be Seattle running back Marshawn Lynch's stock response to all questions during next week's Super Bowl media day.
Appearing on ESPN immediately after Brady's press conference, former NFL players Mark Brunell, Jerome Bettis and Brian Dawkins each flatly called Brady a "liar." Not one of the three hedged their statements. Brunell: "I did not believe what Tom had to say. Those balls were deflated. Somebody had to do it. And I don't believe there's an equipment manager in the NFL that would on his own initiative deflate a ball without his starting quarterback's approval. I just didn't believe what Tom Brady had to say."
I'm not ready to go that far. Certainly Belichick and the Patriots have been convicted of premeditated cheating in the past (Spygate) and it is not unreasonable to assume that they have obviated the rules without being caught before or since. You cannot act on such suspicions, but you may harbor them.
And yet, there may be an answer that no one has yet produced. Anyone who has ever stepped into his or her garage in mid-winter and picked up a basketball or felt a bicycle tire knows that cold temperatures deflate objects that are inflatable. The question that I have yet to see addressed is whether the Colts' footballs were also inspected at halftime…or whether the Patriots footballs were stored in a markedly colder place than the Colts' were.
I'd like to believe Brady when he said he had no knowledge of the balls being tampered with. And yet, for a quarterback of his experience and expertise to claim not to notice a 15 percent drop in air pressure (from 12.5 pounds per square inch to 10.5 psi) during a game borders on the absurd.
Yes, we are all expending too many wasted breaths over nothing more than cold air here. And yet Ballghazi is about so much more than that. It is about honor and integrity and character. And it centers on the key figures who are about to participate in what is annually America's most-viewed television event. The evidence and the purported crime may literally be light as air…but nothing about its ramifications are.