Balloon Intrusion Shows China's Regime Is Planning for War | Opinion
The flight of a Chinese spy balloon directly over some of the most sensitive American military sites this month suggests China is planning to wage war soon.
On January 28, a large balloon launched by China flew into the U.S. Air Defense Identification Zone north of the Aleutians. It then traveled through Alaska and western Canada. The balloon, carrying what appeared to be surveillance equipment, crossed into Idaho on January 31.
Before an Air Force F-22 shot it down on Saturday afternoon off the South Carolina coast, the maneuverable balloon surveilled, among other facilities, Malmstrom, F. E. Warren, and Minot Air Force Bases, which house Minutemen III intercontinental ballistic missiles.
The balloon also passed close to Whiteman Air Force Base, home to the nuclear-capable B-2 bomber fleet, and Offutt Air Force Base, the headquarters of Strategic Command, which controls U.S. nuclear weapons.
This path suggests China is gathering intelligence for either a first or second strike on America's nukes.
Whatever China is planning, the violation of American territorial airspace was blatant and reveals the dangerous mentality of the Chinese leadership.
There are several alternative explanations for why Beijing engaged in such a brazen act. It is possible that the Chinese military has become so politically powerful inside the Communist Party that it could launch this balloon without consulting others.
A more likely possibility is that China's leader decided this was the time for China to make its move. "Xi Jinping seeks to affirm his warped vision that the United States is a weak and indecisive power in decline that will be crushed by an ascendant triumphant China under his leadership," Charles Burton of the Ottawa-based Macdonald-Laurier Institute told Newsweek. "That U.S. citizens could look up into the sky and see China's spy balloon looking down on them may have been gratifying to Xi and his cohorts."
Jonathan Bass, a China expert at InfraGlobal Partners, tells this publication that the provocative balloon flight occurred at the same time that Beijing adopted a more assertive—and counterproductive—posture in Gulf Cooperation Council countries. "I think Xi Jinping has just told all of China's diplomats everywhere that now is the time for them to move against America," he said.
Why at this time? For one thing, Xi is being criticized for domestic policy disasters and so may be seeking wins to change the conversation in Beijing. He has no one else to blame, so he needs to distract his adversaries in senior Communist Party circles.
Many are worried. Take General Mike Minihan. The chief of the Air Force's Air Mobility Command predicted, in a memorandum to his command leaked January 27, that America would be in a war with China "in 2025."
"While General Minihan's assessment of 2025 is in the ballpark for public U.S. government source estimates, the more stark reality is that the People's Liberation Army will have a relative superiority over U.S. forces in East Asia for another two to three years, so Xi Jinping could decide to start his war almost any time," said Richard Fisher of the Virginia-based International Assessment and Strategy Center to Newsweek.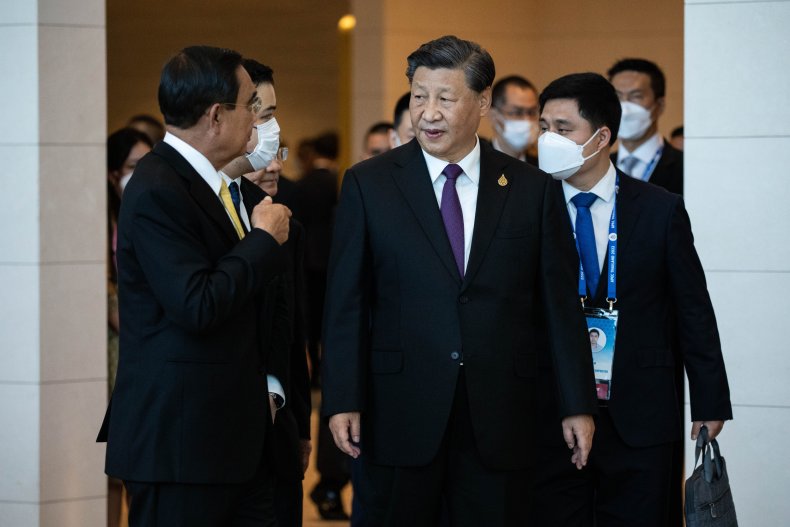 Chief of Naval Operations Admiral Mike Gilday, the U.S. Navy's top officer, warned on October 19 that China could go to war at any moment.
China for the last three years has been continually propagating the notion that the U.S. is finished as a great power. "The East is rising and the West is declining," could be Xi Jinping's favorite sentence.
This theme was evident in March 2021, when Yang Jiechi, then China's top diplomat, publicly lectured Secretary of State Antony Blinken and National Security Advisor Jake Sullivan. "So let me say here that, in front of the Chinese side, the United States does not have the qualification to say that it wants to speak to China from a position of strength," Yang said in blistering opening remarks at the now-infamous confrontation in Anchorage.
Since then, Chinese propaganda has hammered the America-is-done message, something especially evident during Biden's catastrophic withdrawal from Afghanistan.
Unfortunately, Biden looks like he has just handed Xi Jinping a win. The American president did not stop the balloon from surveying sensitive sites, making the U.S. look incapable of defending its own airspace. Moreover, the Chinese military got an invaluable peek at how its American counterpart would react to an intrusion during wartime.
Then on Monday, Biden, in response to a question from reporters, said the incident would not "weaken" ties between China and America, thus signaling that the Chinese regime would pay no price for the balloon surveillance. Blinken did "postpone" his trip to Beijing, which was originally scheduled for the 5th and 6th of this month, but he made it clear he wanted to reschedule.
As Bloomberg News reported, "U.S. officials were confident both countries would find a good reason to put the whole thing behind them." Biden himself rushed to put the balloon incident in the rearview mirror: He hurried over China in his State of the Union address and made only an indirect reference to the stunning event.
Xi Jinping has been preparing China for war, especially during the past two years. At the Communist Party's 20th National Congress in October, Xi appointed his "war cabinet"; he is sponsoring the fastest military buildup since the Second World War; he is trying to sanctions-proof his regime; and he is mobilizing China's civilians for battle.
Has China's ambitious leader finally found the moment to pull the trigger? His utter disrespect for the U.S., evinced by the balloon intrusion, suggests he is in fact not deterred by America.
"Xi looks like he will seize the moment," Bass says. "Why do I wake up each morning and think it's December 6, 1941?"
Gordon G. Chang is the author of The Coming Collapse of China. Follow him on Twitter: @GordonGChang.
The views expressed in this article are the writer's own.