Canada's Balloon Lawn Chair Pilot Speaks Out After Arrest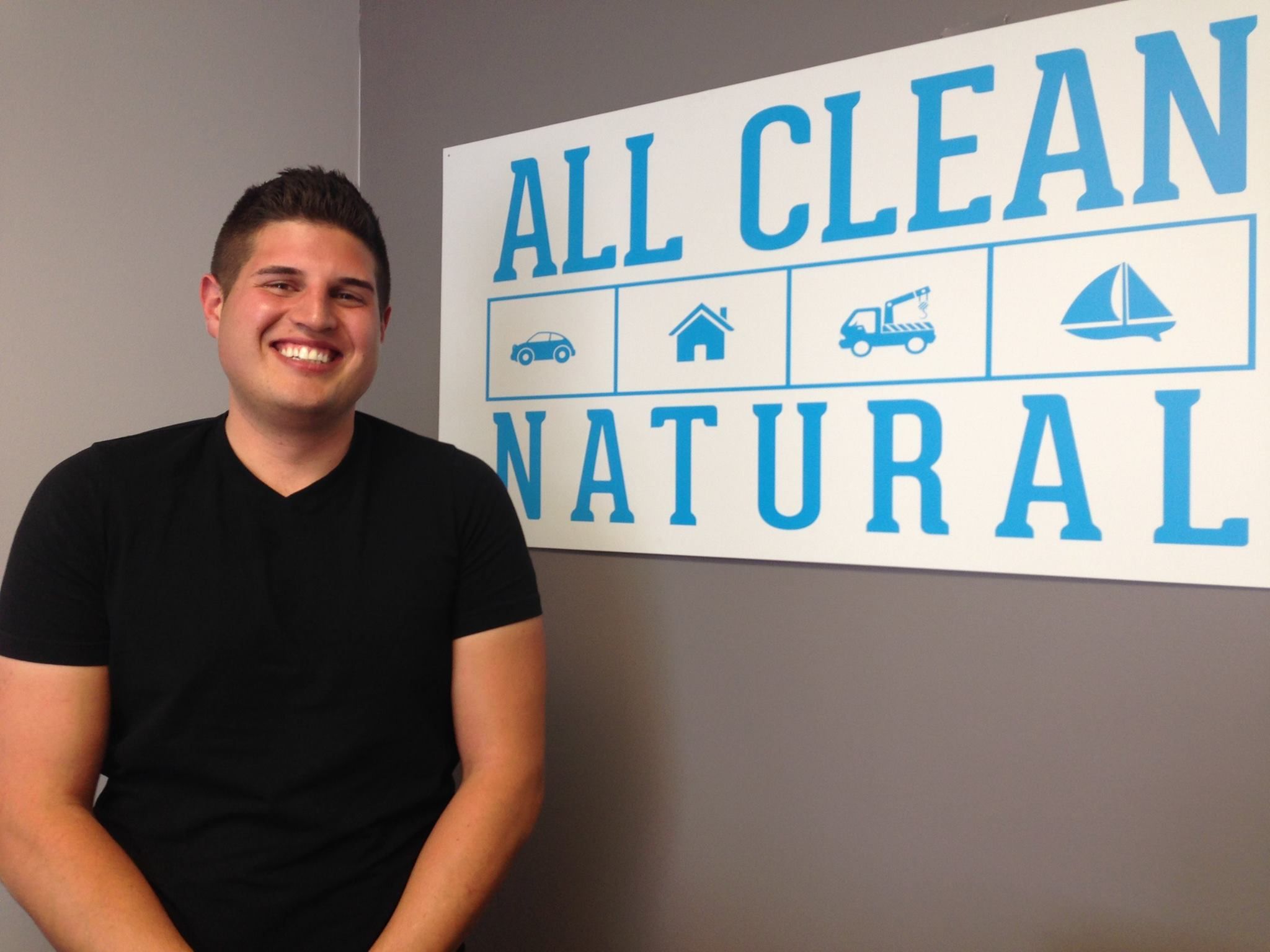 Daniel Boria was dreaming of an aerial stunt to promote his cleaning products company, All Clean Natural. When he couldn't find a pilot brave enough to drop him into the middle of an outdoor stadium in Calgary, Alberta, he opted for a do-it-yourself approach. Boria and his team constructed a makeshift flying machine by rigging 120 large helium balloons to the back of a lawn chair. After propelling himself above the clouds, he parachuted to safety...and was subsequently arrested.
Videos of the flight went viral Tuesday, leading to a flood of media requests. According to Boria, the attention has caused All Clean Natural sales to skyrocket.
Newsweek caught up with him this morning, as he was planning his next steps.
How did you come up with this idea?
I wanted to do something really loud, and I've always had a bit of a passion for adrenaline. We had the idea of skydiving into the Calgary Stampede during the middle of the day. I actually had an airplane banner with our company logo and website address. We planned it as a promotion for our All Clean Natural products.
Why did you choose that event?
It's a huge public event. The Calgary Stampede is the greatest outdoor show on earth. It's like a huge rodeo. The whole idea was to land in the middle of the truck wagon races and then to get arrested.
So how was it being arrested?
Most of the cops were just really confused at first. Eventually, when they figured it out, almost everyone thought it was hilarious, except for those few. They were calling me Neil Armstrong when I got to the station.
Did you film yourself up there?
I had a GoPro the entire time, so I filmed the whole thing. I don't have it with me, though. It's in police custody, being used as evidence.
Besides promoting your cleaning products, was this a personal dream?
Personally, I've always wanted to do something like that, skydiving or parachuting. We didn't think of the balloons at first. We were looking to hire an aircraft pilot, but we couldn't find anyone willing to take us up and let us jump out into the arena. So we decided that we would have to construct our own aircraft. We thought balloons would just be too funny, and then we figured it had to happen.
What kind of balloons did you use?
You know those giant helium balloons? You can usually see two or three of them outside car dealerships. We got 120 of those from a party store.
Did they ask why you needed so many balloons?
They did, of course. I told them we were hanging an advertisement in the sky.
Legally?
I didn't look into that.
You ended up getting pretty high. Did you have any safety measurements in place?
I had an extra safety harness that I used up until about 2,000 feet, which is where I activated my parachute. Never operate an aircraft without a seatbelt, ladies and gentleman, boys and girls.
But were you concerned that 2,000 feet might be too high for the parachute to work?
I was extremely confident.
What about your family?
You know, everyone I talked to told me it was the stupidest idea they'd ever heard. They kept saying that people were going to think I was ISIS and start shooting at me. But I believe that we need to eradicate the human behavior of fear, the human behavior of conformity. When I first started my company, I said, let's try to be different.
What happened when you landed?
I landed on a rocky hill somewhere, in prickle bushes, and scratched up my legs. I wasn't sure if I'd broken my foot or not. I was just laughing my head off. I limped down the hill to the highway and used this guy's truck to call our Mission Control room.
You mean, to call your friends back at the house?
No, the Mission Control room…
How did the cops find out? Did the truck driver rat on you?
I think he heard something on the radio about a bunch of balloons in the sky, and was like, "Oh…it's that fucking guy." He probably called them after that.
So what will happen on the legal front?
I'm trying to find a lawyer as soon as we get off the phone.