Balloon Wars: 'Trump Baby' Inspires New Balloon Protest Against London Mayor
Protesters in London are preparing to launch an inflatable balloon of mayor Sadiq Khan dressed in a bright-yellow bikini—a move inspired by the "Trump Baby" balloon which was flown over the capital during the U.S. president's state visit in July.
The 29-foot balloon will take to the skies above Parliament Square on Saturday between 9.30 and 11.30 a.m. local time, the same location that the 20-foot Trump Baby balloon was flown. Organizers of the "Baby Khan" balloon have already raised approximately $75,558 online to fund the blimp.
The move comes a month after Khan authorized the 20-foot "Trump Baby" balloon to be flown over the capital to protest the U.S. president's four-day state visit.
28-year-old Yanny Bruere, who was behind the blimp, told Daily Mail that he was angry at Khan for choosing to focus on political point scoring rather than dealing with London's high crime rates.
"I was just so irritated that Mr Khan took it upon himself to speak on behalf of the UK over the President's visit," he said. "Whatever anyone thinks of Mr Trump, he is still leader of the free world and should be accorded the respect of that position, especially at such a critical time for the UK as we face separation from the EU. It feels like the Mayor of London prioritises personal enmity over the good of the country."
Bruere's support for Trump appears to extend to a merchandise line that he is promoting on his Twitter account. The collection of T-shirts—sold on Ebay—features images of "Baby Khan" and is listed under "Make London Safe Again," seemingly an homage to the U.S. president's controversial slogan "Make America Great Again."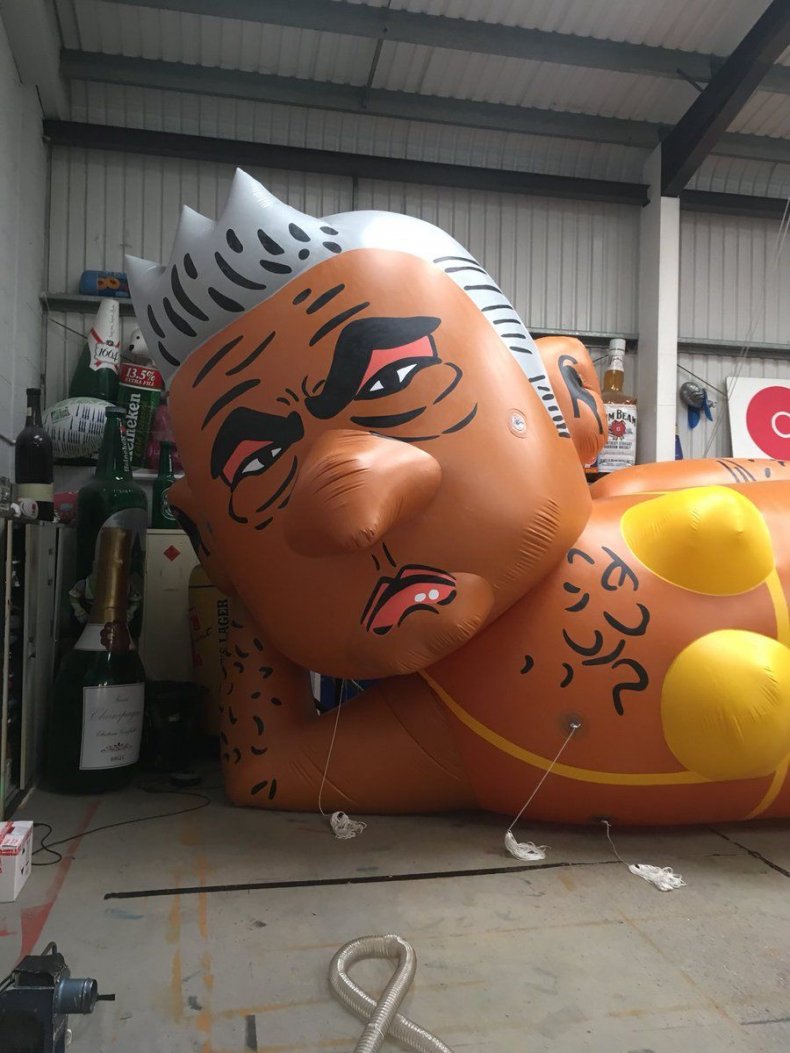 The inspiration for the bikini-clad balloon came from Khan's decision to ban body-shaming advertisements from the London Underground. The removal of the images was one of the first decisions the mayor made when he took office in May 2016. Bruere disagreed with the move and argued that it impeded citizens' freedom of speech.
"It's ridiculous that he talked about the importance of freedom of speech when he gave permission for London to insult the President of the United States while imposing censorship himself upon the lives of ordinary Londoners," said Bruere. "He would never have given permission for that balloon if it ridiculed Barack Obama.
"It feels like freedom of speech only applies if you have views deemed acceptable by our governing bodies," Bruere continued. "That's what I wanted to put to the test, as well as providing a voice for those in despair at the crime statistics in the capital since Khan took charge. But he couldn't really turn this down when he'd made such a big deal of Trump."