Baltimore County Sees 611 Percent Increase in COVID Hospitalizations Amid Delta Spike
A state of emergency has been issued for Baltimore County, Maryland, as the area experiences a significant spike in coronavirus cases and hospitalizations.
Since the end of July, the seven-day case rate in Baltimore County has increased 376 percent. Hospitalizations due to the virus have jumped 611 percent amid the prevalence of the highly contagious Delta variant.
County Executive Johnny Olszewski issued a local state of emergency on August 24, which will allow officials to request additional resources from the state and federal government. The order will also allow officials to pursue mask mandates, vaccine requirements and other public health measures.
Appearing on CNN's New Day show Thursday, Olszewski called the area's spike "alarming." He noted that the latest COVID-19 surge is happening despite a large percentage of residents being inoculated against the virus.
"We're proud in Baltimore County to be a jurisdiction where 74 percent of eligible residents are vaccinated, but what we're seeing is a lot of our younger people and those who are unvaccinated are still catching this deadly variant," he said.
Just 0.2 percent of the county's cases have been "breakthrough cases," Olszewski said. Such cases are defined as an infection of a fully vaccinated person.
"The best tool that we still have in our fight against COVID-19 is the vaccine. It's safe, it's effective and now with the FDA approval we're encouraging all our residents to get it," the county executive told CNN.
Olszewski said the vaccine "not only helps prevent people from getting COVID, it also keeps them out of our hospitalizations and certainly prevents them from dying."
The Baltimore County school system has imposed mask mandates for everyone inside school buildings, and is requiring staff to show proof of vaccination or submit to weekly COVID-19 testing.
Statewide, the Maryland Board of Education is expected to vote Thursday on whether to mandate face coverings in all schools.
Baltimore County spokesperson Sean Naron told Newsweek that the county "is currently exploring additional health measures, including other masking and vaccine requirements and remains prepared to take action as circumstances warrant."
"The County has continued to take a proactive approach to vaccination efforts, including increased use of mobile vaccine units at popular gathering locations and holding vaccination clinics at high schools in communities with low vaccination rates," he added.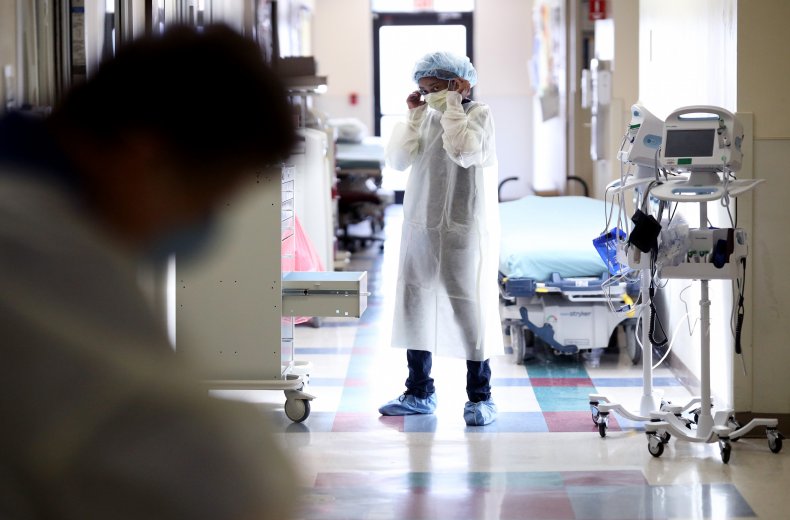 More than 700 people are currently hospitalized statewide due to COVID-19, according to the latest data from the Maryland Department of Health.
Since the pandemic began, there have been 491,174 confirmed cases of the virus in the state and 9,741 deaths. Maryland added more than 1,100 new cases and 11 deaths to its tally in the past 24 hours.
Governor Larry Hogan, a Republican, has called on the Biden administration to take more action to stem the spread of more infectious variants of the virus—such as making booster shots available immediately for vulnerable populations, advancing FDA approval of all vaccines and expediting vaccine approval for children ages 5 to 11.
"We are extremely proud that, as of Aug. 22, Maryland has vaccinated 80% of adults and nearly 95% of seniors, making our state one of the most vaccinated in the country," Hogan wrote in a letter to President Joe Biden on Monday.
"However, the challenges states around the country are facing with the Delta variant has proven that we cannot be complacent and must continue taking all possible steps to protect our citizens, particularly those most vulnerable to serious illness and death."
Update 8/26/2021, 4:50 p.m.: This story has been updated with comment from Baltimore County spokesperson Sean Naron.