Baltimore Goes Beyond Freddie Gray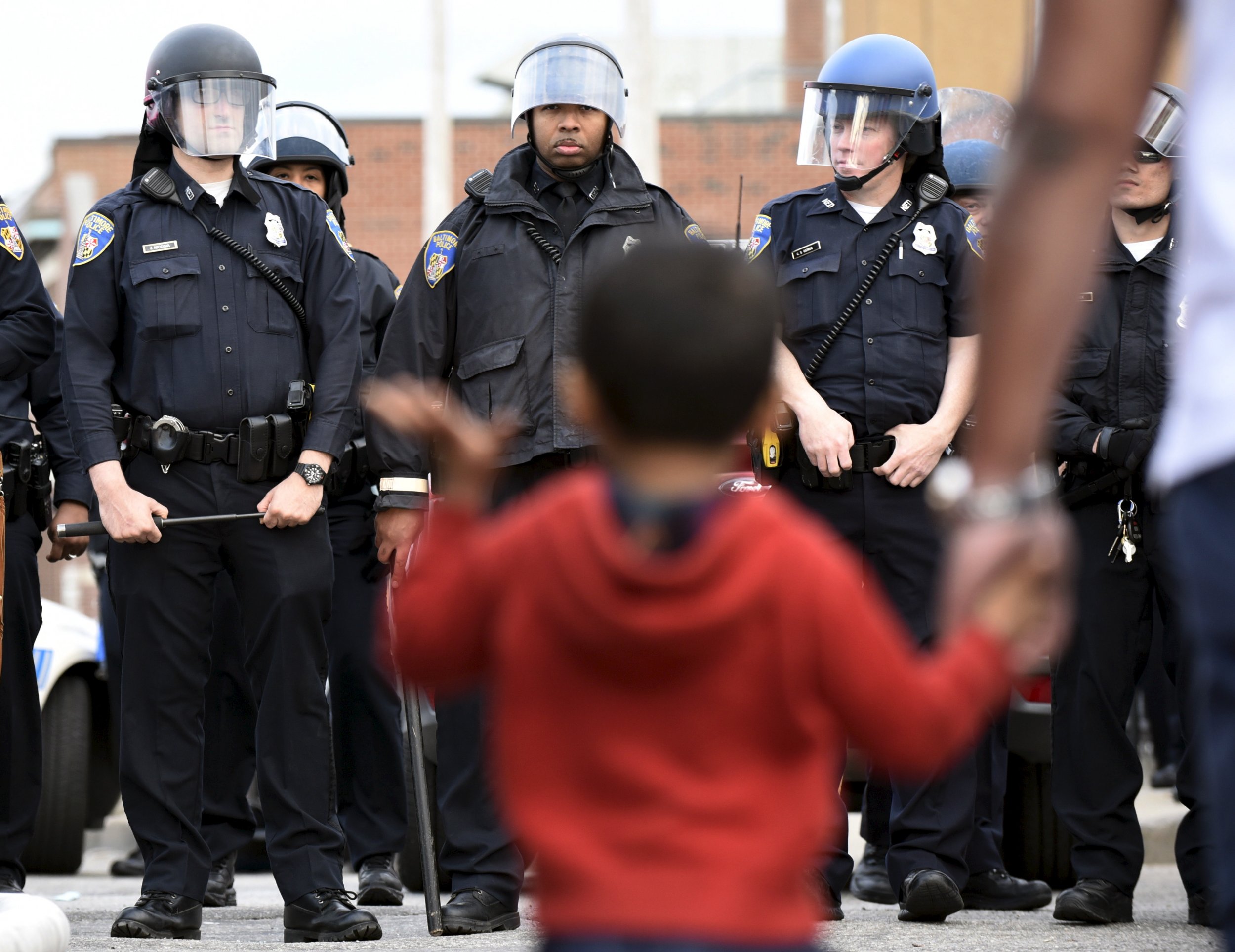 Four months before the nation commemorates the 50th anniversary of the 1965 Watts Rebellion in Los Angeles, urban rioting in Baltimore reminded Americans that racial unrest associated with the 1960s continues to reverberate in our own time. Although the violence remained largely localized, the governor declared a state of emergency, and Mayor Stephanie Rawlings-Blake ordered a weeklong, citywide curfew.
Baltimore's violence erupted on Monday, the same day as the funeral of 25-year-old Freddie Gray, a black man whose death while in police custody sparked protests in Baltimore and around the country. The brutal details of Gray's death, which included footage of his April 12 arrest, seemed to galvanize local civil rights activists, including young people inspired by the #BlackLivesMatter protests.
Mayor Rawlings-Blake's description of looters as "thugs" echoed breathless CNN reports that focused on burning cars, a ransacked CVS being set ablaze and riot-geared police officers carrying their wounded to safety. Roving bands of young people organized through social media to target local businesses, a mall and a check-cashing store, among other sites. The police monitored those posts, yet seemed either helpless to stop them or willing to allow the destruction in lieu of even more violent clashes. The citywide shots of buildings burning unabated were reminiscent of Detroit and Newark in 1967.
If the immediate impetus of Baltimore's violence, like the protests in Ferguson, Missouri, were the violent death of a young African-American man at the hands of local police, much of the national media coverage has missed the deeper historical roots behind this rioting.
"Racial violence masquerading as protest" might be the best description of cable news coverage of Baltimore's uprising. CNN took particular relish in pointing out the fact that the neighborhood was unlikely to see a new CVS drugstore anytime soon.
Baltimore's Monday night eruption is rooted in decades of policies and political decisions that are depressingly familiar to close observers of our nation's tortured racial history.
Charm City was one of many urban areas, including the nation's capital, that erupted in the aftermath of Dr. Martin Luther King Jr.'s April 4, 1968, assassination. But efforts at urban renewal, once the great hope of activists and federal policymakers who touted Great Society programs such as Model Cities as an antidote to urban decay, faltered in the wake of increasing financial commitments to Vietnam and the subsequent economic crises of the 1970s.
During the 1980s, Ronald Reagan's dystopian vision of urban America was embraced by politicians who decried the fracturing of black families in inner cities, whites who voted with their feet by moving to the suburbs and even scholars who characterized the new generation of the urban poor as a racial underclass.
The underclass debate focused on whether the roots of poverty were structural or cultural, amplifying a controversy that first gained national attention in 1965 with "The Negro Family: The Case for National Action," a report from Assistant Secretary of Labor Daniel Patrick Moynihan, who later became a U.S. senator. This highly influential and deeply flawed report argued that the black family, and not structural inequality and institutional racism, was the key to black poverty and racial inequality.
At the very moment that policymakers and elected officials shifted the discussion of racial inequality from institutions to culture, the war on drugs was preparing to decimate the black community on a largely unprecedented scale.
In the 21st century, the criminal justice system has become a gateway to racial oppression, substantially accounting for why there is, as of this writing, 1.5 million black men who have "disappeared" from American civil society, casualties of premature deaths and mass incarceration.
The rage expressed in Baltimore, however confusing to casual observes, is not mindless. It's the anger of two generations of African-Americans whose lives have been shaped by what legal scholar Michelle Alexander has called the "New Jim Crow." This new racial caste system, far from being the product of individual choices, criminalizes black people en masse.
The New Jim Crow metaphor is an apt description of black life in the 21st century, since millions of African-Americans continue to experience racial segregation in public schools, neighborhoods, employment, health care and overall life chances. Black life for these faces at the bottom of the well is one of scant choices. Finding meaningful employment, decent housing, good schools, child care, drug rehabilitation, and mental and physical health care is a dream. Even fresh, wholesome food, something 21st century progressives take pride in, is so scarce in poor black neighborhoods that we now have a name for this phenomenon: food deserts.
For young people, the stigma of being black in the age of Obama and Ferguson is made all the more confusing because of the disingenuous rhetoric of racial progress that has gripped our nation as we celebrate Selma and other milestones of the civil rights era. These historical markers, however important, provide little context for contemporary race matters unless we are honest enough to discuss the massive shortcomings of a civil rights movement we now acknowledge as a moral and political good.
Malcolm X once described black people as being angry, noting that he was "the angriest." Malcolm's anger stemmed not from being able to articulate the problems of racial injustice in American society. He was angered by the perceived hypocrisy of a civil rights establishment unwilling to acknowledge the extraordinary depth and breadth of racial inequality.
The anger on display tracks a similar path. As long as we continue to exist in a state of national denial about the depth of mass incarceration, the crisis of African-American unemployment, the resurgence of racial segregation, and the way in which the criminalization of black bodies has normalized a level of inequality that would register as a national catastrophe if it impacted white Americans, we will continue to face more Baltimores and Fergusons, even as we ask ourselves why people who have so little would destroy their own communities.
Peniel E. Joseph is a professor of history and founding director of the Center for the Study of Race and Democracy at Tufts University. He can be followed on Twitter @PenielJoseph.