Baltimore Mayor Brandon Scott Tests Positive for COVID-19, Is Quarantining
Baltimore Mayor Brandon Scott entered quarantine after testing positive for COVID-19 on Monday.
Scott, a Democrat elected mayor last November, tested positive despite being vaccinated against the virus. A statement from Scott's Communications Director Cal Harris said that the mayor was "proactively working" with health officials on contact tracing people he may have come in contact with at outdoor events over the weekend, having last tested negative on Friday.
"Mayor Scott tested positive for COVID-19 late this morning, and is currently self-isolating at his home in Northeast Baltimore," Harris said. "The Mayor is asymptomatic and currently feels fine. He will work remotely until he is officially cleared to return to City Hall."
"The Mayor regularly gets tested for COVID-19 to safeguard the health of City Hall colleagues and Baltimoreans he meets in the community," added Harris. "His test results came back negative last Friday, however he received two positive tests today."
Harris went on to say that the mayor had been following city health protocols in addition to being vaccinated, calling the breakthrough infection "another reminder of the vast challenges faced by the ongoing global pandemic."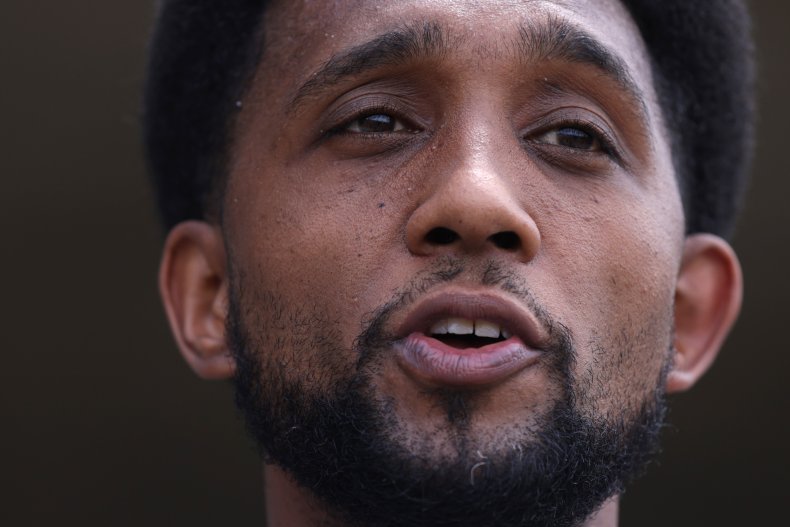 The mayor attended multiple public events on Saturday and Sunday, according to The Baltimore Sun. Staff members who attended the events are reportedly being tested for the virus as contact tracing efforts for other attendees continue. Scott's office declined Newsweek's request for further comment and information.
Baltimore had seen an average of just over 113 new cases of COVID-19 per day on Monday, according to the city's health department. Like most of the country, the city had a "high" level of community transmission, according to the Centers for Disease Control and Prevention. The Maryland Department of Health reported over 1,000 new cases in the state on Monday.
It is not clear how many of the new cases detected in Baltimore are among the vaccinated. However, just over 70 percent of adults in the city had received at least one dose of a COVID-19 vaccine, while the same was true for over 84 percent of adults in Maryland as a whole.
The unvaccinated constitute the vast majority of severe cases of COVID-19 resulting in hospitalization or death nationally. However, typically mildly breakthrough cases in the vaccinated became more common in recent months as the highly contagious Delta variant emerged as the newly dominant strain of the virus.
Data from Washington state suggests that breakthrough infections between January and August were occurring at a rate of around 1 in 5,000, while more recent breakthrough cases have been seen at a rate of approximately 1 in 100, according to Johns Hopkins University.