Baltimore Police Officer Killed Before Testifying Against Fellow Cops, Foul Play Suspected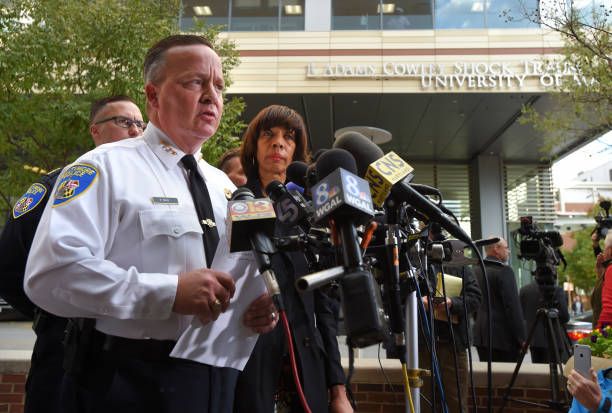 Sean Suiter, a Baltimore detective with 18 years of experience, was going to testify before a grand jury against a group of indicted officers on the day after he was killed, Baltimore Police Commissioner Kevin Davis told reporters Wednesday evening.
Suiter's murder on November 15 has jolted the city and the police department, following the indictment of eight members of the gun task force who are accused of conspiring with drug dealers, filing false affidavits and other wrongdoing, according to CNN.
Davis noted that Suiter was conducting a follow-up investigation on a killing in West Baltimore's Harlem Park neighborhood, when he noticed someone acting suspiciously. When asked if there was a connection between Suiter's pending testimony and his killing, Davis said that "the BPD and FBI do not possess any information that this incident…is part of any conspiracy," adding that the shooting occurred spontaneously, according to The Baltimore Sun. But some believe there are indications of foul play.
Shaun King, a prominent journalist, tweeted about the killing: "This is dirty. Baltimore Police officer who was just murdered was scheduled to testify AGAINST other corrupt cops on the force. I believe they had this man killed."
Others appear to support this claim. "I live in Baltimore and I 100% believe that's the case."
King later added in a tweet that "a security expert (and former cop) told me that a police officer would never kill me directly for covering their corruption, but would use a career criminal or young gunner to do it for them. That could be what happened here."
Davis said, however, that he understands the speculation. "It's our responsibility really to follow the evidence and there's no evidence whatsoever," CNN reported.
The 43-year-old detective was shot in the head with his own weapon, which was fired at a close range in an apparent struggle before his death, The Baltimore Sun reported. No suspects have been identified and no arrests have been made effective thus far. Officials are offering a $215,000 reward for information that could lead to an arrest.
Suiter died the next day, The Baltimore Sun reported.
The gun task force was commissioned to curb Baltimore's surge in fatal incidents, but they have been embroiled in racketeering and other violations, the Sun said. Four officers have pleaded guilty, the other four are not pleading guilty and at least two of them are reportedly cooperating with investigators.
The city's police department has had a history of corruption and malfeasance. Former Baltimore Police Sergeant Michael A. Wood Jr. sat down with BuzzFeed News in 2015 to expose corruption during his 11-year tenure. "I used to go to other officer's posts, to black neighborhoods, just to make arrests so I could meet my stats," he told the website.
The city of Baltimore and its police department had been under national scrutiny after the death of 25-year-old Freddie Gray and the riots that ensued in 2015.