Baltimore Police Turn Over Freddie Gray Investigation Findings to State Prosecutor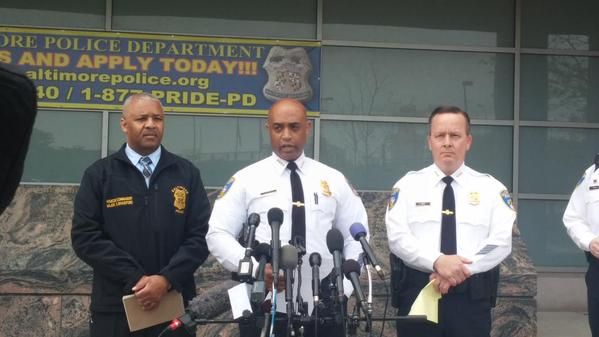 The Baltimore Police Department on Thursday said the investigation into Freddie Gray's death has been turned over to the state prosecutor.
The city's police commissioner, Anthony Batts, told reporters he "wanted a sense of urgency on this case," adding: "We have exhausted every lead at this point in time but this does not mean that the investigation is over. If new evidence is found, we will follow it."
In total, 30 detectives were focused on this investigation, he said.
Gray, a 25-year-old black man, died from a spinal cord injury. The investigators are working to determine whether the injury was sustained during the arrest and whether police officers were responsible for harming his spinal cord. The timing of Gray being given medical attention for the injury has also come into question.
Following Gray's funeral on Monday, hundreds of people took to the streets of Baltimore to protest. There have been several peaceful demonstrations in Baltimore, but on Monday a group of young people clashed with police and that escalated into a violent riot. Hundreds were arrested, more than 100 cars were vandalized and about a dozen buildings were torched. The days that followed the riot have been more peaceful.
Since Monday's riot, 98 police officers have been injured. Of those 98, 48 required "some sort of emergency treatement at a hospital," a spokesman for the department said. Thirteen of the injured officers are out on medical leave, 15 are only able to work in administrative functions due to their injuries and 15 are back to full duty.
Over 100 people have been released from jail, as there was a 48 hour deadline for processing. "Of the 201 people initally arrested in that inital 48 hour window, 106 people were released without us charging them. The others were criminally charged," Captain Eric Kowalczyk told reporters at a press conference.
Stephanie Rawlings-Blake, the mayor of Baltimore, offered this statement on Thursday:
This morning, the Baltimore Police Department delivered the results of its investigation into the death of Mr. Freddie Gray to the Baltimore City State's Attorney's Office. The criminal investigation into Mr. Gray's death is now in the hands of the Office of the State's Attorney, which is also conducting its own independent investigation. The State's Attorney will determine whether to file criminal charges.

Once the criminal investigation is complete, an internal disciplinary Police Department process can begin. Even as the Baltimore City State's Attorney conducts her investigation, it is important to remember that another outside, independent investigation is also taking place by the U.S. Department of Justice.

The family of Mr. Gray wants answers. I want answers. Our entire city deserves answers into Mr. Gray's death. I ask that everyone remain patient and vigilant on this path to justice.
"We are asking and hoping for peace in the city of Baltimore," a police spokesman added on Thursday.