'Lame Duck' Baltimore Mayor Angrier Over Donald Trump's Visit Than Recent Murders, Police Union Chief Says
The head of a Baltimore police officer's union has slammed the city's mayor and police commissioner after a deadly Memorial Day weekend.
Mike Mancuso, the president of the Baltimore Fraternal Order of Police (FOP), accused Mayor Bernard C. "Jack" Young of being more outraged by President Donald Trump's visit to the city than the violence that took place over the holiday weekend.
"There were 10 murders in Baltimore over Memorial Day weekend and our lame duck Mayor is more outraged by Trump's visit," Mancuso said in a statement that was posted on Twitter.
Young, a Democrat, had last week urged Trump to cancel a trip to Baltimore, telling CNN that it sends a "bad message" to the city's residents who remain under a stay-at-home order to curb the spread of coronavirus.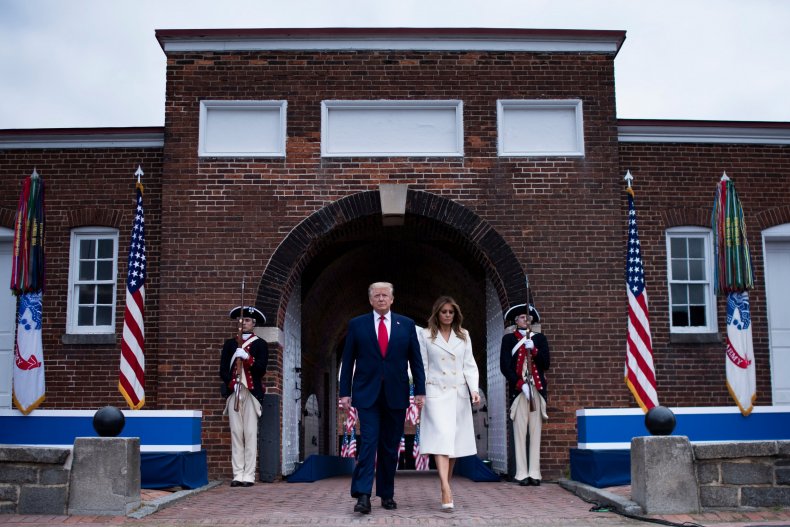 Despite his pleas, Trump arrived in Baltimore to mark Memorial Day with a ceremony at Fort McHenry that attracted hundreds of supporters, WJZ reported.
In his statement, Mancuso also claimed Police Commissioner Michael Harrison's crime plan is "not working" and denounced the shortage of officers on the streets.
He added: "Whatever crime plan PC Harrison has is not working! Even with stay-at-home orders he cannot stop the murders.
"Nothing has changed in the crime fight since his arrival more than a year ago, and to make matters worse we have less Officers than the day he started! We are 500 officers short, which, unfortunately, leaves little time for proactive policing."
Mancuso also appeared to claim Harrison was taking credit for crime rates dropping in some categories amid the coronavirus pandemic.
"The talk of crime being down in some categories is expected in a Pandemic, considering the fact that we are under stay-at-home orders," he said. "Non-fatal shootings and robberies are down because less people are outside to be victimized. Taking credit for this is disgusting!"
Mancuso's statement came shortly before a police officer was shot in the line of duty in the city on Tuesday night and taken to hospital with injuries that are not considered life-threatening.
In a statement following that incident, Young said: "The level of violence on our streets is completely unacceptable and won't be tolerated."
He added: "Our public safety officials, and in particular our police officers, deserve our gratitude and thanks for placing themselves in harm's way each and every day."
Young and Harrison have been contacted for comment.
The Baltimore Sun reported that nine homicides took place between Friday and Monday. According to a tally kept by the newspaper, there have been 120 homicides in the city so far this year.
Baltimore has almost 5,000 confirmed cases of COVID-19, the disease caused by the novel coronavirus, and 227 deaths, according to the latest figures from the city's health department.