Baltimore protesters inflated a balloon depicting Donald Trump as a giant rat downtown on Thursday afternoon during the president's visit to the city.
As Trump arrived to speak at the Baltimore Waterfront Marriott to Republican House members, protesters greeted the president with the 14-foot inflatable rat, as well as other props, including a street sign honoring former president Barack Obama on President Street.
Claude Taylor — a former Clinton White House staffer and founder of Mad Dog PAC, a group that advocates for the removal of Trump from office — shared videos and images of the balloon to Twitter hours before the president's arrival. "The #TrumpRat welcomes the GOP House Caucus to Baltimore," he wrote, alongside a clip of the rat balloon.
The protest comes after Trump insulted the city's residents in July, when he attacked Democratic congressman Elijah Cummings and called his Baltimore district a "disgusting, rat and rodent infested mess" in a series of tweets. Despite mounting criticisms, Trump later doubled down on his remarks about the city by declaring that Baltimore is "very dangerous and very badly run district."
"We use it to illustrate what a rat Trump is," Taylor told the Baltimore Sun, in reference to the Trump rat balloon. "The things he said about Baltimore are despicable and divisive."
"The rat's been in Newport Beach, California, on a boat, it's been on the Potomac on a boat," he added. "It's been most notably docked off Mar-a-Lago."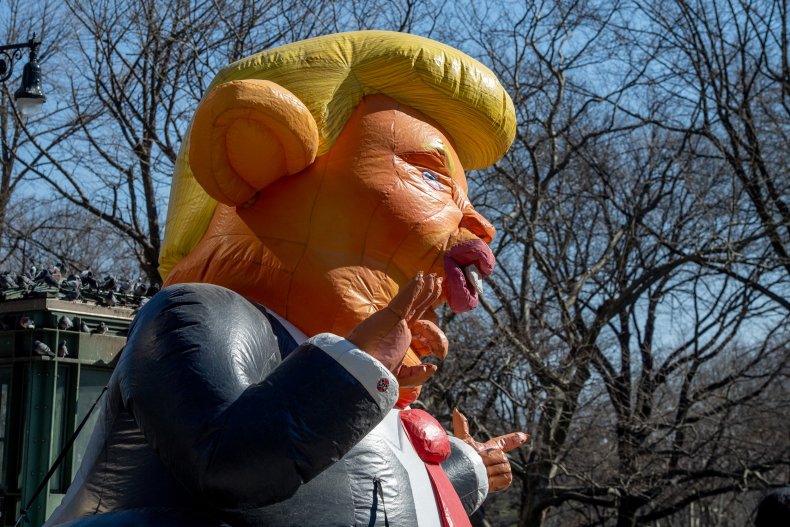 The inflatable rat was parked on President Street, near the Obama street sign, along with some smaller balloons depicting Trump as a baby.
Groups of demonstrators protesting Trump's visit gathered in various parts of the city, including in Baltimore's Little Italy neighborhood, throughout the day in anticipation of the president's arrival.
"I don't think he's fit to be president," Kevin Zembower, a former federal employee, told the Sun.
A much smaller group of the president's supporters donning Trump Make America Great Again apparel also turned up to counter the anti-Trump protesters.
"We want to show him that we care," Julie Bird, a resident of the city, said.
The descent of protesters and security officials on the city has caused disruption to Baltimore's traffic. Baltimore's Department of Transportation warned residents that the downtown area will experience "heavy traffic volumes" between 4 and 8:30 p.m., according to the Sun.
"Motorists should avoid the downtown area south of Baltimore Street between Martin Luther King Boulevard to North Central Avenue," a traffic advisory issued by the department said. "Temporary intersection closures may occur in the afternoon and early evening hours which will cause congestion and delays."