Video: Baltimore Ravens Fan Punches Charges Supporter, Falls Down the Stands as Huge Fight Breaks Out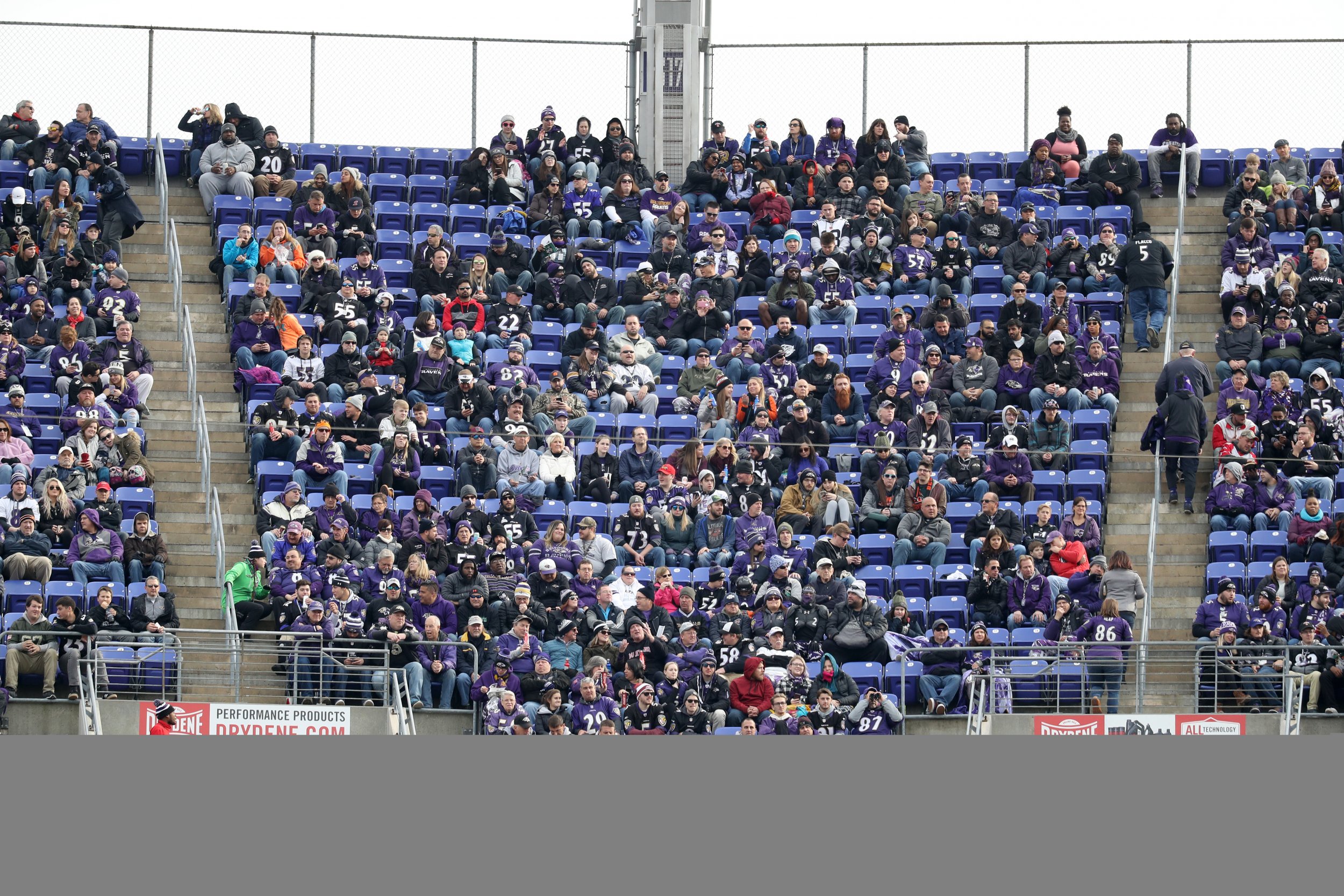 The wild-card round of the NFL playoffs proved to be hugely disappointing for the Baltimore Ravens.
Despite a spirited comeback late in the fourth quarter, the AFC North champions lost 23-17 at home to the Los Angeles Chargers on Sunday afternoon.
Read more: NFL playoff picture: Updated divisional NFC and AFC matchups
During the first three quarters, boos rained down in Baltimore as Ravens fans grew frustrated with their team's struggling offense, which had one point at negative passing yards. Judging by a video posted on Twitter, some fans clearly took the playoff loss worse than others and lashed out at Chargers fans in the stands.
Warning: This video shows violence and expletives.
Footage shows a man wearing Ravens colors punching a man clad in Chargers gear. The two wrestle and fall onto fans standing nearby as the Ravens supporter lands a series of haymakers, before the two fans tackle each other and tumble a few rows down the stands.
Falling down the stands didn't seem to particularly bother the two fans, who continued to lash out at each other, much to the dismay of most of the fans around them. Eventually, the police had to step in and the 28-second clip concludes with officers arriving on the scene to break up the fight.
The Ravens came into their first playoff game in four years with high expectations after securing a first AFC North title since 2012 and beating the Chargers in Los Angeles in Week 16. However, the Ravens never got going and failed to move the scoreboard throughout the first half, with Lamar Jackson repeatedly targeted by the Chargers' defense.
The rookie became the youngest ever quarterback to start a playoff game but endured a nightmare in the first three quarters, before throwing for two touchdowns in the final period as the Ravens mounted a desperate comeback from 23-3 down.
Jackson finished with 194 passing yards, completing 14 of his 29 passes for two touchdowns and one interception. The 21-year-old added 54 rushing yards but was sacked seven times and was repeatedly booed by many Ravens fans throughout the game.
At halftime, the rookie's figures looked absolutely dismal, with just two of eight passes completed for a total of 17 yards, one pick six and a 0.0 quarterback rating. Up until Sunday, the Ravens had never failed to score in the first half of a playoff game.
Following their win in Baltimore, the Chargers will face the New England Patriots on Sunday in the AFC divisional round. The Patriots have not lost a playoff game at home in six years, but the Chargers are 8-1 on the road this season and the only defeat came in Los Angeles against the Rams.