Baltimore Ravens' Malik Harrison Wounded in Cleveland Shooting Halloween Night
Baltimore Ravens' linebacker Malik Harrison was wounded over the weekend in a shooting while visiting his home state.
"On Sunday night while attending a gathering in Cleveland, Malik Harrison sustained a non-life-threatening injury after being struck by a stray bullet in the left calf," the team announced on Monday. "Malik, who received medical care at a local hospital, has been in touch with our team doctors and will return to Baltimore today."
Harrison retweeted the statement from his personal account.
The 23-year-old Columbus, Ohio native has played in all seven Ravens games this season, including five starts. He was a third-round draft pick out of Ohio State in 2020.
It is unclear how long Harrison may be off the field at this time. The Ravens did not provide an update on the extent of his injury.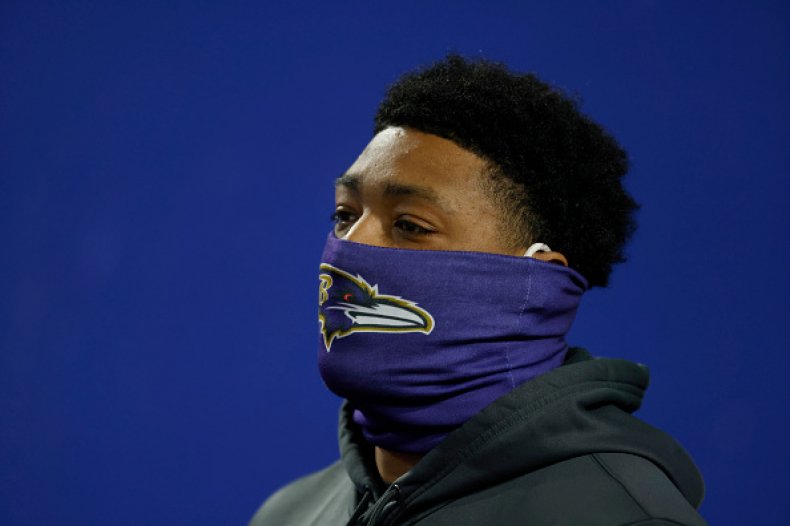 The Ravens were on a bye week last week after a 41-17 loss at home to the Cincinnati Bengals. Coach John Harbaugh is scheduled to meet with the press on Monday afternoon.
During his rookie season last year, Harrison played in all 16 games with six starts and 44 tackles.
Linebackers coach Rob Ryan has called Harrison "one of the most intelligent" players he's worked with.
"Once you get around him, I found out he's one of the most intelligent guys I've been fortunate enough to coach, and his athleticism — he's fast. He wants to be a contributor and a great player on defense," Ryan told the Baltimore Sun last month. He wants to be a Raven."
"He has a lot of big talent, a lot of raw talent, and it's up to us to develop it," Ryan said. "He's plenty smart. He's been able to handle all these positions, so he'll be a good football player. He should just keep improving."
The Ravens currently lead the North Division of the AFC and will play host to the Minnesota Vikings on Sunday.
There were reports of a shooting in downtown Cleveland on Sunday in the area of Rockwell between East 12th Street and East 9th Street. Police have arrested three people in connection to the shooting.
It is unclear if this is the same incident that caused Harrison's injury.
Newsweek reached out to the Cleveland Division of Police for comment but did not hear back before publication.
The shooting on Sunday night is one of several that took place over the weekend.
According to an analysis from CNN, at least 12 people were killed and another 52 injured in mass shootings that took place in Illinois, Colorado, Kentucky, Texas, California, Florida and Oklahoma over the Halloween weekend.
Update 11/1/21 2 PM ET - this story has been updated with additional information.