Baltimore Woman Wins $50,000 in Lottery, Were 'Itchy Hands' the Reason?
A Baltimore, Maryland woman believes "itchy hands" may have been the reason she won a $50,000 lottery jackpot.
On Friday, Maryland Lottery officials reported that a Baltimore woman, identified only as Lucy, bought the winning ticket after three of her daughters told her their hands had been itching on the same day. A superstition believed by the family says this means good luck is on the way.
One of Lucy's daughters, a 36-year-old mother of two, gave her some money buy lottery tickets. Lucy went to a local gas station to purchase the ticket, and the clerk suggested a particular type of scratch-off ticket. Since she had won $500 the previous week from a ticket suggested by the same clerk, she bought the ticket.
When she returned home, her daughter scratched off the ticket and was surprised to find that she had won the top prize of $50,000. Lucy double-checked and confirmed the ticket was a winner, before taking the ticket for safekeeping until she and her three daughters could claim the prize.
"Mom hid the ticket under her pillow," one of her daughters said. "Nobody messes with mom."
The winner says the money will help the entire family. Lucy and her husband plan to go on a cruise, and some of the money will go to Lucy's eight grandchildren.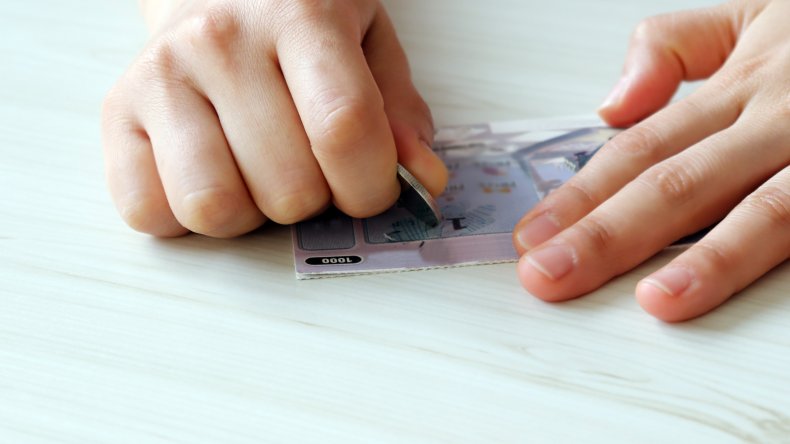 This is not the first time the itchy hands superstition has been associated with a lottery win. In fact, it isn't even the only recent case to happen in Maryland.
In August, a Silver Springs, Maryland couple won a different $50,000 scratch-off jackpot, after they said their hands had been itching on the same night.
Reports of itchy hands preceding lottery wins don't end there. A Flint, Michigan woman won a $2 million jackpot in November 2018, claiming she bought a ticket after noticing her hand itching, and a woman in Saskatchewan, Canada hit a C$60 million ($45 million) jackpot after experiencing itching hands in August 2016.
While stories of the "itchy hands" lottery winners might leave some hoping for a hand rash, there is a more likely explanation for the good fortune. According to scientists, the "law of truly large numbers" states that we should expect even the most unlikely scenarios to happen given enough chances.
Considering the massive number of lottery tickets purchased and scratched off every day, some lottery winners having experienced itchy hands before winning should not come as a surprise.
While some of the winners may genuinely believe that their itchy hands were the reason for their windfall, this should also not be taken as evidence in favor of the superstition. A concept in psychology called "confirmation bias" suggests that people tend to search for evidence that confirms already existing beliefs, while ignoring evidence which does not.
For example, if a person wins the lottery after experiencing itchy hands, it may seem as though their hands itching were related to the win. However, if they buy a ticket and don't win, the itchy hands will likely not be considered relevant or remembered.
We will probably never know the number of people who bought lottery tickets after experiencing itchy hands who didn't win, but it seems likely it's a much higher number than the lucky few who did win.