Baltimore's Big, Bad Bail Problem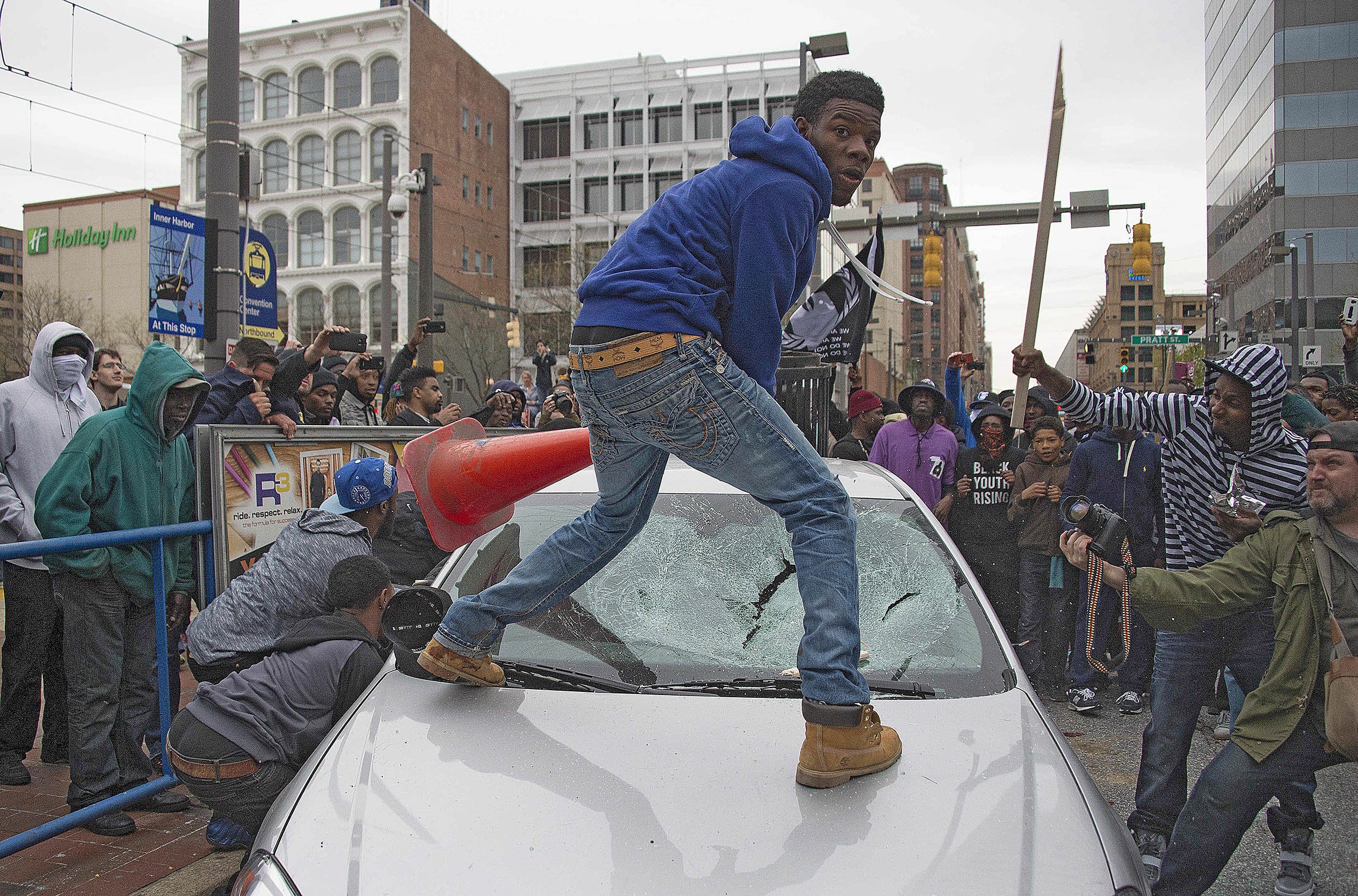 This week, the Baltimore Central Booking has been overflowing with inmates. Well, not just inmates: also many people who were arrested during the protests and rioting related to the death in police custody of Freddie Gray but not charged with wrongdoing. More than 100 of those arrested were released this week because the justice system did not level charges against them in a timely manner.
Those who did make it in front of a judge for a bail hearing were ordered to pony up exorbitantly high amounts: $100,000 for disorderly conduct; $250,000 for a misdemeanor; $500,000 for damaging a police car. In comparison, Robert Durst, a multimillionaire, had his bail set at $300,000 in Galveston, Texas, after he was charged with first-degree murder (he was eventually acquitted).
In fact, cases of disorderly conduct often don't require bail hearings at all: "Even though the bails are usually very high, commonly people who are charged with disorderly conduct are released on their recognizance," explained Marci Tarrant Johnson, a public defender in Baltimore.
"Bails are being set at prohibitively. Some of the people involved in the disorderly conduct protests were given bails of hundreds of thousands of dollars," Johnson said. Her team has been working around the clock this week, filing writs-habeas corpus to get people arrested in Monday's riot released if they have not been charged.
While a number of people who were arrested on Monday were released because they had not been charged within Maryland's 48-hour limit, the Baltimore Police Department would not confirm if any of those arrested remained in jail on Friday without yet being charged.
In the public defender's experience, inflated bail amounts are an issue in Baltimore much more often than just during the riots. "This is a jurisdiction that struggles with setting bails for people. Our office has been working on high bail for quite some time," Johnson told Newsweek. "People in Baltimore often refer to bails as ransoms because they're impossible to meet."
Those desperate to cover their bail turn to bail bondsmen. "They end up in long, egregious contracts with bail bondsmen. It is just a real mess," Johnson explained. An employee of Fred W. Frank Bail Bonds, a bondsmen service in Baltimore, told Newsweek its average bond is $150,000. "They have gone up in the last couple years. They used to not be as large. But for something big and media driven, I have to be honest, they do give higher bails," the employee, who declined to give her name, said.
Public defenders from Baltimore and surrounding counties, as well as volunteer attorneys, swarmed central booking to help gain the release of the hundreds of people who had not been charged following their arrests during the rioting. One organization, Bmore United, launched a fundraiser on CrowdRise, a crowdfunding website, to help cover bail and legal support costs. At press time, they had raised almost $80,000--certainly an impressive amount, but not quite enough to fund even one of the $100,000 bonds.
"Historically, bails are set very high in Baltimore, the average is $100,000. There are so many who need this support. We have a little bail fund and they have a big, big criminal justice system," said Nicole Lee, a human rights lawyer with Arch City Defenders that is working with Bmore United, a justice coalition of citizens in Baltimore.
Lee said the organizations first will focus on bailing out those whose medical needs are not being met while in jail. The groups haven't yet dipped into the fund, as so few people are making it to the point of a bail hearing. Both Lee and Johnson say that while the system might be somewhat strained due to the increased number of arrests, the lack of due process falls on the police commissioners.
"This is business as usual in Baltimore City with a few more people. There was a strain on the system but people still have constitutional rights," Johnson said. "The charges weren't filed because there wasn't anything to file."
Both attorneys said commissioners were on site, but they did not speed up the paperwork or the release process in any way to deal with the big influx.
Newsweek contacted nine offices within the Baltimore justice system in an attempt to understand the reasoning for the bail amounts, how many had been set and how many had been paid.
An employee at an office that processes paperwork relating to paid bail bonds said the office has not received any paperwork for bonds that had been paid from those detained during the riot. An employee of the court that establishes bail amounts said he did not know how many bails had been set related to the protests and riot, but said he thinks "no one has posted bail this week."
Johnson did not have insight into whether these two accounts were accurate, but said it is "entirely possible that no one has been able to afford the ridiculous bail."
Baltimore's corrections department and bail hearings office did not respond to formal requests for comment.