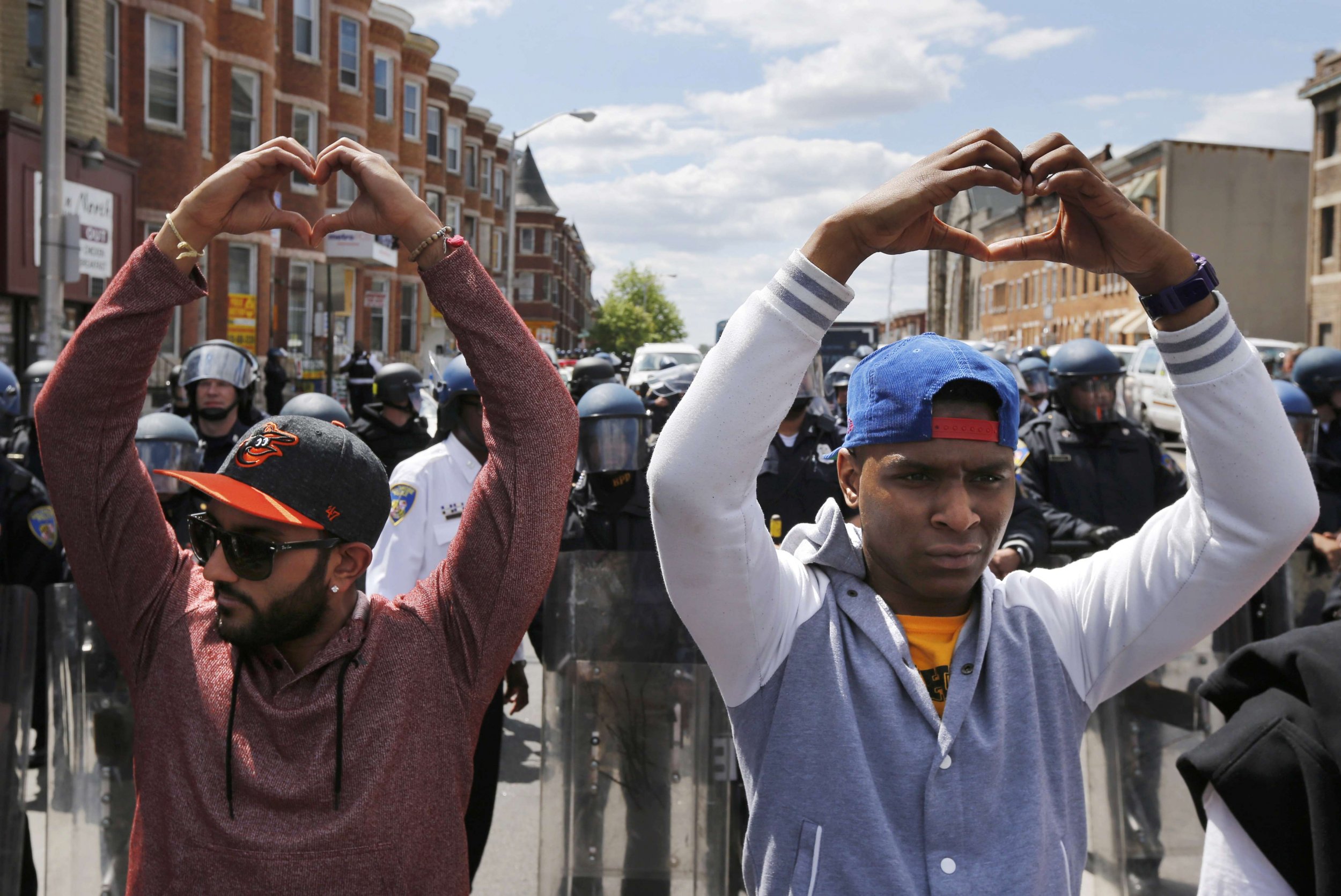 BALTIMORE (Reuters) - Baltimore's mayor came under criticism on Tuesday for a slow police response to some of the worst urban violence in the United States in years in which shops were looted, buildings burned to the ground and 20 officers were injured.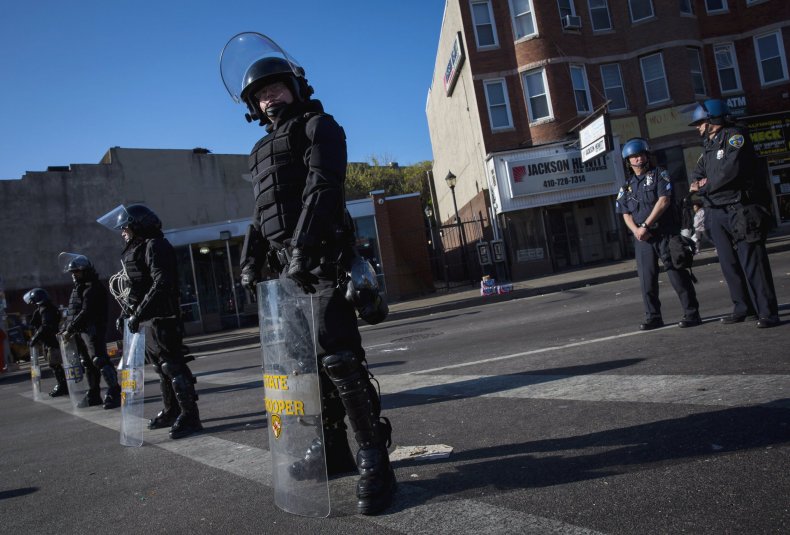 In Focus
Acrid smoke hung over streets where violence broke out just blocks from Freddie Gray's funeral.
Launch Slideshow

12 PHOTOS
Maryland Governor Larry Hogan said he had called Mayor Stephanie Rawlings-Blake repeatedly Monday but that she held off requesting the National Guard until three hours after violence first erupted following the funeral of a 25-year-old black man who died in police custody on April 19.
"The mayor of Baltimore had the city of Baltimore police on the ground. Quite frankly, they were overwhelmed. All the rest of the (boots) on the ground came from us," the Republican governor said the day after declaring a state of emergency in the largely black city.
The death of Freddie Gray gave new energy to the public outcry that flared last year after police killings of unarmed black men in Ferguson, New York City and elsewhere. For nearly a week after Gray died from a spinal injury, protests in Baltimore had been peaceful.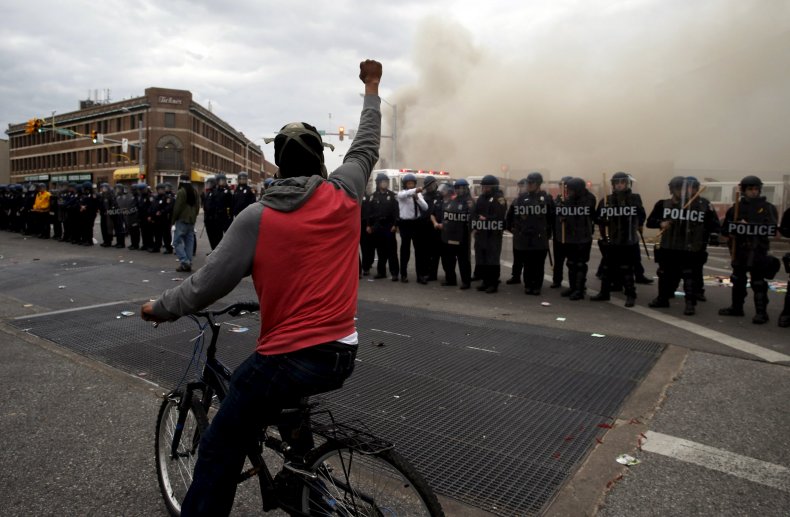 In Focus
See photos of the chaos in Baltimore, where riots have broken out following the funeral of Freddie Gray, a black man who died in police custody.
Launch Slideshow

21 PHOTOS
After a night of looting and arson that burned 19 buildings and left one person in critical condition, largely peaceful protesters amassed in front of police lines. One burst of violence by a lone man was met by police with pepper spray, sending protesters scattering.
President Barack Obama said he spoke to the governor and mayor to urge them to stop the violence. "There's no excuse for the kind of violence that we saw yesterday," said Obama, who spoke at length about Baltimore at a news conference with visiting Japanese Prime Minister Shinzo Abe. "It is counterproductive."
Obama also said the problems in places such as Baltimore were not new and need to be addressed by everyone.
"We can't just leave this to the police. I think there are police departments that have to do some soul searching. I think there's some communities that have to do some soul searching," Obama said. "But I think we as a country have to do some soul searching. This is not new. It's been going on for decades."
'DELICATE BALANCING ACT'
Captain John Kowalczyk of the Baltimore City Police Department said the number of police injured since Monday rose to 20 and 235 people, including 34 juveniles, had been arrested.
Acrid smoke hung over streets where violence broke out just blocks from Gray's funeral before spreading through the city. Police initially looked on but did not interfere as rioters torched vehicles and later businesses.
Looters had ransacked stores, pharmacies and a shopping mall and clashed with police in riot gear in violence reminiscent of rioting in Ferguson, Missouri, in 2014 after authorities declined to indict a white police officer who shot dead an unarmed black teenager.
Baltimore Mayor Rawlings-Blake, an African American and Democrat who grew up in the city of 620,000 people 40 miles (64 km) from Washington, D.C., imposed a one-week curfew but stressed the need to respond in a way that did not incite more violence.
"It's a very delicate balancing act, when we have to make sure that we're managing but not increasing and escalating the problem," Rawlings-Blake, 45, told reporters on Tuesday.
Security experts said the city should have been more prepared for an outbreak of violence.
"With the circumstances as tragic as they were with Mr. Gray, I think it's fair for the city to have expected something serious," said Michael Balboni, a former senior homeland security and law enforcement official in New York.
Gray was arrested on April 12 while running from officers. He was taken to the police station in a van, with no seat restraint and suffered the spinal injury. A lawyer for Gray's family says his spine was 80 percent severed at the neck while in custody.
Six officers have been suspended, and the U.S. Justice Department is investigating possible civil rights violations.
2,000 TROOPS ON GROUND
Governor Hogan said that he aimed to have 2,000 troops activated by the end of the day in Baltimore, while neighboring Pennsylvania, New Jersey and the District of Columbia were sending in hundreds of law enforcement officers to assist.
Police in Ferguson came under intense criticism last year for quickly adopting a militarized posture, using armored vehicles, showing heavy weapons and deploying tear gas in a forceful response that some said escalated tensions in the St. Louis suburb.
New York's police department took a more flexible approach in protests later in the year, monitoring marches that crisscrossed the city but largely averting the kind of violence seen in Ferguson and Baltimore.
On Tuesday, volunteers in Baltimore swept up charred debris in front of a CVS pharmacy as dozens of police officers in riot gear stood by and firefighters worked to damp down the embers.
Schools were closed and Baltimore-based fund manager T. Rowe Price Group Inc closed its downtown office. Legg Mason said its office would be open, but it was encouraging employees to work from home. The Major League Baseball game between the Baltimore Orioles and Chicago White Sox will be played as scheduled Wednesday but closed to the public.