Ban Homework? Researchers Say the Practice Isn't Inherently Good
After a Montreal school announced it would ban homework, the question feared by parents across the world reared its head once again: Why should anyone do their homework?
The role of homework in classrooms is not a new debate, and studies differ on where the focus should lie.
A well-known 2006 meta analysis of research between 1987 and 2003 suggested some correlation between the amount of homework done by a student and future academic achievement for middle and high schoolers—but not so much for younger kids.
In Malta, age-based differences are being put into public policy, with the government announcing guidelines for slowly increasing amounts of homework for public-school children. Kids in grades one and two start at a maximum of 20 minutes of homework a day before climbing to a maximum of eight hours a week for the eldest students.
According to The Malta Independent, that policy came after a World Health Organization report noted that Maltese children felt overpressured from the amounts of homework they were being given.
A Stanford study from 2014 suggested that the same was true for students in California's affluent communities. The findings challenged the idea that homework was "inherently good," senior lecturer Denise Pope wrote, suggesting there was an upper limit to the correlation between homework and achievement.
Pope concluded that high school students shouldn't be doing more than about two hours of homework a night. Speaking to Newsweek, she said that research suggested the most valuable kind of homework for elementary-level children was simply assigned free reading.
Rural versus urban access
The topic gets a little more complicated when we talk about the divide between rural and urban communities. Pope's study looked at affluent Californians, but students in rural areas can face a stress of different kind: the "homework gap." In more far-flung areas, the poor quality or plain lack of internet access can put students at a disadvantage in an education system that's increasingly aimed at the well connected.
According to FCC Commissioner Jessica Rosenworcel, who coined the term "homework gap," seven in 10 teachers assign homework that requires broadband access, while one in three households might not have internet access.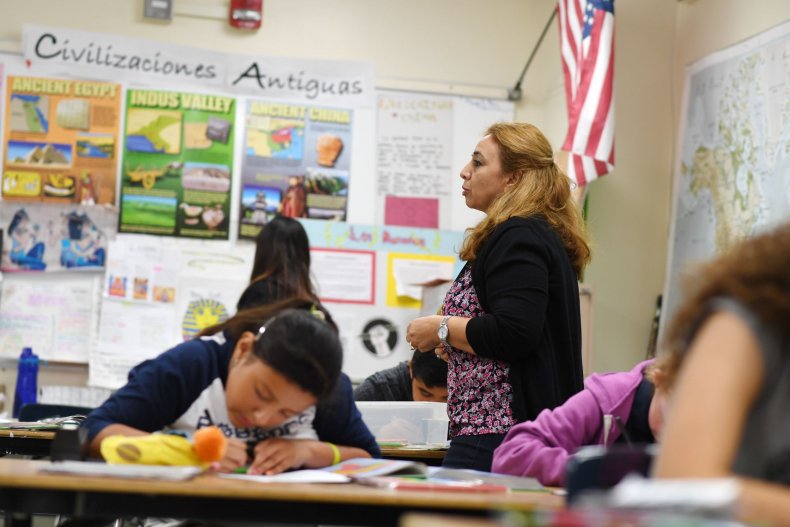 "It didn't exist when I was growing up. All I needed for homework was a pencil, some paper and my brother leaving me alone," Rosenworcel said in a recent speech to the National League of Cities.
Rosenworcel told stories of kids around the country going to diners and parking lots to access the internet service they need to complete school assignments—and how fixes like Wi-Fi on school buses could help those kids keep up with their classmates.
A similar divide in another part of the world saw a much broader policy change. After parents in the United Arab Emirates complained that they had to shell out for resources for their kids to complete homework assignments, the Ministry of Education banned pricey homework.
"Homework should not be resource-intensive, requiring massive financial outlays from parents, or age-inappropriate in a way that it cannot be completed by the children to whom it is assigned," one official told the local newspaper Gulf News.
Going beyond academic achievement
While those topics might focus on a student's academic achievement, homework might have other benefits, too. A study in Germany found that another effect homework could have is on students' personalities, with research suggesting that doing homework might make kids more conscientious.
Related: Are 4-Day Weeks the Answer to Problems Facing America's School Districts?
"Our results show that homework is not only relevant for school performance but also for personality development—provided that students put a lot of effort into their assignments," Richard Göllner, author of the University of Tübingen study, said in a press release.
However, as Pope noted to Newsweek, if someone is looking to teach conscientiousness, there are likely better ways to do that than just assigning homework.
Pope's point feeds into an issue Göllner also raised: that whether or not homework is worthwhile really depends on what its goals are.
"We need to define more precisely what expectations we have of the potential of homework and how those expectations can be fulfilled," Göllner wrote.
While the homework discussion is not a new one, the competing factors affecting students' achievement as well as their well-being is likely to make it a continuing balancing act for schools around the world.
Though, as one Montreal student told CTV, "No homework? That's every kid's dream."