Ban on Same-Sex Marriage Thrown Out in California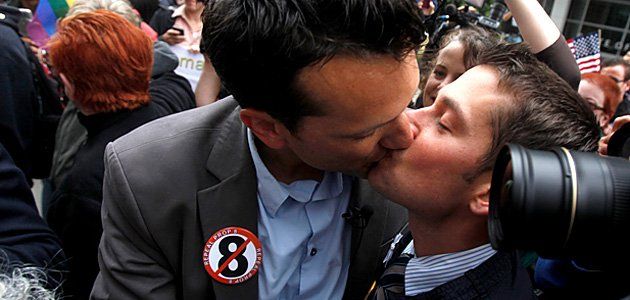 Advocates of same-sex marriage are celebrating after a federal judge overturned Proposition 8, a California law banning same-sex unions.
Californians voted by a narrow margin in November 2008 to introduce the measure limiting marriage "between a man and a woman." But U.S. district Chief Judge Vaughn R. Walker said today that the provision violated the due process and equal-protection rights of gays and lesbians under the 14th Amendment of the Constitution.
The law, he stated, "fails to advance any rational basis in singling out gay men and lesbians for denial of a marriage license. Indeed, the evidence shows Proposition 8 does nothing more than enshrine in the California Constitution the notion that opposite-sex couples are superior to same-sex couples. …Because Proposition 8 prevents California from fulfilling its constitutional obligation to provide marriages on an equal basis, the court concludes that Proposition 8 is unconstitutional."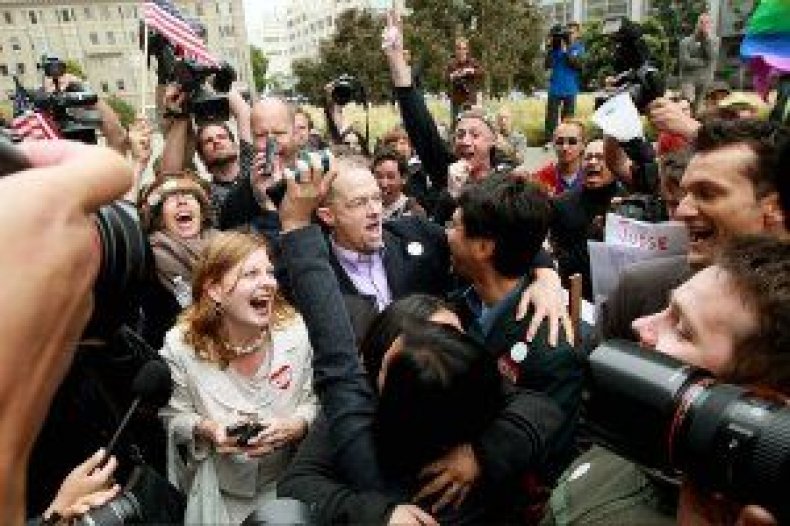 With laws in dozens of states defining marriage as between a man and a woman, the decision is likely to have national implications. The ruling is expected to be appealed to the U.S. Ninth Circuit Court of Appeals and then up to the U.S. Supreme Court. Even in California itself, no new marriages are likely immediately. Judge Walker stayed his order until Friday, a move which will give Proposition 8 backers time to appeal and seek a long-term stay. Officials in Los Angeles County and West Hollywood were studying the ruling before deciding whether to start issuing marriage licenses to same-sex couples again.
Reaction to the ruling has been swift among conservatives. Brian Brown, president of the National Organization for Marriage, lambasted the judge for overruling "with a stroke of his pen" the will of 7 million Californians who voted in the 2008 ballot initiative. Maggie Gallagher, chair of the organization's board, called the decision a "unique and disturbing episode in American jurisprudence." Previewing a likely line of attack in coming days, she implied that Judge Walker's own sexual orientation may have played a part. "We call on the Supreme Court and Congress to protect the people's right to vote for marriage," she said.
But proponents of gay marriage are celebrating. Geoff Kors, executive director for Equality California, which filed an amicus brief supporting the challenge, called the decision a "victory for the soul of our nation, as it is for the thousands of same-sex couples and their families who will be directly impacted."
The passage of Proposition 8, in the shadow of Barack Obama's election victory, prompted much hand-wringing and recrimination among liberal activists, who failed to see the gay-marriage backlash in California coming.
The plaintiffs' case was led by David Boies and Theodore Olson, ideological opposites who sparred in the 2000 Supreme Court battle beween George W. Bush and Al Gore. Olson has previously made an impassioned argument to fellow conservatives that gay marriage is a cause they should embrace. Today's ruling looks to be a temporary victory for same-sex-marriage advocates as arguments over this issue look set to escalate in the courts—and the country—at large.