Banana Left at Door Pushes Teacher to Sue Student Over Racism
A longtime history teacher in Virginia is suing a 10th-grader, alleging repeated acts of racism in the high school.
Joel Mungo is suing the student after finding a banana placed several times in his classroom doorway, according to WAVY-10.
Mungo, a teacher at Menchville High School in Newport News, told WAVY-10 that the first time he found a banana in that particular location was in October of last year.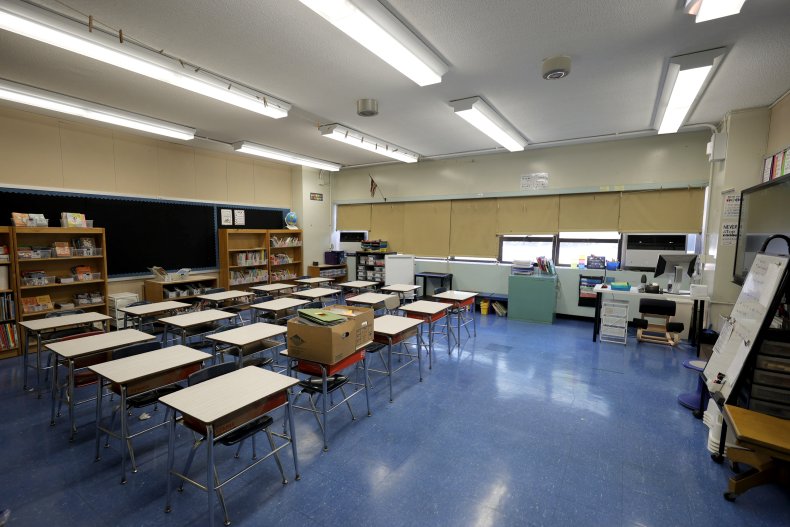 "Someone left a banana at my door. The banana was perfectly placed in the doorway," he told the station.
However, that was not the only time he found a piece of fruit in his doorway. Mungo, who has been a teacher for more than two decades, said after October, it quickly became a monthly occurrence.
He went on to tell the station that in each and every instance, the banana would be found in the very same place: always in the doorway to his classroom.
Mungo had finally had enough, according to WAVY-10. The station reports that the educator went to the school administrators, where he had them pull security footage.
After viewing the surveillance video, he believed he had found the person responsible for the racist acts. The person, according to WAVY-10, suspected of placing the banana in Mungo's doorway was a 10th-grade student in one of Mungo's classes.
But instead of immediately seeking legal action, the station reports, Mungo confronted the student. He told WAVY-10 that he simply asked the student, "Hey, did you do this?"
Mungo said the student played dumb. That's when Mungo got the school's assistant principal involved.
"So I said, 'OK, go down to the assistant principal.' I'm the only Black teacher he has. He has six other teachers. No other teachers were involved," Mungo told WAVY-10.
The student's parents were notified and the student was suspended for two days. However, Mungo said, the parents' feelings seemed to change quickly.
"Initially, when the parents were contacted, the parents seemed to be truly embarrassed. Then when the student was suspended and the parents were informed, then the parents were irate. It's 2022. Just to have some type of hate crime is absolutely ridiculous. I was sickened. I was highly upset. So upset, I took the next day off. I didn't go to work that Friday," he told WAVY-10.
The station reports that Mungo is now in the midst of suing the student. He told WAVY-10 that the bananas along his classroom doorway were the last straw in the racism that has been taking place throughout the country.
"I'm just fed up with the racism around, especially at our academic institutions. Coming from the HBCUs [Historically Black and College Universities] and other colleges, the bomb threats, the nooses, the bananas and now it's streaming into public education. It's time to take a stand and just let people know it will not be tolerated. I know I'm not tolerating it. You have to speak up. You can't allow it to go on because then it will just continue to go on," he told WAVY-10.
In response to Newsweek, attorney Ali Shahrestani, Esq., who has practiced education law in several states along both U.S. coasts, including Washington, D.C., but not Virginia where the incidents occurred, said he has never heard of an instance where a teacher sued a student under these circumstances.
He went on to state that "it might be the case that the teacher needed to take matters to court to make a bigger point here because the school issued a meager two-day suspension for an arguable hate crime and an act of malicious and racist harassment against an African American teacher in a predominantly white public school," Shahrestani said.
"The 10th grade student is arguably old enough to know better, and a more appropriate punishment should have been immediate expulsion, especially when the school possesses video evidence of the student's illegal actions," he added.
Given what is currently known, Shahrestani said, "If I were counsel in the matter, I would advise the teacher to consider a lawsuit against the school for supporting a hostile work environment via its negligent failure to dole out a reasonable punishment. A two-day suspension is what a student should expect when he cheats on a test or gravely insults another student," he said.
"It sends a terrible message to other students, teachers, and the community when a student gets a slap on the wrist like this for such a disgusting series of alleged actions against a teacher. The fact that the student's parents allegedly had the audacity to be upset by a two-day suspension might reflect the lack of sincerity of their initial alleged apology on his behalf," Shahrestani said.
This comes after a high school in Ohio has recently come under fire from both parents and students for postponing the school's annual Racial Diversity Day Awareness less than 24 hours before it was scheduled.
In Texas, a former high school student recently won a $90,000 settlement after claiming that a teacher had harassed her for sitting during the pledge of allegiance.
Newsweek reached out to Menchville High School and the school district's superintendent for comment but did not hear back before publication.