'The Banana Splits' 2019 Horror Movie is Here "For Better or Worse"
It's 2019 and the Banana Splits are coming to kill you.
Warner Bros. Home Entertainment and the Syfy Channel have reanimated one of the most obscure character franchises from animation legends Hanna-Barbera. The Banana Splits Movie is a bonafide R-rated slasher pic that isn't for the faint of heart. An alternate take on Fleegle (the dog with Tigger's voice), Bingo (a groovy orangutan), Droopy (the sassy lion) and Snorky (an elephant who doesn't say much) reminds viewers of their repressed feelings about character costumes.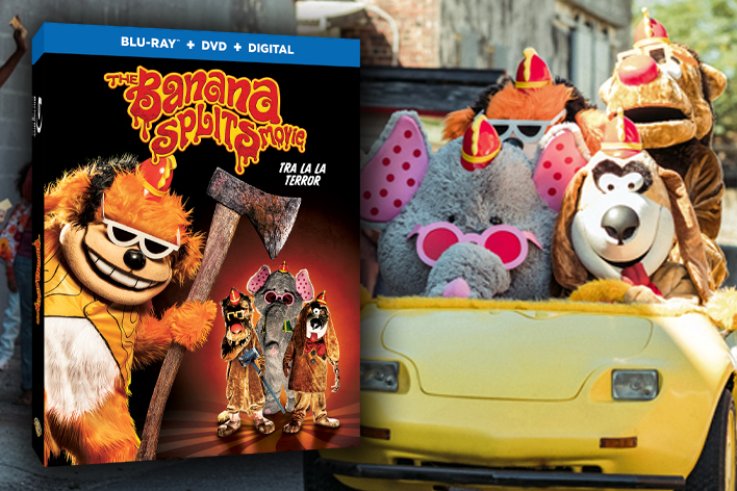 "For better or for worse, they are doing a Banana Splits horror movie," Eric Bauza, who voices the four members of the titular faux music group told Newsweek. "I could see why they wanted to do something with these characters. It totally fits."
The Banana Splits Adventure Hour was a variety program created for NBC by Hanna-Barbera and sponsored by Kellogg's cereal. Running from 1968 through 1970, it starred a cast of psychedelic animal suits created by Sid and Marty Kroftt of H.R. Pufnstuf fame. The quartet sang as a childlike twist on The Monkees while introducing segments like "Thundarr the Barbarian," "Danger Island" and "Arabian Nights."
The show enjoyed mild popularity during its original 31-episode run, but garnered a much larger audience through reruns. When said Hanna-Barbera reruns started appearing on Cartoon Network and Boomerang, a whole new generation sang along to "The Tra, La, La Song." A reboot of the franchise was attempted in 2008 targeting a much younger demographic, but it never caught on. Warner Bros. is ready to bring the franchise in a whole new direction.
"There is something mysterious and eerie about masked costume characters at theme parks," Bauza said. "You don't know who's behind these masks at all times."
In this version, the Banana Splits are technological marvels; a cross between the Terminator and Barney the Dinosaur. The premise of child-friendly mascots in fluffy suits that go on murderous rampages calls back the popular gaming franchise Five Nights at Freddy's. The writers were aware that FNAF existed, "but steered completely clear of any kind of tie-in to it," Bauza said. "It's a genre with an audience that could help make this movie successful."
Bauza refused to "spill the beans" on whether there will be Easter eggs in The Banana Splits Movie that call back to other segments and characters from the show. In Newsweek's exclusive clip from the movie, we can see the "Banana Buggy" which each character had their own version to drive.
"As much as they were a reasonable part of the landscape in 1968, it's hard not to see how inherently creepy and strange they are," Peter Girardi, Executive Vice President of Alternative Programming at Warner Bros. Animation and Blue Ribbon Content, said. "Drooper has stitches on the sides of his mouth and Bingo looks like Jack Nicholson escaped the Island of Doctor Moreau. We decided to just embrace the strangeness and the idea took on a life of its own."
The Banana Splits Movie is available on digital August 13 and Blu-ray and DVD on August 27.
'The Banana Splits' 2019 Horror Movie is Here "For Better or Worse" | Culture