'Band of Brothers' Writer's Anti-Trump Ad Says Reopening Threatens Veterans
An anti-Trump Republican group has released an ad, penned by one of the writer of TV drama Band of Brothers, that says President's handling of the coronavirus pandemic threatens the lives of veterans.
John Orloff, a writer on the acclaimed 2001 HBO series about World War II, wrote the ad, which is titled "Debt" for the Lincoln Project, a political action committee formed in 2019 with the goal of encouraging Republicans to abandon Trump.
"They did nothing less than save the world... and it didn't come without great sacrifice," the ad's narrator says over images from the World War II era, to signify the sacrifice made by the older generation.
Footage of Trump is then shown, saying: "We cannot let the cure be worse than the problem itself," before a shot of an elderly hospital patient clinging to life, hooked up to a ventilator.
"Haven't we asked enough of the greatest generation?" the ad asks.
Fans of Band of Brothers will remember that the drama received critical acclaim when it was released, and has arguably been considered the benchmark for war dramas ever since.
CNN's Paul Clinton at the time described it as "a remarkable testament to that generation of citizen soldiers, who responded when called upon to save the world for democracy and then quietly returned to build the nation that we now all enjoy, and all too often take for granted."
Orloff wrote Episode Two, "Day of Days" and Episode Nine, "Why We Fight" and has become "very passionate about veteran affairs" since.
Speaking to Mediaite, about his decision to work on the "Debt" piece for the Lincoln Project, Orloff said, "I watched the Trump administration—and its enablers—argue that they were quite willing to sacrifice the health and lives of our senior citizens, I was—and still am—shocked that this was an actual, real rationalization they were making."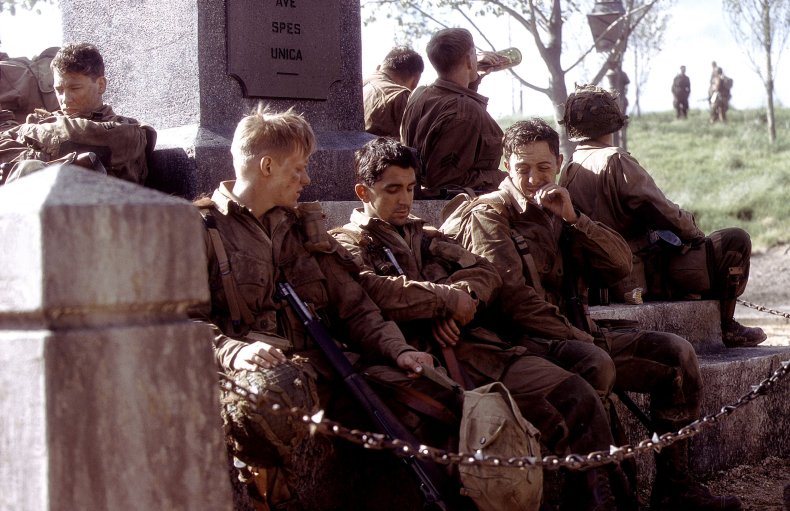 "And who are those senior citizens?" Orloff continued. "Well, a whole bunch of them saved the world. Literally. At great and terrible sacrifice."
Co-founder of the Lincoln Project Reed Galen, has urged the public to consider Trump's handling of the COVID-19 pandemic when it comes to voting in November.
"Americans should judge Trump on his inhumanity for accepting us as expendable," Galen told Kten.com.
Other members of the Lincoln Project include well-known GOP operatives John Weaver, Rick Wilson, Stuart Stevens, Steve Schmidt, Tara Setmayer, and, husband of White House counselor Kellyanne Conway, George Conway.
"Against the better judgment of the nation's best scientists and medical experts, including Dr. Fauci and Dr. Birx, President Trump has repeatedly pushed to hastily reopen the country, with full knowledge of the likely effect on American lives, particularly those of America's Greatest Generation. We owe this generation a debt that cannot be repaid. We must protect them from the President," a statement from the Lincoln Project on "Debt" reads.
Co-founder Wilson, said the project is "disheartened and disturbed" that elderly people are now at risk due to the reopening.
"It is both disheartening and disturbing that the generation we owe for bravely taking up arms and conquering fascism is now at risk of being extinguished by the authoritarian residing in our own White House," Wilson said.
"There is absolutely no equivalency between American lives and our economy, especially those of the most hallowed generation of Americans ever, the patriots singularly responsible for our continued existence as a nation and a democracy."