Bangladesh Rejects ISIS's Claims of Responsibility in Cafe Attack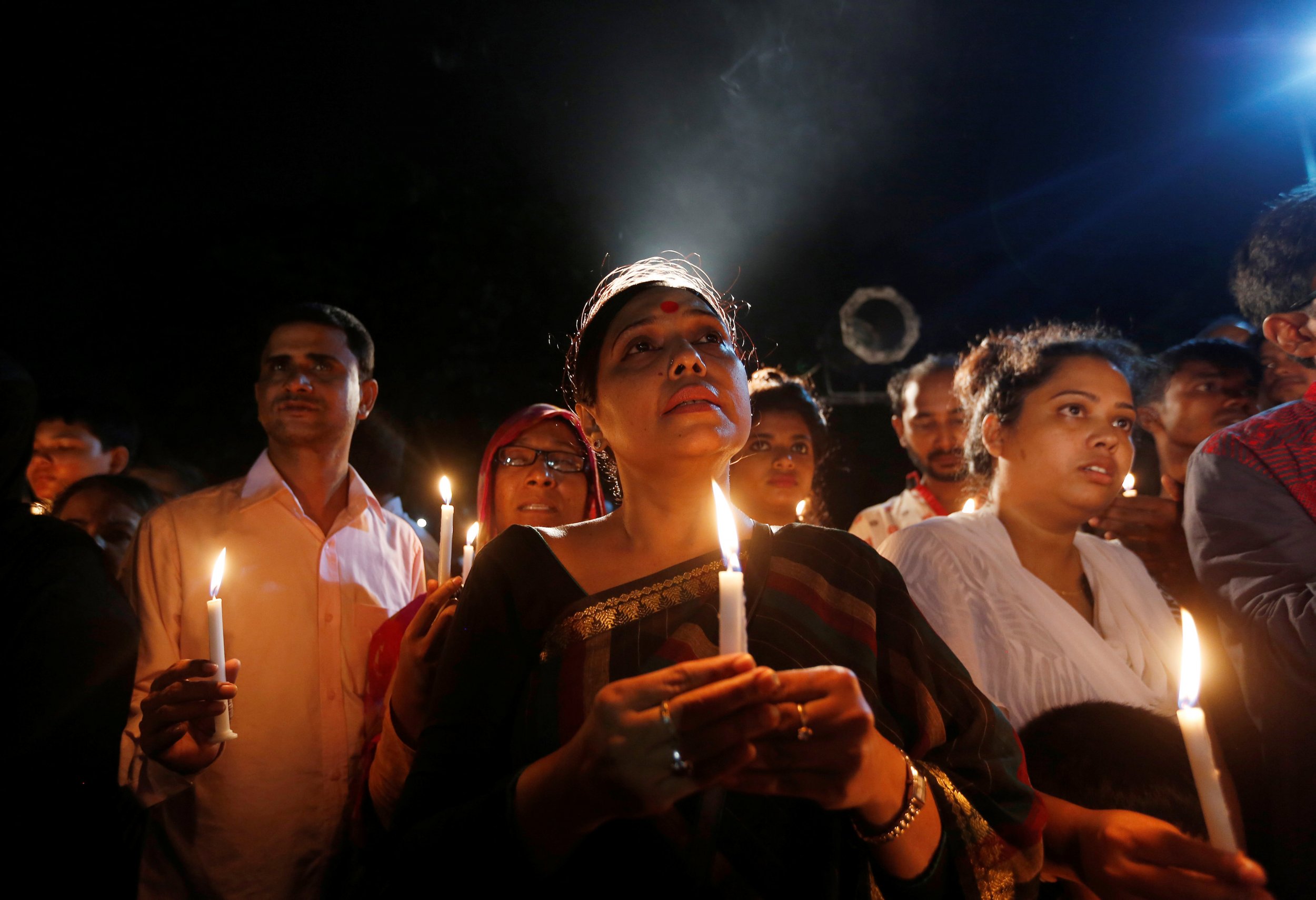 Seven militants who killed 20 people at a Dhaka restaurant made no demands and a person taken alive by police was only a suspect admitted to the hospital, Bangladesh's home minister said on Sunday, rejecting the Islamic State militant group's claims of responsibility.
The gunmen stormed the upmarket restaurant in the diplomatic zone late on Friday and killed their mostly non-Muslim hostages, including nine Italians, seven Japanese and a citizen each from the United States and India.
Three of the six gunmen killed were under 22 years of age and had been missing for six months, Asaduzzaman Khan told Reuters in an interview at his Dhaka home. Police and government officials have said the attackers were from well-off Bangladeshi families, a rarity and an indication that religious radicalization was widening its scope.
Claiming responsibility, ISIS warned citizens of "crusader countries"—that is, traditionally Christian western states—in a statement that they would not be safe "as long as their aircraft are killing Muslims." It also posted pictures of five grinning fighters in front of a black flag who it said were involved in the attack, according to the SITE monitoring website.
But Khan said ISIS was not involved, reiterating the government's position that home-grown militants were responsible for a spate of killings in the country over the past 18 months, including the latest one.
Asked about the photos, the minister pointed to a wall behind him and said: "If I fix a poster of IS here and stand with a machine gun, will it establish that IS is here?"
The minister has blamed Jamaat-ul-Mujahideen Bangladesh, which claims to represent ISIS in Bangladesh but has no proven links to it.
Security experts believe the suspect, who was hospitalized with serious injuries, would be crucial to the investigation into the attack. Khan said it was not clear if he was involved.
ISIS also claimed responsibility for two bombings overnight in Baghdad that killed nearly 120 people and wounded 200, most of them in a busy shopping area while residents celebrated the Muslim fasting month of Ramadan.
Late on Sunday in Bangladesh, hundreds of men, women and children held a candlelight vigil near Dhaka's Shaheed Minar (Martyr's Monument) to pay respect to those who lost their lives.
"We don't want this," Nasima, a textile industry worker, told Reuters. "Please stop this, stop this, stop this from our society, from our country, I want to live in peace."
As Dhaka limped back to normal life, experts questioned the delay in launching the offensive against the militants. More than 100 commandos stormed the restaurant nearly 10 hours after the siege began, under an operation code-named 'Thunderbolt'.
Analysts say that as ISIS loses territory in Iraq and Syria and its finances get drained, it may be trying to build affiliates in countries such as Bangladesh for jihadists to launch attacks locally and cheaply.
Deputy Inspector General of Police Shahidur Rahman said on Sunday that authorities were investigating any connection between the attackers and transnational groups such as ISIS or al Qaeda.
He said the militants were mostly educated and from well-off families, but declined to give any more details. On Saturday police released pictures of five dead militants, most of them wearing grey T-shirts.
National police chief Shahidul Hoque said all the gunmen were Bangladeshis. "Five of them were listed as militants and law enforcers made several drives to arrest them," he said.
Whoever was responsible, the attack marked a major escalation in violence by militants demanding Islamic rule in Bangladesh, whose 160 million people are mostly Muslim.
Previous attacks have mostly singled out individuals advocating a secular or liberal lifestyle, or religious minorities.