Is Bank of America Experiencing Zelle Glitch? What We Know
Twitter on Wednesday was flooded with complaints from Bank of America customers who reported money disappearing from their accounts and apparent issues with the payment service Zelle.
Some Twitter users said that they had spoken with Bank of America and were told that Zelle was having an outage problem that caused recent transfers to vanish. One account, @YepItsZak, said that work was underway to solve the issue and it should be fixed on Wednesday.
Frustration and anger among customers over the reported issues was evident.
"We need someone with some influence to help get a statement from @BankofAmerica and@Zelle for all of the missing money from people's accounts," @ItsLeil tweeted.
Some Twitter users also pointed to the issues they were experiencing in the comments section of a Zelle tweet from Tuesday that read: "That feeling when Zelle $$ hits your bank account."
"That's funny because the exact opposite is happening right now. Maybe you want to tell people??" @krtmd responded to the post.
Twitter was not the only place where reports of Bank of America and Zelle issues surged on Wednesday. On Downdetector, which provides information about the status of websites and services, user outage reports for both spiked on Wednesday morning.
Downdetector even pointed to user-reported issues with Bank of America and Zelle on Twitter.
A notice to Bank of America customers that was shared with Newsweek read: "Zelle transactions made between January 14 and January 17 may be delayed in occurring and posting to accounts as requested. Transfers will be completed and will appear in your account activity and balances as soon as possible. We apologize for any delay or inconvenience."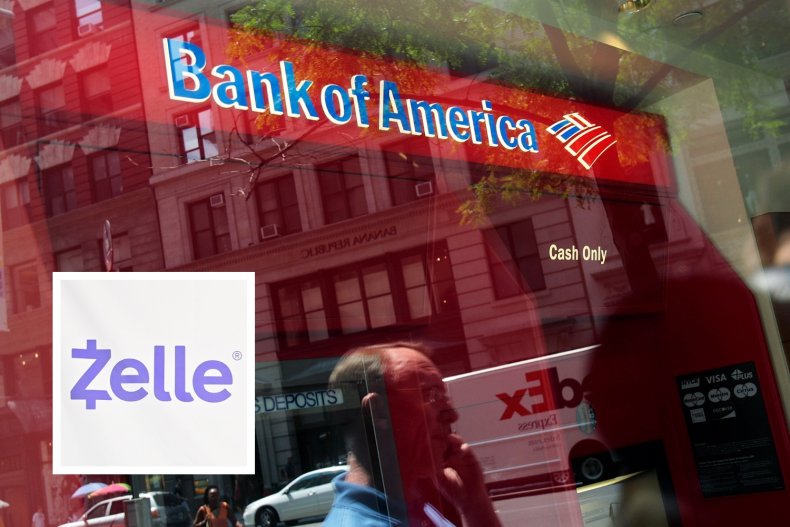 Zelle is among a group of apps and services that has entered the market to enable digital peer-to-peer payments. Comparable to Venmo and Cash App, Zelle has not flown by without complaints or issue reports in the past.
In October, Senator Elizabeth Warren's office released a report based on data provided by banks that said fraud and theft on Zelle was "rampant" and "increasing." The report also said that banks are not repaying the "vast majority" of cases in which users were fraudulently induced into making payments on Zelle, and banks are not repaying many customers who contest "unauthorized" Zelle payments.
A release from Warren's office that highlighted key report findings said that "the data provided by the banks revealed that they reimbursed consumers for only 47 percent of the dollar amount of cases in which customers reported these unauthorized payments on Zelle in 2021 and the first half of 2022."
Zelle's network owner and operator, Early Warning Services LLC, has pushed back on reports of rampant fraud on its service.
"Tens of millions of consumers safely use Zelle every day with more than 99.9 percent of payments sent without any report of fraud or scams," it said in a mid-October 2022 statement. "Any external analysis done is incomplete and does not reflect the efforts and data reported by more than 1,700 financial institutions on the Zelle Network."
Update 1/18/23, 4:20 p.m. ET: This story was updated with information about a notice to Bank of America customers.