Bank Serving Military Families Changes Policy Allowing Seizure of Stimulus Checks for Debts Following Social Media Outcry
USAA, the Texas-based financial services institution that has served active and retired military families for nearly a century, has changed its policy on using stimulus checks issued to military members to collect on outstanding loan payments.
Matthew Hartwig, USAA's director of communications, said Thursday the policy change was something the company had considered but was magnified when a USAA customer in Minneapolis revealed her family's entire stimulus check of $3,450 was delivered to a closed account with the bank.
The customer, who was featured in The American Prospect, said the funds were direct deposited into the closed account and used to pay outstanding bank fees, even though the account had been written off by the bank.
The woman's complaint sparked a social media firestorm from others—many of them USAA customers—who were highly critical of the bank's policy.
"This was brought to our attention and the team worked quickly to figure out a solution on how we can help members during this unprecedented time," Hartwig told Newsweek.
According to a statement from USAA, the bank is pausing collection efforts on accounts with outstanding balances for 90 days, from the time the stimulus check is deposited.
This policy, which went into effect on April 16, allows USAA members access to their full stimulus payment for the things they need and gives them time to make arrangements to repay those outstanding fees.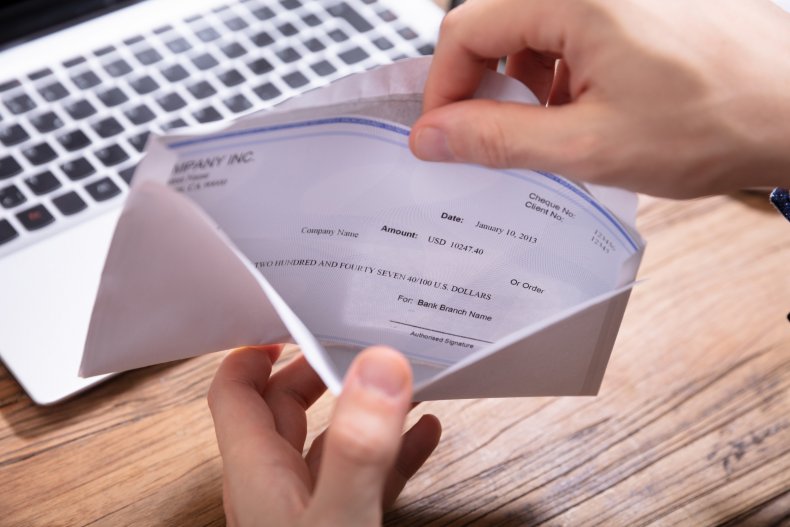 The $2.2 billion stimulus passed by Congress, known as the CARES Act, was designed to help soften the financial blow for families who were struggling due to lost jobs or significant income reductions caused by the COVID-19 pandemic.
Arlondra Irby, a single mom who recently moved to Michigan, is also a USAA customer. Like the woman in Minneapolis, Irby said the bank took her entire $2,200 stimulus check to pay toward $4,876 in overdraft fees.
"I told the USAA representative that I am a victim of domestic violence. I have two boys. I was needing that money to pay bills, especially my car note and insurance [and] to buy food [and] household goods," Irby told Newsweek. "I really needed that money to help me and my boys."
Hartwig added that USAA was aware of the "unthinkable challenges" their customers—and the rest of the nation—is facing during the COVID-19 pandemic, and they wanted to do what's right to help.
While the backlash has led to a change in USAA policy, this hasn't stopped other banks and bill collections from trying to collect on overdraft fees or bad debt.
Benji Pedro, 24, a recording artist, who lives in Columbia, South Carolina with his family, said his bank also took his stimulus check
According to a New York Times report, Pedro's $2,650 stimulus check was kept by Safe Credit Union to cover overdraft fees he'd incurred after forgetting to cancel two music subscriptions.
Lauren Saunders, who serves as associate director at the National Consumer Law Center in Washington, D.C. said in a MarketWatch interview that some banks may exercise a seizure order.
"For most consumers, there is no magic bullet to avoid bank account seizure. Many approaches to minimize such seizures have drawbacks that are better to avoid if payments are not actually at risk of being seized. These are complex issues that consumers may not want to make on their own," she said.
Saunders recommended following certain strategies to avoid garnishments, including cashing the checks instead of depositing them or redirecting the stimulus into a prepaid card.