Bankrupt Photography Firm Leaves Newlyweds Without Photos
Hundreds of couples have been left without wedding photos or a photographer for their big day after a photography company went bust.
The brides and grooms have been left in the lurch after South West Photo and Film announced it had declared bankruptcy.
The business, previously known as Lee Brewer Photography, said the financial implications of COVID-19 have "proven too much."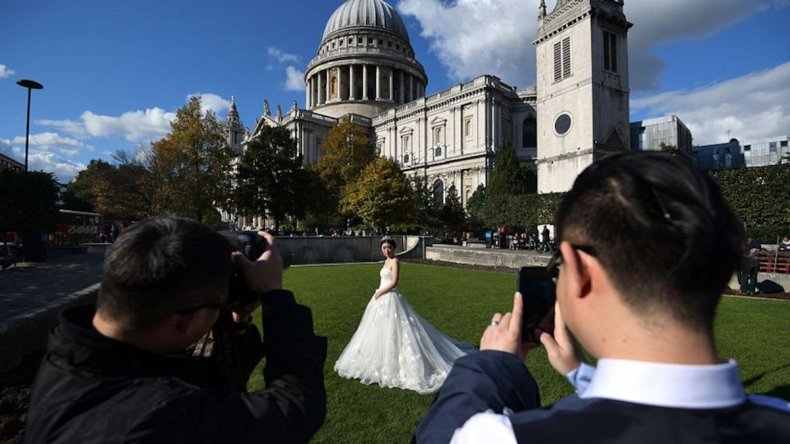 It has resulted in many couples - reports state as many as 800 - across the United Kingdom desperately searching for a new photographer.
They are also having to find additional money after having paid the Torquay in U.K. Devon-based company a deposit or the whole balance in full.
South West Photo and Film has also shut down its website and social media platforms.
It has left many baffled at how to proceed and unsure if they will ever retrieve the money they paid and get to see photographs taken on their big day.
The desperate couples have now taken to an online Facebook group, set up by a photographer from Devon and another from Dorset, which hopes to help brides and grooms find alternative photographers.
It has also become a platform where desperate individuals have shared stories of how they have been let down by South West Photo and Film.
Customers who email the business are being met with an automatic email reply that states: "It is with utmost sadness we would like to inform you that South West Photo and Film, formally Lee Brewer Photography, has ceased trading.
"We will no longer be able to provide any of our services to you at your wedding.
"We have tried so hard the last couple of years to survive the COVID-19 pandemic.
"The financial implications have proven too much for us to get over.
"Unfortunately, I have been left with no choice but to cease trading and declare bankruptcy as of today, July 27.
"An official receiver will be in touch with further information."
The statement asked the former clients to note, "...if you have had a wedding with us in the last 12 weeks and are still waiting for your photos/ video, we will be in touch over the coming weeks with the information on how you can get access to your photo and video files.
"We appreciate this isn't ideal but we will be in touch with the relevant information asap.
"I apologize as this is going to cause stress and I am extremely sorry for this.
"Unfortunately, there was never going to be a good time.
"I have listed below a group of recommended photographers, videographers and mirror booth companies who may be able to help on your day.
"Please note these people are in no way affiliated to Southwest Photo and Film and you will be booking them in a completely separate entity."
The horror stories shared by hundreds of couples on the Facebook page reveal claims of how they have had bookings confirmed and had money taken from them up until this week.
Others are fearful they will never get to see their official wedding photographs because they have not yet been sent.
A help group named Let's Find You Another Wedding Photographer/Videographer 2022, was created July 27 and already has over 1,600 members.
Many posts on the group have condemned the business for continuing to take people's money so close to declaring bankruptcy.
Produced in association with SWNS.
This story was provided to Newsweek by Zenger News.