Banksy Shakes Up Paris: Elusive Graffiti Artist Produces Seven Works on Migrants, Headscarves and Protests
Seven provocative pieces of street art have shown up in several locations around Paris, in what experts believe is a spree by the mysterious British artist Banksy, voicing his message on migration—and revolution.
None of the pieces bore Banksy's signature (that's not unusual, as he has not signed many of his most famous works), but local art experts told Agence France Presse that they looked genuine.
One of the most striking murals shows a young girl climbing out of her sleeping bag on the sidewalk and spraying a pink damask pattern on the wall over the image of a dark swastika. The work stands close to the site of a refugee shelter in northern Paris, which authorities closed against the wishes of the city's socialist mayor, Anne Hidalgo.
Read More: Is this Leonardo da Vinci's earliest self-portrait at age 18
Paris has razed nearly 40 makeshift camps in the last three years, and since the most recent closure in March, around 2,000 migrants, including children and teenagers, have reportedly been forced to sleep along canals and under motorway bridges.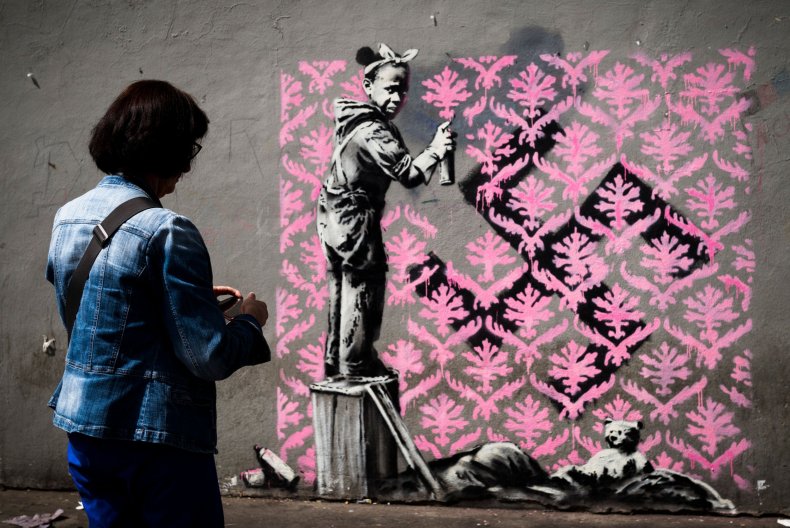 Another stenciled image appears next to Paris's Bataclan venue—the main target for jihadi extremists during a night of coordinated attacks in the city in 2015. The image shows a woman, looking down, her face covered in a mourning veil.
Tackling yet another heady subject, another mural, also in northern Paris, parodies a renowned work of art that portrays Napoleon Bonaparte. While the original 19th-century image shows Napoleon on horseback on his way to invade Italy in 1800, the spray-painted version wrapped the military leader in a full red headscarf, no doubt a dig at France's ban on face-covering Islamic veils.
Near the Sorbonne on the Seine's southern bank, the site of the famous student revolt of 50 years ago, another new mural seems to question where the revolutionary spirit has gone. Inscribing the image "May 1968"—the date of the now legendary wave of student and worker protests—the artist painted a rat with a polka-dot bow, like the one Disney's Minnie Mouse wears. Ironically, the Disneyland Paris theme park outside the capital is one of its largest employers of young people.
More graphic was another stenciled mural that stood nearby, showing a suited executive, hiding a saw behind his back, dangling a bone over a dog whose leg has suspiciously been sawn off and is bleeding.