Banksy Revealed? Long-lost TV Interview Unearthed of Man Claiming He Is Anonymous Street Artist
Old footage has been unearthed of a man claiming to be the anonymous street artist Banksy.
There is much speculation as to the identity of the subversive artist, who is believed to have come out of the cultural scene in the English city of Bristol and whose street works are known throughout the world.
Now, a report from 2003 has been found that profiles a pre-fame Banksy's "Turf War" exhibition in East London. It features an interview with a man who is pictured stenciling a black insect on to a wall and painting a picture of a baby with blocks spelling "KILL MORE".
Both pieces have been attributed to Banksy. The man, who has a clear Bristol accent, speaks for 35 seconds, wearing a baseball cap and with a T-shirt pulled over his lower face. His eyes, eyebrows and forehead can be seen.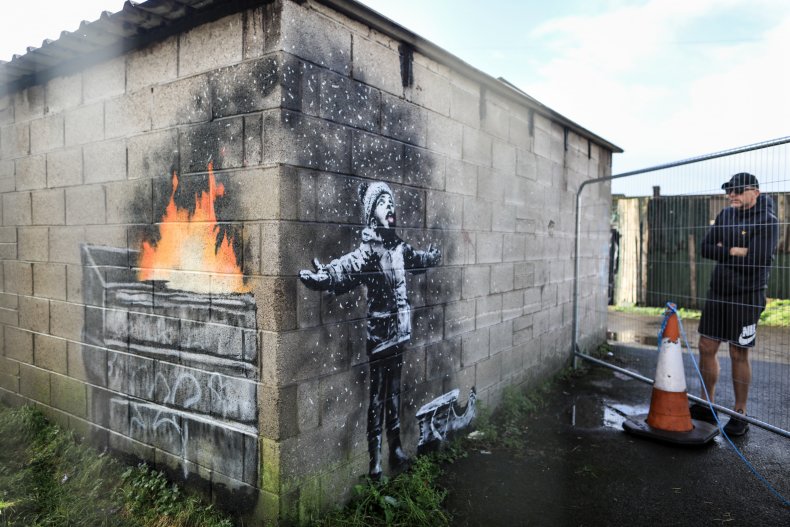 He explained to ITV News why he was covered up: "I'm disguised because you can't really be a graffiti writer and then go public.
"The two things don't quite go together."
He goes on to describe the Turf War exhibition which according to the BBC, featured painted animals, including pigs in police colors, sheep in stripes and a cow with Andy Warhol's face.
He said: "It's hard to make an entertaining picture at the best of times but at least if you have something that kind of wanders around and licks its nose and urinates in front of you, it's gonna make the picture a bit more interesting, right?"
If this is Banksy, then it may be the only time the artist has been interviewed on camera by a mainstream TV crew.
He does speak with his voice disguised in the film Exit Through The Gift Shop, which was nominated for an Academy Award for best documentary in 2011, the BBC reported.
The reporter Haig Gordon, who conducted the interview, said he could not remember what the man's face looked like.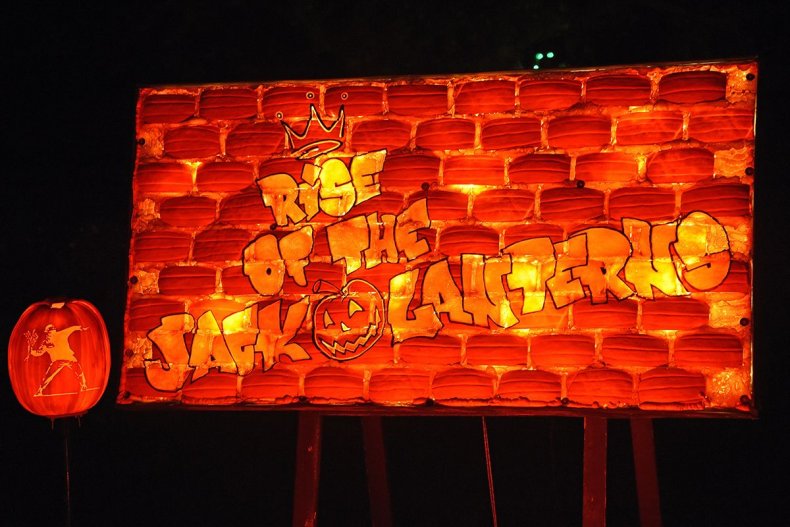 "It's strange, there's a great value attached to any sight of him [Banksy], I had a full sight of him, and I've completely squandered it. Thrown it away by not remembering," he told ITV News.
"He was relaxed, he was laid-back, he was amiable. I quite took to him. I was dreading a pretentious arty-farty type. But he was very pleasant.
"I have no evidence on which to make an assessment on whether this was the real Banksy or not but it seemed like an organized event. The press officer seemed like a normal press officer who wouldn't be playing a trick on the media.
"We got the footage of him doing things without a disguise and we had a conversation without the disguise," he told ITV News.
Doubts do remain, especially as the man does not completely match the description by The Guardian journalist Simon Hattenstone, who also interviewed the artist in 2003.
Hattenstone described Banksy as "white, 28, scruffy casual–jeans, T-shirt, a silver tooth, silver chain and silver earring" and looking like a cross between the British actor Jimmy Nail and the musician Mike Skinner.
When asked about the footage, a spokesperson for Banksy told The Guardian: "No comment. We get loads of these."
As well as the U.K., Banksy's work adorns public spaces in Palestine, New York and Los Angeles. Last December at an auction at Sotheby's, a device built into his work "Girl with a Balloon" shredded the painting just after its sale.