Mystery Behind Banksy's Missing Bike Mural Solved
The cause of the disappearance of a bicycle with a missing wheel that was part of an artwork by the anonymous street-based artist Banksy has finally been revealed.
The bike, which had been chained outside a beauty salon in the city of Nottingham, was part of a mural in which a girl is shown hula-hooping with a tire from the bike. The artwork appeared outside the salon wall on October 13 and its disappearance had caused concern among local residents.
However, Nottingham City Council says that the bike was removed by the owner of the salon on which the mural was painted. A council spokesperson told Newsweek: "The bike hasn't been stolen. It's been retained for safekeeping by the owner of the property."
Teacher and local resident Tracy Jayne was among those who was concerned after the bike went missing. She told the Guardian that the bike had disappeared on Sunday morning.
She said: "It's a shame if someone has taken it and chosen to be that disrespectful, not just to Banksy himself but to the whole of Nottingham. It's really saddening there are people like that who want to destroy his art, what are they going to achieve from it? I'm hoping the bike will be recovered. Sometimes things magically reappear."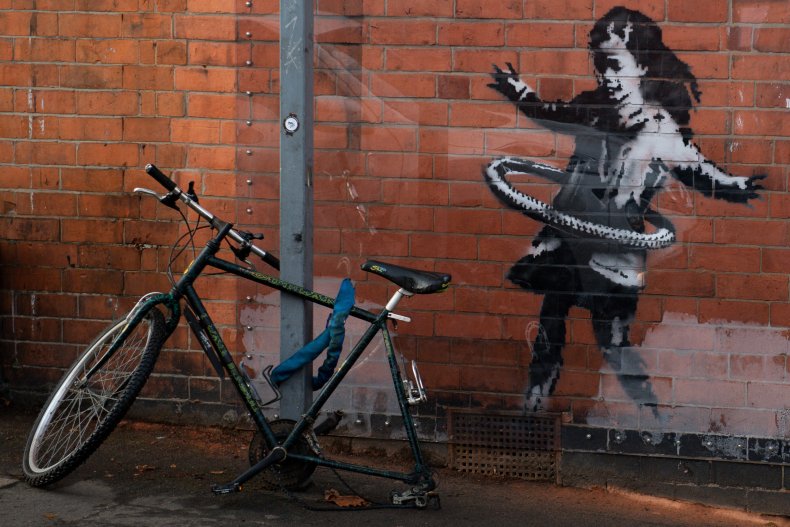 Nottinghamshire police told Newsweek that the missing bike has not been reported to them. The city of Nottingham is also home to Raleigh, one of the oldest bike companies in the world. After Banksy confirmed that he was behind the artwork, hundreds of people had queued to take a look and photograph the mural.
Nottinghamshire City Council had previously installed a protective cover over the street art to protect it, however it had been defaced moments later with graffiti. Banksy has kept his identity secret and produces artwork that pops up in public places, such as the walls of buildings. He began his career spray painting buildings in the city of Bristol, becoming one of the world's best known artists.
In 2018, art collectors were left stunned after a Banksy painting, known as the "Girl With Balloon" which had sold for $1.4 million, self-destructed just moments after its sale at an auction.
Quoting Picasso on his Instagram, Banksy wrote: "The urge to destroy is also a creative urge - Picasso."
The artist later revealed that he had intended for it to be shredded and had carried out rehearsals for the headline-grabbing prank, in which a secret shredder had been installed inside the painting's Victorian style frame. In October, Banksy's "Show Me the Monet" became the artist's second most expensive artwork ever sold at auction. The painting was a parody of Claude Monet's water lilies painting and sold for more than £7.5 million ($10 million).