Is Banksy's Latest Work Too 'Boring?' Gallerist Evaluates the Street Artist's Brexit Mural in Dover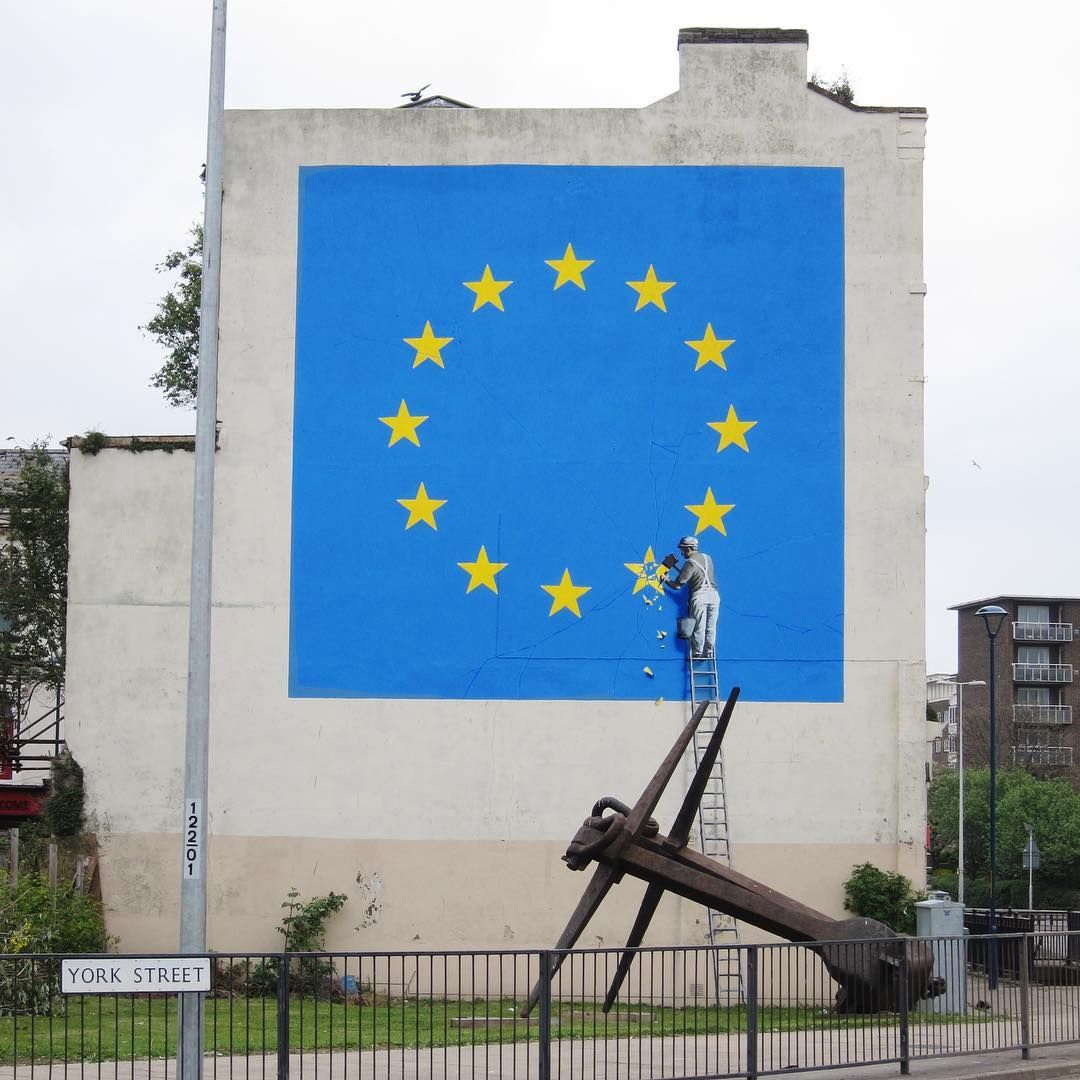 A new Banksy mural appeared on the side of a building in Dover, U.K., Sunday, apparently reflecting the U.K.'s impending exit from the European Union.
The painting can be seen near the A20 in Kent, southeast England, and shows a worker chipping away at a star on the EU flag. It's placement in Dover is notable because the coastal town connects to fellow EU country France by ferry to Calais.
The large scale artwork comes 10 months after Britain voted to leave the European Union in June 2016. British Prime Minister Theresa May triggered the exit by enacting Article 50 of the EU treaty on March 29.
A spokesperson for Banksy confirmed to the BBC it is a genuine work by the elusive street artist, who has never revealed his identity, but has gained a global following for his politicized graffiti paintings.
Banksy also posted two pictures of the mural on his Instagram account:
Art expert and Banksy gallerist John Brandler of Brandler Galleries tells Newsweek that Banksy's latest street art is underwhelming.
"Looking at that picture you wouldn't know which he way he would answer the question, 'Are you in favor of Brexit?' He's making a point that [the U.K. is] leaving and that's it. There's no punch in this—this is just boring" says Brandler.
"He's a very intelligent man and has a very intelligent group around him, so he doesn't want to offend the vast majority of the population that wants Brexit. But he still wants to show that he's political and on the ball."
A closer inspection of the mural, as seen in the second of Banksy's Instagram posts, shows the wall the artist chose to paint on is cracked.
"That might be it—that Europe is cracking," says Brandler discussing Banksy's intended comment. "If we leave and we're the second largest contributor to Europe, the bureaucrats must be concerned because suddenly they're not going to have an income. Maybe he should have emphasized the cracks more in the painting, if that's intentional."
The gallerist adds: "It's too subtle. Banksy isn't known for subtlety. He's known for in-your-face."
The EU mural in Dover is the first new street art from Banksy since he graffitied a wall at a Bristol elementary school in June 2016, to say thank you for the school naming one of its houses after him.