Banksy's New Project Depicts Steve Jobs as a Syrian Refugee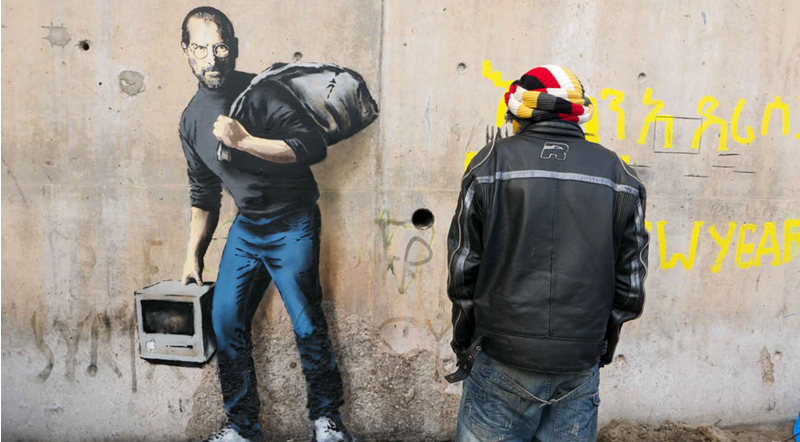 Banksy is back with a series of murals weighing in on the Syrian refugee crisis.
In paintings that appear on public structures near "the Jungle" refugee camp in Calais, France, the elusive English street artist drew Steve Jobs lugging a 1980s Apple computer and a traveling sack. "The son of a migrant from Syria," reads the caption underneath the image on Banksy's website.
Another image parodies Théodore Géricault's famous painting, The Raft of the Medusa, with immigrants depicted as the vessel's travelers.
Some of the art clearly references the Apple co-founder's origin story: Jobs was born to a Syrian father from Homs, Syria, and put up for adoption in San Francisco when he was an infant.
"We're often led to believe migration is a drain on the country's resources, but Steve Jobs was the son of a Syrian migrant," a Banksy representative said in a statement. "Apple is the world's most profitable company, it pays over $7 billion a year in taxes—and it only exists because they allowed in a young man from Homs."
The Steve Jobs argument has been criticized in some corners for regarding refugees as a means to a capitalist ends.
Banksy has already been involved with the refugee crisis, sending various materials from his theme park parody, "Dismaland," to the refugee and migrant camp in Calais.