Banning Huawei From U.K. 5G Infrastructure Might Be 'Impossible' but It Could Still Happen
Huawei's place in the U.K.'s 5G network has become one of the most confusing on-off sagas of recent times.
Prime Minister Boris Johnson was clear in January that he wanted the Chinese company to provide around a third of the infrastructure, directly opposing the view of U.S. President Donald Trump.
Reports then emerged that Johnson planned to reduce Chinese company Huawei's involvement in the U.K.'s 5G networks to zero by 2023, following pressure from backbenchers.
In a further twist, this could actually be "impossible," one official told The Times of London, given the extra cost and the extent to which Huawei is embedded within existing British infrastructure.
Equipment provided by Huawei is already used for the core of British 3G networks and some parts of the 4G infrastructure.
So, while there is certainly Huawei to go in negotiations, calls for the Chinese tech giant to actually go are getting louder from both the U.S and inside Westminster.
Will the company really be forced out of the U.K. for good?
Huawei was already prevented from providing any of the "core infrastructure" because of security concerns that Chinese authorities would have access—concerns Huawei officials strenuously deny.
But removing it fully could cost the government a lot of money.
"Removing Huawei would seriously delay 5G, costing the British economy up to £7bn [$8.5bn]," Victor Zhang, Huawei's UK chief, told the BBC.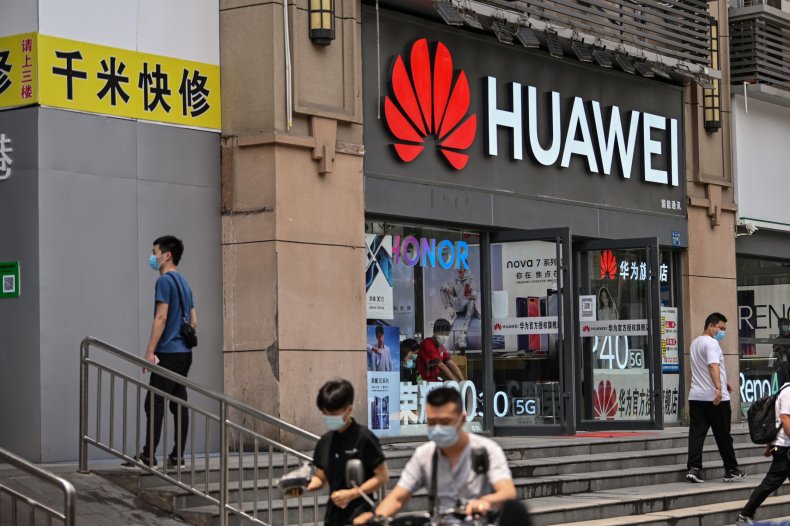 And Britain's National Security Centre (NCSC) is examining what impact this might have on the U.K. data and phone networks using Huawei's tech, immediately following the U.S.'s increased sanctions on Huawei.
An anonymous official told The Times that ministers were concerned that instructing British Telecom (BT) and other companies to stop using Huaewi would risk slowing progress, as the Chinese company was already so embedded into U.K. infrastructure.
"We'd be asking BT to essentially rip up the entire fiber-optic network," the official told The Times.
"It would make the 2025 broadband pledge impossible."
The government had set a target to deliver full-fiber broadband to all households by 2025, but was not included in the most recent Conservative Party manifesto.
It is unlikely, though not impossible, that this former commitment will be met.
This also has significant ramifications on the relationship between the U.K. and the U.S.
Secretary of State Mike Pompeo had already hinted that intelligence sharing might be harmed if the Huawei 5G deal went ahead.
"We will never permit American international security information to go across a network that we don't have trust and confidence in," he said in January on a visit to the U.K., adding that the Chinese Communist Party did not have "a technical back door to Huawei. They have the front door."
There is a balance to be struck between the U.K.'s place in the middle (both geographically and politically) between China and the U.S., as there is a feeling that this is a new Cold War.
For now, it's still unclear what happens to Huawei, which is stuck in the middle of all this.
"As long there is a firm date by which Huawei will be down to zero—and obviously a date that is not too far in the future—that's the most important thing," former cabinet minister Damian Green, who is part of the China Research Group in Parliament, tells Newsweek.
"It's important because it will affect the procurement decisions of U.K. providers, who will know that they can't bid for contracts using Huawei kit."
The Cabinet Office is reserving judgment until the NCSC reports back:
"The security and resilience of our networks are of paramount importance," the Cabinet Office said in a statement.
"Following the U.S. announcement of additional sanctions against Huawei, the NCSC is looking carefully at any impact they could have to the U.K.'s networks."
For Johnson, it is a decision between, on the one side, keeping the U.S. and his political party happy while relieving any security concerns and, on the other, getting a 5G system that is likely to be in place more quickly and cheaper to implement, given the current progress.
If it really is "impossible" to remove Huawei any time soon, Johnson will hope that it will be possible to keep everyone happy with a balancing act.