Bannon Abandons Anti-Establishment Insurgency Ahead of Mid-Terms
Former White House chief strategist and populist firebrand Steve Bannon has softened his hardline anti-establishment stance ahead of November's midterms election.
Republican primary candidates are attempting to replicate Trump's 2016 presidential election success by railing against GOP and Democratic elites.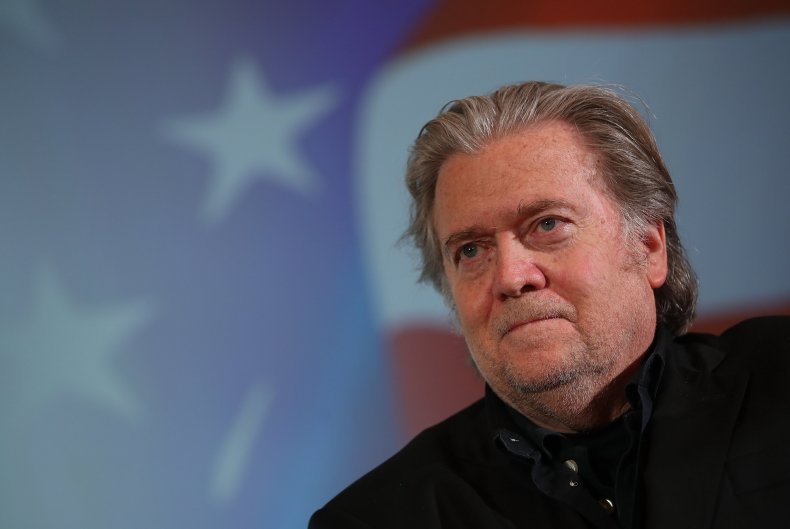 However Bannon, who took over as Trump election strategist during the clinching final few months of the 2016 presidential campaign, believes that with Trump president they have chosen a losing strategy.
Get your unlimited Newsweek trial >
"People are starting to realize that the anti-establishment thing is kind of a luxury we can't afford right now," Bannon told The New York Times.
And in an interview with CNN Friday night, Bannon predicted that the government would shut down before November amid battles over Trump's pledge to build a wall along the U.S.-Mexico border.
"I believe the government will actually shut down in the run-up to the election," Bannon told CNN's Fareed Zakaria.
"The wall is not just totemic," Bannon said of the president. "The wall is absolutely central to his program."
Get your unlimited Newsweek trial >
Plans to build the wall are currently bogged down in Congress.
In May, congressional Democrats rejected a Trump administration offer for $25 million in funding for the wall in exchange for a two-and-a-half-year extension of the Deferred Action for Childhood Arrivals program, under which immigrants who entered the U.S. as children were offered amnesty under the Obama administration. A counteroffer offering a path to citizenship for those in the DACA program in exchange for the money was rejected by Republicans.
Following his ousting from the White House in August, Bannon returned to his position as chairman of the Breitbart news network and rallied support for populist GOP candidates challenging party establishment incumbents in a bid to unseat Senate majority leader Mitch McConell.
The campaign came unstuck when Bannon-backed Alabama Senate candidate Roy Moore crashed to defeat at the hands of Democrat Doug Jones in December amid accusations that he had sexually assaulted multiple women and girls.
Of he populist candidates backed by Bannon only two are still running: Chris McDaniel in Mississippi and Kelli Ward in Arizona, reported the Times.
Trump has backed incumbent conservative senators in states including Alabama, Nevada and West Virginia, cutting off political oxygen to populist primary challengers as he prepares for tough mid-term battles.
Bannon fell out of favor with Trump after the January publication of Michael Wolf's White House expose Fire and Fury, in which he was quoted criticising some of Trump's family members and closest aides.
Bannon Abandons Anti-Establishment Insurgency Ahead of Mid-Terms | U.S.