Bannon and Breitbart Plan Conservative Revolt Against Hollywood After Harvey Weinstein Scandal
In the wake of sexual harassment and assault allegations against Harvey Weinstein, former White House chief strategist Steve Bannon and his far-right site Breitbart are declaring a new phase of war on the entertainment industry they love to hate.
"Hollywood isn't a new battlefront for Breitbart, it's the original battle," Bannon told The Hollywood Reporter in an interview published Thursday. "The fact that it's blowing itself up isn't a new stage in the culture war, it's an inevitable one," he added. "They've ignored half the country's values for far too long and now these Hollywood elitists' values are publicly on display, and bankrupt.
"These are the same people who disingenuously seized the moral high ground as they attacked our president based on a standard they do not live by," said Bannon, who helped found Breitbard and returned as executive chairman after departing the administration. "Americans took their country back not only from the permanent political class but also from these phony culture brokers who have waged war against their way of life for decades. Make no mistake, we didn't start this war, but how Hollywood responds from here will determine whether or not it survives."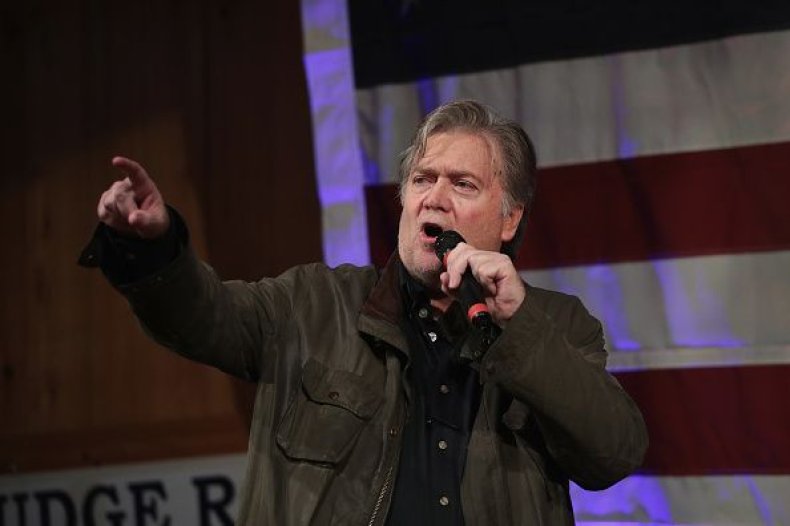 Breitbart Editor in Chief Alex Marlow echoed Bannon; both articulated what seems like a clear, intentional strategy to undermine what they deem a hypocritical liberal industry. "Hollywood turned a blind eye to Weinstein's horrible behavior," Marlow said. But neither he nor Bannon brought up the vision failure, to borrow their metaphor, that allowed Trump to be elected even after the release of tapes that included his bragging about groping women, and after several women came forward to say he had harassed or assaulted them.
Hollywood, according to Bannon and Marlow, is failing conservatives. They want Breitbart to be the venue where conservative Hollywood can safely "come out of the closet. It will be a moment of vindication for Andrew Breitbart's vision."
The site will reportedly begin exposing what it sees as Hollywood's political bias with a 14,000-word piece by Patrick Courrielche, a writer and producer whose author archive goes back to 2009 and who has said he was harassed and ostracized for his political opinions (he has described himself as a "libertarian-leaning conservative").
In a 2011 post for Breitbart titled "How Hollywood Conservatives Are Gay," he used the same "coming out" language Marlow borrowed. Courrielche recounts a meal he had with his wife and two gay men, who shared stories about realizing they were gay and later revealing their sexual identities to others. "It wasn't the first time I'd heard a coming-out story, but this time something was different—their experience felt a lot like mine," he wrote. "It's a soft bigotry that you have to experience to fully comprehend," he added, but "the ubiquity of intolerance to right-wingers can be felt in almost every influential enclave of Los Angeles."
He repeated similar sentiments to THR, hinting at the content of his very long story, scheduled to be published this week. "The harassment is subtle," Courrielche told the industry magazine. "It's an organic process that weeds out conservatives, and I'll show how it is done. Weed out, ostracize, repeat."
For Bannon, Marlow and their Breitbart enterprise, Courrielche is just the first attack in their new phase of an old war. "There is a populist movement taking over politics in this country," Bannon said. "If Hollywood doesn't understand this movement and these people, then they better be prepared for the consequences."